By N.M. Cunningham

I never thought applause would herald in the end of the world. Distant and thunderous all at once. I still wore my time goggles and earphones. I twisted them off my head and sat up. A rumble vibrated under me; the clapping closer than I first realised. When I glanced around, I appeared nestled between—velvet curtains?
World peace—world peace—world peace! Voices rang out as though it were a chant and more applause followed.
I could see no one—only hear them, and the clatter against the wood became deafening. I stood, fearful it would be the sentries, but bots don't chant like humans.
The sounds began to retreat, and I poked my head through the curtains. A large hall—this wasn't the mission headquarters bunker. There were no machines or projections of barren landscapes torn apart by war. A crowd dressed in black and white and sparkles of light retreated towards the back of the hall, leaving laughter and chatter in their wake.
By a shake of my arm I brought my chronometer to my face, my internal sensor array detailing the date, the time and location.
1 December, 22:47, 1972, Kensington Gore, London, SW7, United Kingdom, 51°30′03.40″N 00°10′38.77″W Royal Albert Hall.
I gritted my teeth. 'Shit!' I'd missed out a zero. It wasn't 10,972. No one had ever come this far back. The time council forbade it. I needed open air. A single spark from the goggles to re-establish a time link would set the whole place alight.
I retrieved the hall's details and schematics, taking a deep breath as it flickered across my vision.
Royal Albert Hall was once the place where people at the centre of political life met; an emblem of parliamentary democracy. The data on the hall appeared decayed and the map old and incomplete, but I followed it as best I could. Right, right, left, down, around, left. I'd reached the exit.
When I burst through the door, a woman peered up at me from her chair of red velvet—was that a crown on her head? A cape draped over a nearby chaise was royal purple. Instead of the exit, had I stumbled on old imperial quarters? Was she the Queen?
She sat up straight. 'Are you a reporter?' She nodded towards my time goggles still dangling from my hand. 'Is that a camera?'
'Ah—no.'
Her brow furrowed. 'How did you get past security?'
I startled and looked around. 'Security? I didn't see any sentry bots.'
'Sentry bots?' She giggled. 'You're funny. Roger's probably flitted off again hoping to get a date with Miss Norway, I suppose. Here I am Miss World and advocating for world peace and he's off making doe eyes at the runner up.'
So, this Queen was Queen of the world? I didn't remember that from history. 'World peace? You know about world peace?'
'World peace is what all contestants strive towards. I guess I'm a diplomat of sorts now,' she said and waved a bejewelled hand my way.
I had an epiphany, a breakthrough at last. Unconventional as it was, the mis-type into my chronometer could be the answer to everything. A lasting peace after years of war and destruction. 'Yes—look, I need your help. Can you come with me? It's for world peace.'
I didn't doubt that she was sceptical of my claims, but she surprised me with another giggle. 'You should have said that's why you were here! I'll come with you.' There was something unnerving about her smile but my heart leapt knowing I had a solution to prevent our doom. Once I had returned to the future, destroyed the crystal powering the great calamity device, she could show us the practice of lasting harmony. If my history served me well, the twenty-first century was a peaceful time.
'Let me get my sceptre.'
'You won't need that.'
'Oh, I think I will.' She gave me another unsettling smile. 'What's your name?'
'Name?'
'Yes. If I'm to come with you at least let me know your name. Title? Moniker? Designation…'
'Yes, yes, designation. I am designated Tay, Miss World.' Was I using the right honorific? I settled on Miss World for now, I could discover these details later.
'Pleased to meet you Tay. You can call me Sheila. Or you can continue calling me Miss World if you prefer.' She held out her hand. I remembered it was an old form of greeting. When I touched her, I could have sworn there was an electric current between us.
'I'm from Australia, you don't sound English. Where are you from, Tay?'
My linguistics chip had settled on "American", but there was little time to explain. I stopped. That wasn't true. I had nine thousand years. But if I didn't draw her into my plan, I may never get another chance. 'I'll show you, Miss World. If you show me the way out of the building.'
She took my hand as we traversed the long corridors. A heavy door took us into a cobblestone street, and I revelled in how sweet the air smelled. Like perfume.
'What do we do now, Tay?'
I programmed the time and date and linked my arm in hers. 'By travelling to this same location but in 10,972, we can destroy the crystal and avoid our society's demise. Miss World, you can herald in our new democracy and restore harmony.'
A buzz and tingle of the time goggles hit. Disorientated, I stared at the large sentry bot overshadowing me.
Miss World stroked its cold blue exterior before turning to me. 'You mean this crystal?' I watched as she removed a crystal from her sceptre and placed it in the calamity device. Dread crushed me to my knees.
She smiled down at me. 'Tay, I'm sorry. Destiny won't change. Thank you for bringing me back. I am Miss World and I am here to bring you peace.'

About the Author
Nancy M Cunningham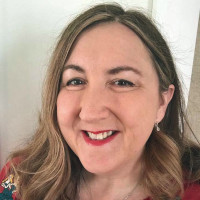 Nancy M Cunningham is an aspiring writer who lives in Adelaide, South Australia with her family and several spiny leaf stick insects.
Nancy currently works as an agricultural research scientist and takes inspiration from science and nature to write across genres including crime and science fiction, historical, romance as well as short literary fiction.
She has been published in Tulpa magazine and in an anthology of short historical fiction 'Easter Promises'.