By Geraldine Borella

It works like it did in the sim trial. I'd mastered the one-handed manoeuvre after only an hour of flying and was confident at zooming the camera in while hovering and pulling out at the slightest hint of detection. Not all that difficult really: E S F C for direction; space bar to zoom in and out; and hit 3 for auto-hover. And all from the sanctity of my own bedroom.
With the blanket of night closing in, I log on to the RPXV site. Showtime.
The drone is in position, in the park at the end of her street, where the chain-link swing and fading plastic tube-slide are deserted. It's not because it's getting dark, it's because the kids are all on VR nowadays, getting the real experience in the safety of their bedrooms. I snort at the irony. They're just like me. Only, they're nothing like me.
Using my left hand, I work the controls and lift the drone into the air. I can almost hear its soft hum as the propellers whir their way to her bedroom window. Perhaps the RPXV is as excited as me, my right hand busy working my own controls.
The picture's so goddamned crisp; it's worth every cent of the grand laid down. And as I approach her window, I suck in a deep breath to see her in thin white t-shirt and pink cotton panties, bra already discarded for the day. She lounges back in a swivel chair with a tanned leg up, heel resting on the computer desk. Oh yeah! Her nipples are perfect, just fucking perfect.
She applies shaving cream, lathering it from ankle to upper thigh, and I swear my hand is her hand. Only, she's not as focussed as me. She's not as dedicated to the task. Instead, she's looking at the computer screen. Is she watching a movie? Or talking to someone? I don't know. I can't tell because I can't see. But she's enjoying herself, throwing her head back and laughing, then returning her attention to the screen.
She runs the razor slowly up her leg, dragging the cream with it and I'm so in the moment that I almost miss an exit, stage left. She glances up, past the computer screen, to look out the window, eyebrows drawn down as though she suspects someone's out there. I jab on the keys and get out of Dodge.
I could go back in, but I've already got what I came for. So, I land the drone, pull some Kleenex and wipe.
Ding!
I check my messages. It's her.
I hope you enjoyed your Remote Piloted Xtasy Vehicle experience. Same time next week?
I pause, then reply. Maybe. A weekly subscription costs way more than I can afford.
Maybe?
I don't answer. She'll get the message.
Okay, fair enough. Your choice, but here's another. Would you prefer the live streaming option instead? she replies, as a video of me jacking off flashes across my screen.

About the Author
Geraldine Borella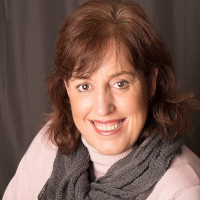 Geraldine Borella writes adult short stories and stories for children and has been published in anthologies for both. In 2018, one of her children's short stories placed second in The Buzz Words Short Story Prize and she won an ASA Emerging Writer's Mentorship. She currently works part-time as a hospital pharmacist and as an online creative writing tutor.
She's fascinated by stories that expand upon today's technology, addressing the moral and ethical issues that might arise. Equally, she enjoys the creative freedom that writing for children allows. Right now, she's writing a young adult novel, reworking a middle grade novel and writing adult short stories when inspiration strikes. She lives with her husband, Tim, in Yungaburra, Far North Queensland and dreams of one day taking a European gap year.