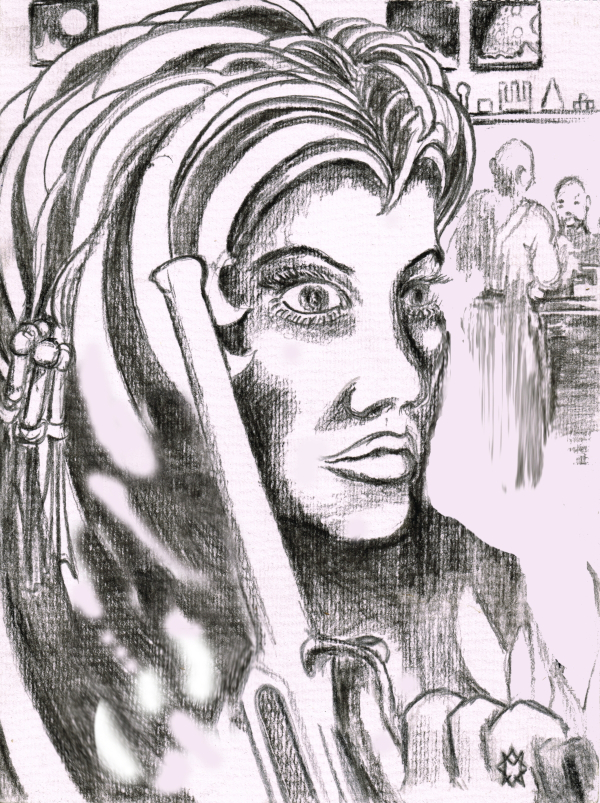 ---
By Laurie Bell

After surveying the damage my first thought was that it was not so bad. My second was that I was glad I wouldn't be the one cleaning up the mess.
'That's a lot of blood.'
The obvious comment came from the fool at my side. I could have snarked back with, 'Really? It's not so bad?' Or perhaps, 'I'm with a genius today, aren't I?' Instead, I growled. 'Do you have it?'
'Yeah, Boss. I got the powercell. It's… ah…'
'What's the problem?' I should have known. There was always a problem.
'It's only half-charged. Guess that's why it's here, huh Boss?'
Urgh, I should just shoot him and be done with it. I pinched the skin on the bridge of my nose and bit back a sigh. 'Guess so.' What the hell was I going to do with a half-charged battery cell? It wouldn't get us to the rift, let alone through it. Not with our cargo. Shit. I need a new plan, and Jork with his puppy-dog expression and dumb-as-post understanding would not give me one. 'Right, take what you can find. Meet me back at the ship.' I glared at the dead tech at my feet. 'You got any bright ideas?'
The dead tech didn't answer.
Breaking glass and the thump-thwack of heavy cabinets hitting the ground told me Jork was doing his best. He wouldn't find anything. This outpost was remote and the people dirt poor, eking out a living as best they could this far from the core. I would have to do what I was loathe to do.
Buy a fully charged powercell.
I stepped over the growing pool of blood, thumped to the front door and flipped the open sign to closed. A rumble-hiss signalled Jork was out the back now and had the critter running. It's what we named the beat up hoverjeep. At least the critter still ran. A miracle on this planet. Probably the only one I would get.
I was worrying at the rock on my finger. It was the only thing of value I had. Ah well. Time to let go of the past, what with heading to the rift and all. 'Jork, going out. Meet you at the ship.'
'Sure, Boss. You want the critter?'
'Nah. You take it. I won't be long.'
He shot me a grin and a jaunty salute. Wrong hand, asshole. The dirt cloud he left in his wake provided nice cover. I crossed the poor excuse of a street and headed uptown. Well, what could have been considered uptown. Once. The temp buildings were cracked and weather beaten. Nothing permanent replaced them. The street had a first landing sort of feel. Like the settlers set up shop then pissed off out of here where they realised it would never be more than a dump. There'd be one here. Just had to find him or her. The Seller. Someone who came to milk the life out of a place. To suck it dry. To take advantage of the desperate and the dying. I'd recognize the Seller when I see em. Used to be me.
The old timey shopping strip was deserted. Blast awnings and window shields raised everywhere I looked, reflecting the dirty sunlight straight into my eyes. Might be some weather blowing in.
Or maybe they'd heard I was in town.
I stepped into the store on the end. The only one still open. A bell, of all things, rang as I entered. My hand fell to my holstered weapon though I didn't draw it. Customer remember? I slapped on a smile and approached the counter. Perhaps with a little politeness and a promise of something extra I could get the price down.
'Howdy stranger.' The greeting died on the familiar lips. 'You —'
My hopes died too. I'd get no help here. I let the tilt of my mouth fall into a scowl, stopping from drawing my gun and shooting him right in the heart by gritting my teeth. 'Shirl.'
'Min, what are you doing here?'
I glared at my ex-husband. He'd put on weight. The beard was new, hid the scar I'd left him. 'Not here for you, cool ya jets. I need a full cell. I'll pay.' I glanced around. 'Looks like ya need it.' I slapped his ring on the counter.
He recognised it immediately. 'That ain't enough.' He grinned.
Huh, so he'd grown a backbone out here at the butt of nowhere. 'It is,' I countered. I pulled my weapon from its holster but kept it pointed at the ground.
He leaned both elbows on the counter. 'It ain't worth it. I should know.'
'Gonna be like that, is it?' I smiled.
He froze, face white, and inched backward.
'Full powercell, and I'm gone. Take the offer, Shirl.'
He swallowed but held my stare. Hmmmm, he had changed. I guess you'd have to out here.
Well, I'd changed too.
The standoff held for another moment. And then a moment longer. I wasn't backing down. My need was too desperate. I'd left bodies in my wake without care. I could add his to the tally.
I'd always wanted to. Yet I didn't raise my gun.
'Where you running to?'
I don't know why I told him. Maybe I wanted someone to know. 'Rift.'
His white face turned practically translucent. 'No.'
'Why do you care?' Enough of this. I was wasting time. I lifted my gun and charged the pod. 'Full powercell.'
He nodded. The movement slow like he didn't really want to do it. 'Back room. I gotta get it from the locker.' He pushed the ring back across the counter.
'Keep it,' I said.
It disappeared before I could blink. So did he. I wandered the store as I waited. It had a dim quality, not enough good light. I trailed a finger through an inch of dust and bit back a curse. Why was he here? Last time I'd seen him he'd high-tailed it out of our anniversary dinner like his pants were on fire.
Well, they had been.
I hadn't been happy about his revelation. For all my skills and network of informants I'd never found out her name. The one he left me for. Is she here? I glared at the display case against the wall. Shiny components filled each shelf. The top item looked familiar, a hovercomm by the looks of it. I pressed closer to the pro-glass and just made out the cracked baseplate. A broken hovercomm. Typical. Take a piece of junk and shine it up. Some fool will buy it. I glanced around the rest of the shop. Pile of crap. A dead rodent with six legs lay in the corner. What is Shirl doing here?
The front door popped open, startling me. I had my weapon in my hand before I thought about drawing it. Another customer, what were the odds? The mountain of muscle didn't see me standing in the shadows at the back of the store. He stomped to the counter and in a voice better suited to a spacecalf rangler bellowed, 'Shirl Manna, git your ass out here.' Long, manky black hair streaked with grey hung from his head in a great swathe. I'd kill for hair like that. Mine had been cropped short for as long as I could remember.
From the back room came the sounds of a hamster-pig let loose in a kid's playroom. Something was going down. I backed further into the shadows and crouched, curious to see how this was going to play out. Besides, I still needed that powercell. I kept hold of my weapon, finger resting on the guard and waited.
The storeroom door cracked open. 'Mac?'
'Now, Shirl.' The big guy, Mac, flicked his hair back over his shoulder.
Shirl's head appeared in the doorway. Eyes searching the store. Looking for me probably. 'Hey, Mac. What are ya after?' Shirl's voice wasn't quite steady.
'The coil you sold me burned out on re-entry. Replace it or I replace you.'
Shirl cringed. 'Ah, yeah sure, Mac. Sorry bout that. I —'
Dumb idiot had been caught out. This was not going to end well.
'I don't need excuses,' Mac thundered.
Shirl — face shiny with sweat — ducked into the storeroom again, appearing only a second later. A dead man's grimace on his mouth. 'Ah, I don't have any.'
Mac froze. After a moment of silence that could have woken a dead man, minute movements signalled his head tilt. 'I think I heard you wrong.'
Shirl groaned. His hands rose. 'Mac, the last ship didn't arrive. I — I don't have any coils.'
The giant man straightened. His fists clenched. I could hear the bones cracking from all the way at the back of the store. Shirl rabbited, just making it to the door before Mac's meaty fists closed around his neck.
Enough of this. I stole forward on silent steps and pressed my gun's muzzle to Mac's neck. 'Drop him or I drop you.' I love a good circular quote moment. I don't think he got the joke but the touch of cold steel and the ozone smell released when I primed the pod stopped him cold.
'Who the fark are you?'
I didn't answer, merely pressed the steel harder into his flesh.
He released Shirl, who fell to the ground gasping. Shirl scooted away on his ass and hands like any creature would in fear for its life.
What was I going to do with the monster at the end of my gun? I glared at Shirl. Every damned time I see him I end up in a position I can't easily get out of. Mac spun, moving impossibly fast.
My trigger finger was faster.
The monster hit the ground with a black hole in his forehead. His giant hand falling lax to reveal the blade he'd planned to jam into my ribs. Asshole.
Shirl's voice penetrated the fog in my mind. 'Min, I got the powercell. Fully charged and free if you take me with you.'
'What?'
'Mac's dead. In my place. They'll come for me. You want the powercell, you take me with you.'
Fark. I stared at the man I'd just killed. His ugly face was even uglier in death. Take Shirl into the rift? I was mad to consider it. 'We probably won't make it,' I said for something to say.
'Dead here, dead there, much the same to me. Besides, you need a Seller right? I can get things.'
'You sell junk.'
'Only the stuff I don't need,' he countered.
The smell rising off the body was pretty bad. It was only going to get worse. 'Fine. But you get in the way, I'll shoot you myself. Got it?' I'm an idiot.
His smile touched the dead part of my heart I thought I'd cut away when he left. I growled. 'Get your shit and I want the powercell now.'
'Ya got it, Min.'
This was a mistake. I holstered my gun and sighed. My life was just full of them and we hadn't even got to the rift yet.

About The Author
Laurie Bell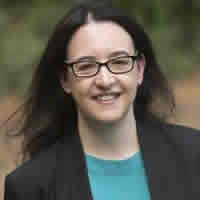 Laurie Bell lives in Melbourne, Australia. She was that girl you found with her nose always buried in a book. She has been writing ever since she was a little girl and first picked up a pen. From books to short stories, radio plays to snippets of ideas and reading them aloud to anyone who will listen.
She is the author of The Butterfly Stone (YA/ Fantasy — available now) and White Fire (Sci Fi — available now)
You can read more of her work on her blog Look for her on Facebook <www.facebook.com/WriterLaurieBell/> or Twitter: <@LaurienotLori>