By Louis Evans

Oh my god. Girl. How has it been TEN YEARS since I last saw you? I'm so glad I found you on Instagram! How have you been?
Listen. That's amazing and I'm so so so sorry about your son Caden BUT I actually wanted to talk to you about something. How would you like to start working, making some real money, and being your own girl-boss—or girl-PHARAOH?!
It's really simple, honestly! You can work from home and everything and it's mostly like being an influencer, you know? Like, letting friends and followers know about your positive lifestyle changes so they can make them too! Yeah!!!
Okay. So. What does every kick-ass babe want in this crazy modern world? To know that when you die—so sad!—and go to the Hall of Maat in the Underworld, the god Osiris will be so, SO impressed by your magnificent tomb that he'll judge you worthy to enter his Kingdom.
And what's the most impressive tomb? Girl, you know it's not one of those tacky photo headstones or a plinth with some cherubs on it or shit. Bitch, you know what it is. Girl say it with me. GIRL SAY IT WITH ME.
PYRAMIDS. PYR. A. MIDS.
Yaaaaaaaaas, kween! Kween Hatshepsut, Foremost of the Noble Ladies, Fifth Pharaoh of the EIGHTEENTH DYNASTY, WOMAN!
Okay so it's really simple, honestly. You can just buy the starter pack from me and the ritual papyruses and EVERYTHING. And then it's just a question of like, sourcing your own local limestone slabs, bespoke funerary objects, and electrum capstone, and getting some Rent-a-Serfs to come put everything together! Should I put you down for one order for everyone in your family? TBH it's not even too late for little Caden!
Did I not say what the company was? Girl it must have slipped my mind! I'm just HASHTAG LADYBOSS CRUSHING IT so much these days, I get forgetful! Yeah of course, the company is called, um, Gizalife™!
Bitch of COURSE the haters would call it a pyramid scheme cause you BUY PYRAMIDS duh. But there's nothing shady about it. It's just bad bitches helping bad bitches PASS THROUGH THE UNDERWORLD. Like, every woman will have to take that journey someday and when it happens to ME I want to know I have my girls supporting me on BOTH sides of the veil, you know? Hashtag squadgoals hahaha!
So I can sign you up for the starter pyramid but honestly, girl, it's not that big. Yeah, no. It's like the size of an Peleton. No, what you really have to do is, set your goals, envision your success, and then TREAT YOSELF to the QUEEN THOT™ model! Fit for a LADYPHARAOH like you, plus all your little NEFER-SWEETIES. It's got a built-in posthumous spa, comes with rejuvenating embalming fluid and authentic kohl eyeliner because what's the use of eternally living if you're not ETERNALLY SLAYING?
And yeah, it's big. Girl it is huge! When you take a selfie in front of this one let's just say nobody will even notice your ginormous forehead by comparison.
I'm just kidding, bitch! We're friends, we can kid. You are a beautiful woman, just like a queen! You're CleopatrYAH, Queen of the Nile and all its lesser tributaries, SLUT! I am shook. SHOOK.
Girl I know it's a lot of money but we can help with that! It's not like you'll have to indenture your soul to the jackal-god Set for ten thousand years hahahaha. Ha. No, you just sign right here and pay like, five, six hundred, and—
No okay if that's too much for you I get it, girl. Every pharaoh's gotta start somewhere! Listen, why don't I just sign your whole family up for the starter—
Okay just you then. Okay I get it but you don't really even need that much space for the starter, you can put it in a shed, or garage, or in your boyfriend's mancave haha—
Okay girl I get it. You need more time to think about getting a pyramid! That's fine. It's a big decision because the afterlife is FOR. EV. ER. But don't think too long! You never know when you'll be crossing the street or something and then BOOM, time's up, Anubis is weighing your heart against the feather of truth and there's nowhere to run! I mean, you should know that better than most, with Caden's diagnosis—
Okay girl I get it! That subject is off limits. I just thought as, you know, a proud sphinx mama staring down the undeniable fact of mortality for your beautiful baby boy, you'd appreciate some real talk from like, a good girlfriend—
Okay! It's okay. Listen, just sit back down and maybe I can interest you in an ankh or—
Girl don't leave. Girl. Girl okay, just speaking my truth here, I am literally being BURIED ALIVE in debt and also a HUGE PILE of shoddily heaped limestone slabs in my backyard which fell and CRUSHED MY HOUSE when that mummy cursed me, so could I maybe—
Could you just—
Okay but could you just pay for your coffee at least?
I know I said I'd cover it but if you're not gonna buy then—
Okay fiiiiiine! Bye girl call me!
Bitch. I hope Ammit Devourer of Souls RIPS HER HEART OUT.

About the Author
Louis Evans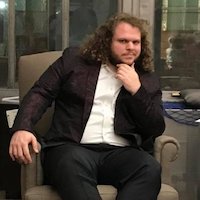 Louis Evans is a sci-fi writer living in Brooklyn with his partner and two cats named after fictional European detectives, Hercule Poirot and Lord Peter Wimsey.
His fiction has appeared in Analog SF&F, Interzone, GigaNotoSaurus and more.
He would never get involved in a pyramid scheme, which is why you can have complete confidence that THIS business opportunity is the! real! deal! Let's do lunch . . .
His website is evanslouis.com and he tweets @louisevanswrite