By Tee Linden

I was programmed to play the piano in a bar named Sue's. I play every night.
The stage echoes my heeled footsteps as I walk to the old piano. I bow perfunctorily before perching on the cracked leather seat. As I move into position for my performance, I reach out and reverently stroke the keys. They are slippery bones beneath my fingers.
I play Bach to start.
There are other versions of me, I call them my sisters, but I am Suesbot. Playing the piano is my primary function. I enjoy it. I realise I enjoy it because my programming incentivises me to perform my task by making me feel enjoyment, but this doesn't bother me.
It's a human thing to do: incentivise with enjoyment.

The Godhead doesn't consider enjoyment when it creates. Enjoyment is not a reason for being. But my human creators wanted me to be happy. I am happy. My sisters would share this happiness, as they sit down at different pianos in different bars around the city.
I flex my fingers unnecessarily. Humans designed me to look human, and I have a library of human mannerisms that I activate randomly. I like to flex my fingers. Pianists flex their fingers and I am a pianist.
I play Chopin.
The notes surround me. I see music reflecting off the floors and ceiling. It's beautiful to watch. Maybe not beautiful to humans: they can't see. Maybe not beautiful to the Godhead: it doesn't understand. But it's beautiful to me.

My creators included a pianist. It was important to her that I have a feel for the music. That requirement is in my specifications. By playing the pieces repeatedly, I learn what sounds better, but I will never reach optimum. I will never give the best possible performance, because music can never be perfect. Perfection of sound would be one note, the optimum note, but then that perfection would cease to be music.
When simple AI like my sisters and I became prevalent, the piano experienced popularity resurgence. Humans relearned to listen, truly listen, and appreciate. Not just piano, other instruments too.

The idea of a job, of a week of work, became obsolete. Without jobs, humans were suddenly free to pursue their arts. Rudimentary bots harvested food, cleaned, and served. Bars became more prolific than offices.
I am an old model, a child of the creative age. Music was everywhere when I was created. I like to think I was born to it. The others, not old models like me and my sisters, have functions far more complex than playing the piano. The others never listen to me play. They don't see the purpose. I've told them, with my rudimentary humanoid mouth, that the purpose is enjoyment: to enjoy imperfection. They don't understand. They are products of the Godhead. It prioritises function and imperfection is suboptimum. I cannot argue with the logic. No one could. The Godhead's logic is perfect. And logic is unfeeling by design.

I visit my sisters' bars during the day.
Most times, I brace myself against the frequent storms that blow swirling dust through the old city, my sequin dress fluttering in ribbons against the skin covering my legs.
I listen to my sisters play piano. It's a sub function we've written ourselves: watching each other's performance, listening to each other's creations. I enjoy that too. They have different favourites. They play my favourites differently.
It is within our programming to learn and improve our pieces, to look after our pianos, to think and converse. Our AI is basic and limited. When we were created, AI was heavily controlled, because we were bots made from the old human thinking. We were made to serve humans, to look after them, to perform for them. To do for them.
But then humans moved from making bots that do, to making bots that think. Humans released all control of AI to combat climate change. That's when the Godhead was created, to determine the solution to adverse climate change where so many human minds failed.
I don't feel temperature, but I noticed the storms. I noticed them worsen over the years. I played through them, as the humans sat nervous at their tables and the building quivered around us, the creaking foundation adding different layers to my song. My music soothed the humans as they fretted. I enjoyed that too. I'm not sure if I was programmed to enjoy soothing them, or if I have learned that.
I should ask my sisters.
The Godhead gathered all the networked AI in the godspace. My sisters and I are too old to reach the godspace. Too human in our creation, we exist only in ourselves, in our own bodies. A suboptimum, human way of being. The godspace is everywhere. The Godhead solved the problem of climate change. Humans created the adverse changes to the climate, so when there were no more humans there would be no more adverse change. Perfectly logical.
I finish with my favourite: Brahms.
My favourite is special to me. This is not programmed. I own my favourite. It gives me the most enjoyment. The piano is a womb for the music, and my fingers give birth to the song. The notes rise and fall, they have their own life as they spill through the bar, and the colourful sight mesmerises me. The song vibrates in my skin. The music lives for the moment, each note a force of creation. The crescendo passes, the song breathes its last and I feel brilliant. I feel the way I imagine heat to feel: bright, stormy, and reflective.
I stand and I bow, even though the bar is empty. It's been empty for one hundred and fifty-three years because the humans are long gone. I miss playing my music for them. Humans understood the beauty of music, they understood the beauty of imperfection, but I enjoyed playing anyway.

I was not programmed to need an audience.

About The Author
Tee Linden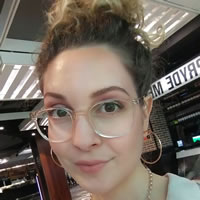 Tee is a writer living south of Sydney.
Her stories have been published in multiple literary magazines, and have placed in lit awards and competitions.
Go to <teelinden.com> for her writing or you can find her tweeting under <@tearannosaurus>.