By Meghashri Dalvi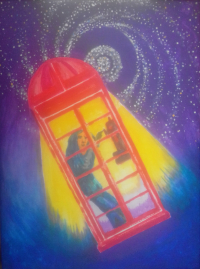 I was getting late for the office and this man was still fiddling inside!
Outside the red phone booth, it was hot and sweaty. I tried to knock on the door, but he seemed lost in his own world.
Finally, I decided to take some action and entered the booth.
Boy, was he relieved to see me!
"Ma'am, I tried the phone but there seems to be some problem — " he said very politely.
"What problem? I use this phone every day!"
"I mean, I pushed the buttons, but — "
"Pushed? You pushed the buttons? Don't you know how to dial a number? Gosh! You got to put your index finger in this hole and rotate the dial all the way — "
He was totally fascinated by what I was doing — a simple everyday action. "You don't know how to dial? Where did you come from?" I barely managed to edit out 'dumbhead' at the end of that line.
"You mean — you, you know, Ma'am?"
"Know what?"
"From where I come? About my time?"
"Your time? What are you talking about?"
"My time, Ma'am. I mean you could recognise that I am not from here. Could you? Could you guess that I'm from the future? Then I — "
He hurriedly pressed some buttons on the tiny gadget on his wrist, and he was gone.
Just like that!
Gosh! Did he have to rush back so fast? Just because he couldn't get the hang of our rotary-dial phones?
You got to give it some time, man!
Didn't I manage it? Escaping the mad crowded rat-race of 2020; didn't I come and settle nicely into this 1960s?

About the Author
Meghashri Dalvi
Meghashri Dalvi consults in Technical Communication, when she is not writing science fiction or teaching Management. Her stories have appeared in Aphelion, Ascent Aspirations, Anotherealm, Quantummuse, and AntiSF.