By Nicholas Schroeder
Jason arrived at the restaurant to meet his friends. The waiter greeted him at the door. "Yes, I'm at that table in the corner with those two — "
The waiter scowled, "That filth, you mean."
"They have names."
The waiter forcefully handed Jason a menu. "Seat yourself. I won't be near pollution like that."
Gary smiled when he saw Jason. "Glad you could make it."
"Sit down, sit down," John said.
"How's life?" Jason asked.
"It's good we have the woodshop. It keeps us busy." Gary took John's hand. "We're happy."
"That's wonderful," Jason said. He looked around the restaurant. "Have you ordered yet, I don't see a waiter."
John smiled. "They won't serve us. You have to order at the bar."
"Yes, the bartender said he'd take our order," Gary seconded.
Jason frowned. "It's horrible that people treat you so badly, just because of who you love."
Gary shook his head, "It's more than that, dear Jason. Hate can distort your perception; the mind can construct realities that aren't there."
"It's really not their fault," John said, "they grew up in this toxic culture, learned to see the world a certain way."
Jason sighed, "I just don't understand, I can't see the world that way."
"Consider yourself lucky then," John said. "Who wants to live in that world?"
The dinner was interrupted. "I'm afraid you have to leave," said the manager with a snarled mustache.
"What have we done?" Jason protested.
"The other customers don't feel comfortable with you here." He adjusted his striped suit. "It's disgusting."
"Now wait a second, we have every right to be here," Jason barked.
"Jason, it's okay. We'll leave," Gary said calmly.
"Thank you for having us," John said, packing his bag.
"How many times must this happen," Jason said as they left the restaurant.
"Filth!" "Scum!" "Abomination!" People sneered as they walked down the street.
A lady in a white dress pulled out a crucifix and held it toward them. "Pollution!"
"You going to be alright walking home?" Jason asked.
John nodded. "Yeah we'll be fine. We'll catch up with you later."
Jason had trouble sleeping that night. What's wrong with people? How could they act like that?
Jason awoke the next day and felt different — changed. It was Sunday, so he decided to stroll through the park. Near the public fountain he spotted something terrible. It was lanky with pale, bluish skin. Fangs protruded from its mouth. It glanced — stared — at him with dead red eyes. "What is it?" he asked the woman next to him.
"That filth. Don't worry about it. Look at it rummage through the trash. Disgusting."
Jason could not believe his eyes; he had never seen a monster before.
Jason had to tell Gary and John about what he saw. He entered their apartment — and gasped. They looked like the monster in the park. Blood dripped down their faces as they kissed each other. He could smell rotten flesh. It repulsed him.
"Are you alright?" John asked. Jason couldn't answer. He had to get out of there before he succumbed to their pollution.
Jason went to a place where he felt safe — a church near his house. The church was welcoming. The priest showed authority. People lined the pews in fresh suits. The sermon calmed his nerves. But then as he listened, to the lines of hate, he reverted. He saw the faces of his friends unadulterated, warm, kind, full of life.
And he could now see monsters in the congregation, poison spewing from their mouths. The priest's red eyes pierced him. He couldn't unsee it.

About the Author
Nicholas Schroeder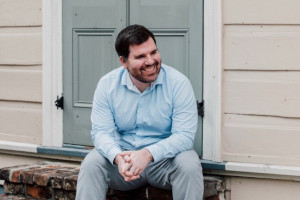 Nicholas Schroeder is a philosopher, living in New Orleans, who enjoys writing fiction with a philosophical bent.