By Jacob Edwards

I first met Alfonse at the petrol station. There he was, cool as a cucumber and looking quite like one, too, feet planted next to pump number one and filling up the tank of a spaceship the size of a campervan. His skin was dark green and he stood at about six/five, neckless, with long, hairless limbs and a knobbly bit on top of his head. He gave me a nod as I unhitched the bowser next to his. Who'd've thunk it? First contact, and it's with a dude whose flying saucer runs on premium unleaded.
I thought I was playing it pretty cool, kind of taking it in my stride that he's wearing khaki shorts and a blue and white Hawaiian shirt.
But then I caught sight of the thingummyjig strapped to his roof rack — kind of like a Rubik's cube, only as big as a bar fridge, all chrome and hieroglyphs — and I couldn't help raising my chin and asking him, "What's that, then?"
He stared at me for a few seconds as if he was thinking, 'Who's this ninny?' But then he must have worked out I was ogling the thing on the roof, not the you/foe itself, because he tapped the last few drops of petrol off the nozzle and grinned like a prospector who's struck gold.
"You don't recognise it?" His voice came out rich and tinged unmistakably with glee. "You've really not seen one before? Horsehead Neb! Then this is the planet for me. Wow, you've no idea how far I've come, looking for somewhere there's been no need to invent these blasted things. Put it there, buddy. The name's Alfonse."
We shook hands and he went to pay for the fuel, but they wouldn't take his card and so I spotted him a fifty and then took him to sell the diamonds he kept like loose change in his pocket. "First up, you'll need a phone," I told him. "Access to the web. Then we'll find you somewhere to live and, ah, what about your ship?"
"No worries," he said, and reached in to pull at a lever down by the floor on the driver's side. The flying saucer promptly folded itself through a CGI effect straight from Transformers and turned into a combie van with dirty windows and a faded sticker on the rear bumper, reading, 'In space, nobody can hear you scheme.'
The thingummyjig — Alfonse never did tell me what it was — now hung from the rear-view mirror at greatly reduced size.
I hooked Alfonse up with Mr Snatch of the Gazump, Grasper, Meanie and Snatch agency, and he took out a mortgage on a place just outside of town — a nice little three bedroom with a macadamia tree out back; a tad run-down, but I think Alfonse fancied himself as a bit of a handyman. He found a job at Wal's Hardware, joined up for the Tuesday night bowling league and was always happy to clink a beer or two. Nobody seemed to notice much that he was abnormally coloured and built like a beanstalk; or if they did then they obviously weren't too fussed. Only Mrs Pumpernickel paid him any undue attention, rattling his screen door every week and shoving pamphlets at him. But she was like that with anyone who didn't set their dogs on her.
"I'll think about it," Alfonse would promise. He was always polite, but with a twinkle in his eye that hinted at the untold distance between them.
Life on Earth seemed to agree with Alfonse. In fact, he settled in so well that at times I all but forgot about his extra-terrestrial origins, or that his struggling, clunky old combie van was something the Americans would launch an all-out invasion to get their hands on, if only they knew. He was just a mate, you know? A good bloke with a deep, kind of operatic laugh and a killer hook. A bit funny-looking, sure, but no more than Steve Buscemi.
Yes, Alfonse was okay. At least, that's what we all thought.
Perhaps I should have clued on, that night at the lanes when he dirked the ball something chronic and then couldn't knock down the spare. Alfonse was usually the smoothest of bowlers, see? A two/seven/ten finish was like twisting caps off a stubby for him. But it was the league semi-final and he was head-to-head against Gus Mooney from the bank. It didn't seem to matter that we were well up on handicap. There was a listlessness to Alfonse that had him draped over his seat like a lanky and limp sprig of asparagus.
I think actually he must have been having trouble with his mortgage, and maybe some of Mrs Pumpernickel's cronies higher up in the organisation. Oh, and he'd muttered something about termites one night after work the other week. The usual sort of hassles, you know? But enough to bring a guy down. Maybe even a happy-go-lucky vegetable man from who-knows-where. It still kind of shocked me, though — much more than that first time — seeing him there at the servo the next morning, the pump thrumming in his hand and his face kind of wistful as he scuffed the dirty tyre marks that dead-ended at the gleaming metal base of his spaceship.
"Hey, Alfonse," I frowned. "You're not leaving, are you? Mate, if it's about last night…"
"Nah," he said. "It's just, well, you know how it is, buddy." He shrugged and hooked a thumb towards the roof rack. "You guys might not have Pandora's Boxes, but anyways I reckon someone's been here and opened one. Looks like I need to go a bit further, right?"
He tapped the nozzle, and clapped me on the shoulder as he went off to pay.
And as I stood there, lost in that strange contemplation that comes when you're filling up, I found myself staring at the thingummyjig cube on the roof of his ship, and at Mr Snatch and Mrs Pumpernickel and fat old Gus Mooney trussed up there beside it, struggling against their occy straps and gags, pleading at me with bulging eyes, and I started thinking: a real estate agent, a door-to-door missionary and a bank manager. Yeah, maybe he's right.
No matter how far you drive, sometimes light years just aren't enough.

About the Author
Jacob Edwards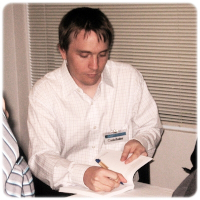 Jacob Edwards hails from Brisbane and spends much of his time either writing or indulging his love of 80s synthpop.
He served two tours of duty stacking deckchairs for Andromeda Spaceways and has contributed a chic 60s-era Doctor Who monograph (#32: The Romans) to Obverse Book's Black Archive range.
Jacob can be found online at <www.jacobedwards.id.au> or very occasionally tweeting <@ToastyVogon>.