By Umiyuri Katsuyama - Translated by Toshiya Kamei

At dusk, I tread a grass-filled path. How did I get here? I tuck loose strands of hair behind my ears. The uneven earth under my high heels almost makes me lose my balance. The setting sun paints the western horizon fiery gold, as the rest of the ultramarine sky deepens its hue. Venus flickers, heralding the arrival of night. The last rays of the sun sink behind a white gabled-roofed house on a hill.
All of this looks familiar. I've been here before. That means the app has turned on. I head toward the house to have my last wish granted. I could choose not to go, but that wouldn't delay my death. So I continue my trek.
The nanobots monitoring the blood flow in my brain are programmed to send electronic signals and make me dream a pleasant dream in the last moments of my life. I knew this, but I had some doubts. Even so, the sample visuals looked stunning. The app had a low ratio of reviews to downloads, but it had garnered universally positive ratings. Only those rare individuals who come back from near-death experiences can write such reviews.
★★★☆☆ Reunited with My King!
Except for one tiny detail, this app got everything right. King wasn't a silver tabby but a yellow tabby. Even so, the rest was perfect. Everything else — his scent, his meows, and his whisker movements — was identical. Like he used to do, this King brought me a dead squirrel.
All in all, I can give it only three stars because my King wasn't silver.
I walk uphill toward the house with light steps. A breeze blows the mixed scents of grass and burning wood into my nostrils. The faint whiff of smoke makes me nostalgic about my childhood.
The smell reminds me of the rare times when I heated water in a pot over an open fire and roasted marshmallows on a stick. While I grew up, my mother rarely allowed me to play outside citing safety reasons. Once she gave me a severe talking-to when I came home scratched up and bleeding from a cycling outing.
"Young lady, you're going to get tetanus one of these days." Mother glared at me. "Then what?"
I wanted to go camping with friends from school, but she vetoed the idea. A girl sent me a postcard featuring a scenic lake with "This camp sucks a big time. Get me outta here!" scribbled over it. Maybe it was a good thing I didn't go, I thought.
"Just do what I say and you'll be fine," Mother would say. In most cases, she was right. "Believe me, you want to be financially independent when you grow up." She pushed me to study hard. I got into an academically competitive university, got a highly sought after qualification, and got a high-paying job.
"Now you've gotta get yourself a husband," Mother said.
Hold on a minute, Mom. Don't rush me, I thought.
Once I got used to my professional life, I got myself a dog instead of a boyfriend. Back home, Mother was against the idea.
"We can't have a dog in this house. They shed so much hair! Who do you think is going to clean after it?" she said. Even so, it was my childhood dream to keep a dog as a pet. Now I was old enough to make my own decisions. Besides I lived on my own, and there was plenty of room for a canine companion. After I went on a date with several candidates at local animal shelters, I settled on one eventually. I was busy with my work, so I would hire someone to walk my dog and groom her. Even so, I had nothing else to splurge on. I think I made good use of my money. I pampered her because she deserved it.
As I reach the peak of the hill, a stone-paved square spreads before the building. The wooden door is painted green. A faint light seeps from inside through the small windows consisting of red and yellow pieces of square glass. Roses grow tall close to the door. Black-green ivy crawls up the white wall, framing the door. I grab the knob. It doesn't feel cold to touch. I push the door, which swings open without much resistance.
The entrance hall is dimly lit by a yellowish lamp. Rhomboidal shaped tiles cover the floor. The stairs are also covered with rhomboidal shapes. I may be able to kill time just by looking at the title pattern, but I head toward a light seeping through a slightly open door up ahead in the hallway.
I slip through the gap in the white door. It's more dimly lit inside than I expected. I step on a zigzag-patterned floor and glance at wine-red walls. A bar counter comes with a tall, red stool that looks inviting. I sit on the white-blood-cell-shaped stool, which is surprisingly comfortable as it supports my hips adequately. A paper box as large as a shoebox lies on the counter. Its green, gold arabesque-printed lid looks beautiful. There's nobody else here. Behind the counter the shelves are lined with cups, saucers, minerals, old toys, handcrafts—a red horse, a carved bear, and a beckoning cat, apparently a personal memorabilia collection. I spot a paperweight with dandelion fluff trapped in resin. I used to own one just like that.
Seated, I look around.
"Welcome," the box says.
"Box? A talking box?"
"You can say that," the voice said in a smooth, non-threatening tone. I'm speaking from the box, to be more precise. I'm sorry to have surprised you." The box pauses. "Please tell me the name of the person you want to meet."
I see their face and their figure. Yet their name escapes me. Oh, I'm surely dying.
A sweet fragrance wafts in the air. An orange mug on the counter contains dark rum mixed with hot milk. I grab the mug, take in the fragrance, and drink it in one gulp. In winter I used to drink it before going to bed.
"Why don't you take a look at your wrist?"
I do as the voice says and find "Robin" written on my wrist. It's the name I registered in the app.
"Robin, my darling."
"Please open the lid."
"This?"
I lift the lid with both hands and look inside. There is a glass bottle.
"Oh!" I hold my breath.
The bottle contains white sand, disintegrated shells, and coral. My mind flashes back to the beach resort I once visited.
"She's here."
And something noisily scratches the wooden floor. Before I turn, a large dog puts her forelegs on my knees. In the next instance, she presses a warm, wet nose against my cheek. I pet the dog's head, shoulders, and back out of reflex. I keep petting her. She's a white standard poodle, well clipped. Yet she's Robin. My Robin has brown, long fur. But my memory is being overridden. Her snout smells like a dusty, sunny spot.
As I try to get off the stool, Robin trips me over, and I fall facedown. The floor turns into the white sand, and it breaks my fall. I prop up myself on my elbows, and the blue ocean spreads before me. A wave breaks and foamy water rushes up the sandy beach. Coconut trees line along the coast. The sun glares down from a clear, blue sky, but its rays feel soft on my skin.
Robin licks my sandaled toes, and she kicks up grains of sand in the air. She stares at me, expecting to play more. To grant her request, I hurl a Frisbee with all my might. The Frisbee draws a lazy arc in the air as Robin runs after it. A wave wets Robin's feet and foam flies. She leaps, catches the Frisbee in the air, and dashes toward me. I try to pull the Frisbee away from her, but she doesn't let go. While we play tug-of-war, I fall, and another wave leaves me drenched. I bust into a peal of laughter. The sea spray tastes salty.
After I'm done playing with Robin, I go back to the first room. White sand is scattered on the floor. Robin drinks water from a container, her tongue slapping the water.
As I sit on the red stool, a cup of fresh mint mojito appears on the counter.
"Did you have a good time?" the voice asks.
"You bet!"
I gulp down mojito. I'm exhausted, but I feel great.
"That sounds great."
"But . . . it's not going to hurt her, does it? Wouldn't cut her life short somehow?" I know the whole thing is an AR creation, Robin looks so real. Didn't I bring her to the other side with me?
"No. Please don't worry."
"Is that so? Glad to know that . . ." I suppress a yawn. Alcohol makes me drowsy.
"The bed is ready," the voice says in a gentle tone. I spot a slightly open door on the wall on my left. I drag myself off the stool and take a few steps toward the door, as Robin follows me close behind. We step inside together. Maple trees stand outside the window. A green-shaded lamp shines on the night table next to the bed covered with a double wedding-ring quilt. I collapse onto the bed, and Robin leaps on it.
"Hey, you've got dirty feet. We've got to wash them first," I mumble in a half-hearted manner. "Oh well, never mind, Robin. Let's play tomorrow again." My eyes shut. Darkness wraps around me, but right as the night sky pulls over me, Robin so warm against my side, a female voice is at my ear.
"Hey, you're awake, honey," a young woman in a white uniform chirps, a broad smile spreading around her lips. She looks vaguely familiar. "You got us really worried, you know that? We thought we would lose you for a while. A meteor? Phew. What do you know? Who could've seen it coming, eh? They found you among the rubble. Oh, your hair? Don't worry, honey. It'll grow back soon."
★★★★★ Different Yet the Same
Mine was a golden retriever, but a standard poodle showed up. I went like, "What?" When I touched her, it didn't feel like my Robin. But she was an authentic poodle, and she embodied Robin's spirit. Although she didn't look anything like my Robin, she behaved just like her. A great app. Highly recommended.

About the Author
Umiyuri Katsuyama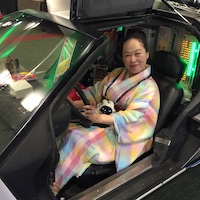 Umiyuri Katsuyama is a multiple-award-winning writer of fantasy and horror, often based on Asian folklore motifs.
A native of Iwate in the far north of Japan, she later moved to Tokyo and studied at Seisen University.
In 2011, she won the Japan Fantasy Novel Award with her novel Sazanami no kuni.
Her most recent novel, Chuushi, ayashii nabe to tabi wo suru, was published in 2018.
Her short fiction has appeared in numerous horror anthologies in Japan.
About the Translator
Toshiya Kamei
Toshiya Kamei holds an MFA in Literary Translation from the University of Arkansas.
His translations have appeared in venues such as Clarkesworld, The Magazine of Fantasy & Science Fiction, and World Literature Today.