By Binta Ohtaki - Translated by Toshiya Kamei

"The wind makes . . . . a terrible noise today," he mumbles. There is a momentary lull when he says it, but the wind blows against him two seconds later at 5.8 metres per second. With high pressure to the west, low pressure to the east, he finds himself in a town located in the center, but the balance has collapsed.
"But this wind . . . cries a bit," says a girl with an innocent, childlike appearance behind him when the approaching high pressure forces her to open her mouth.
Six seconds ticks away while he opens his mouth and she closes hers. He doesn't turn back. Even though he doesn't know the girl, there is an intimate air between them as if time had matured their relationship a few times greater than their ages combined. Driven by the wind led by their imagination, their intimacy's radius gradually expands.
The wind is one of the most primitive narrative genes. Narrative genetics was established in the mid-twenty-first century. But even narrative genetics was a story born out of narrative genes. Thus, its history originated long ago, even further back in the timeline than when humanity discovered the concept of God, who then uttered, "Let there be light." It dates back even before the birth of Earth, coinciding with the birth of the universe.
Under such a boundary condition, the original wind was a lot more than noisy. It was a blast. Even though the declaration of the program hasn't been revealed, the wind born there hasn't ceased blowing toward the nothingness that lies outside the boundary. Sticking speaking, the wind causes the development of the universe rather than the creation. While it remains invisible, the wind slips through the physical field and affects everything within the space the wind has reached, promoting activities that increase entropy.
"It's not crying because it's sad," he says. "It cries out of joy, right?"
"What?" The universe has finished writing the program. Now it's up to him to trigger the program.
"Let's hurry. Before the wind peters out . . ."
No doubt, the future ahead depends on the wind.

About the Author
Binta Ohtaki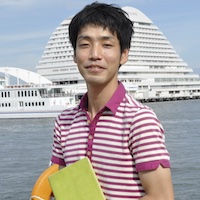 Binta Ohtaki is a Japanese fiction writer and essayist based in Kobe.
He has authored the short story collection Colonial Time (2017).
In 2018, he won the first Awa Shirasagi Literary Award, an annual short story contest organised by Tokushima Shinbun.
His short fiction hasappeared in Hidden Authors, S-F Magazine, and Taberu no ga osoi, among others.
About the Translator
Toshiya Kamei
Toshiya Kamei holds an MFA in Literary Translation from the University of Arkansas.
His translations have appeared in venues such as Clarkesworld, The Magazine of Fantasy & Science Fiction, and World Literature Today.