By Tim Borella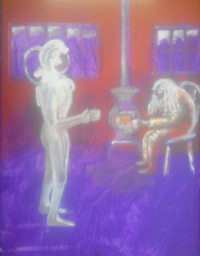 For a while I thought he'd leave me hanging, but eventually his expression softened and he relented, clunking the rim of his enamel mug against mine while he watched me from under those shaggy wizard's eyebrows.
"Good luck," he said, his creaky voice catching me by surprise the way it always did.
"Live long and prosper," I replied, and he rolled his eyes. It was an old joke between us, from an ancient series from simpler times that we'd binged on long ago. The wine was rough, the colour of deoxygenated blood, but it suited the occasion and the setting.
He'd built the place himself like he always said he would, in a little clearing in the forest with a creek for water and nature for neighbours, fresh air for windows.
We were quiet then, and the croaks and chirps of the night enveloped us. I cocked my head.
"Eastern tree frog," I said, "and if I'm not mistaken, pobblebonk." I knew he wouldn't have a hope of picking them out, though he'd have easily been able to tell if he could only hear them. He loved that stuff, always had, while I couldn't have cared less and was just showing off from habit — I had the enhancements, all the enhancements, and a superfast connection that let me do party tricks like this without actually knowing anything much.
He was fully and fiercely au naturel, me just the opposite, an early and insatiable adopter. My first operation was the result of a horrendous ski accident but I'd taken the opportunity to add another ten centimetres of leg, and from then on there was no stopping me. Now, the only limit was imagination, and what came from humble roots in prosthetics was now full customisation. Once they cracked the neural interface problem, pretty much everything was replaceable bar the brain and a few related essentials, and if you were okay with ditching what you were born with you could be anything you wanted, with upgradeable systems that did anything the old parts could do, only better. I could taste the wine, smile or frown, feel the warm air on my arms, smell the sweat of this old man opposite me in his chair by the wood stove.
He seemed smaller this time, hunched in on himself, and now that I was looking at him properly, I could tell things weren't right. I'd already cracked the ton and could probably go another one, and he was barely sixty. My expression must have given me away, and he met my eyes with a look that took me back, back to when I'd held him in my arms, hoisted him on my shoulders, hugged him when he hurt himself.
I got up and walked around to him, arms out. We both knew this was probably the last time, and there were tears in his eyes.
"Oh, my little luddite son," I said, holding him tight. "I love you so much."

About the Author
Tim Borella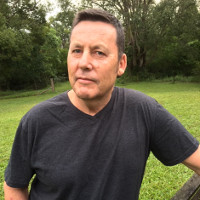 Tim Borella has never lost his childhood passion for SF and writing in general and has been lucky enough to have worked most of his life as a pilot — in other words, he's never properly grown up.
He lives in country Far North Queensland, has won awards for songwriting, and has had various other writing achievements, the most recent being an honourable mention in the 2018 international Literary Taxidermy Short Story Competition.
He also has bachelor degrees in science and teaching, and has completed a couple of as-yet unpublished SF novels. He'd dearly love to spend more time writing, but will have to continue juggling for another couple of years until the kids have fully left the nest.