By Edwina Harvey

We had to leave our home. In the middle of the night. Take a bag each and flee. They'd send a truck to collect the rest later.
Change our names. Start over again.
No more contact with the friends we'd made.
I was in my first semester at Uni, had just made friends with a great group of people from all sorts of backgrounds. We all just accepted each other and got along, you know? And now I'd never see any of them again. Not even social media contact. They'd never know what happened to me.
It was all my fault. Nobody said so, but what I did made us leave. I brought this upon myself, upon my family.
But how was I to know? Nobody ever told me not to. It seemed like a bit of perfectly harmless fun…
***
'If Darwin's Theory of Evolution is correct why aren't we all Neanderthals?' I challenged the others as we sat drinking coffee and chai.
Sanjeev rolled his eyes, he'd heard my argument before.
May Ling looked puzzled, so I explained: 'Neanderthals had a bigger skull than Homo Sapiens, ergo a bigger brain. Archaeologists are discovering that they were more advanced than we thought; they had a culture, made jewellery, used plants for medicine long before we had evolved that far —'
'Some of us are yet to evolve that far,' Kevin interjected.
Sanjeev snorted into his café latte, kept his eyes down, didn't want to look at me.
'They should have succeeded and yet they became extinct. How's that 'survival of the fittest'?' I was vehement in my argument.
Smiling, Sanjeev said, 'Calm down, will you? Get off your evolutionary high-horse! The Neanderthals aren't extinct. They live on in our DNA! Especially yours, Whitey. With your European heritage, you're probably loaded with Neanderthal DNA. That prominent brow…'
'Shut UP!' But I knew he was only teasing.

'I know!' said May Ling, always the peace-maker, 'Why don't we all get our DNA tested? It'll be fun!'
'You call spitting on a stick fun? I'd rather go bowling,' Kevin grumped.
'One of the big companies is offering a 2 for 1 special this month. Come on! Let's see where we all came from!'
What harm could come of it? Maybe I was part Neanderthal?
The company that ran the DNA tests sent the results back to you by old-fashioned snail mail. Quaint. I didn't even get snail mail birthday cards anymore! Hadn't they heard of e-mail or texts?
That was my downfall. When I came home from Uni Mum was waiting for me, brown envelope in her hand — the company name and logo splashed across the envelope so everybody knew you'd got a genetic test done. No idea of confidentiality.

'What have you done?' she asked me. I didn't have a clue.
'A few of us from Uni thought it'd be fun to get our DNA read, find out where we come from. See, I've got this theory that the Neanderthals should have out-classed the Homo Sapiens way back when —'

But she wasn't listening to me.
'Open it.'
I opened the envelope. Instead of reading 'Congratulations! You are at least 10% genetically Neanderthal' the letter said they'd found an unexplainable genetic abnormality in my sample, and would I come to their office for more TESTS!
Puzzled, I looked at Mum for an answer.

'I've been meaning to tell you. We're not from around here.'
'When you say 'Not around here'…?'
'Not from this planet. Now go pack a bag. We're leaving tonight. Hurry!'
So I'm not even a little bit Neanderthal? Well, poot!

About The Author
Edwina Harvey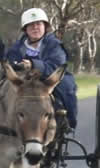 Pretty much a life-long fan of speculative fiction, Edwina Harvey is a writer, editor, silk painter and ceramic artist.
Her short stories and articles have appeared in a variety of publications including Aurealis, Antipodean SF, Grass Roots, Harbinger, Magpies, Strange Pleasures #3 and Worlds Next Door.
She has had three books, The Whale's Tale, The Back of the Back of Beyond, and An Eclectic Collection of Stuff and Things and a novelette, Never Forget, published through Peggy Bright Books. <www.peggybrightbooks.com>.
 Edwina received her editing qualifications in 2012 and now works as a freelance editor, specialising in speculative fiction.