By Malena Salazar Maciá — Translated by Toshiya Kamei

As a sharp knife slashed his throat open, the victim collapsed as if struck by lightning. Blood gushed from the wound like water from a high-pressure hose, forming a quavering puddle.
The miserable wretch would never speak again. Gurgling his last breath, he had spasms, which only lasted a few seconds, and then his limbs ceased twitching in a capricious position. The murderer, with a calm characteristic of those accustomed to the routine of death, wiped his murder weapon clean on the dead man's clothes and knelt beside the body to make sure he was dead.
Careful not to change the corpse's position, he turned it toward the light and leaned in closer, his eyes narrowing to take a better look at the victim's ashy face. He spat a curse, a foul word almost no one in the world would understand, and gave a snort of pure annoyance.
He'd definitely have to look for a new eye doctor. He'd killed the wrong person again.

About the Author
Malena Salazar Maciá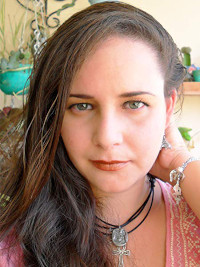 Malena Salazar Maciá was born in Havana, Cuba, where she still lives today.
A winner of multiple literary awards, she has authored several books, including Nade (2016), Las peregrinaciones de los dioses (2018), and Aliento de Dragón (2020).
Translated by Toshiya Kamei, Malena's short stories have appeared in Clarkesworld, The Future Fire, Mithila Review, and elsewhere.
About the Translator
Toshiya Kamei
Toshiya Kamei holds an MFA in Literary Translation from the University of Arkansas.
His translations have appeared in venues such as Clarkesworld, The Magazine of Fantasy & Science Fiction, and World Literature Today.