By Kevin J. Phyland

The invitation was on thick, glossy cardboard stock, with gilt-edging and came in the mail. I mean with a real postage stamp and everything! The message on the card, in immaculate handwritten Copperplate, said simply, "Meet me at home at 6 p.m. Thursday. Gavin."
I only knew one Gavin – Gavin Krantz, my physicist friend from Uni – whose flaky theories and odd experiments had led to departmental censure on more than one occasion, but he was nothing if not entertaining.
When Thursday evening came around I found myself at Gavin's home in one of the leafier suburbs of Adelaide. He showed me into his living room where he beckoned me to a chair next to a small table set with nibbles and two opened stubbies of Heineken sweating beads of moisture.
Gavin seated himself and opened the conversation with one of his standard conversational non sequiturs, "What do you know about teleportation, Brett?"
I mused a little on this before replying. "You mean like 'Beam me up, Scotty' from Star Trek?"
He nodded with a slightly irritated look on his face. "Sort of," he replied. He gave me a brief appraising stare. "I've built a working prototype in the garage." He got up and indicated for me to follow him, grabbing his stubby. I grabbed mine too, anticipating something gossip-worthy at the very least.
In the garage under the glare of fluorescent lights I saw two open cages at either side of the back wall. Heavy cables snaked across the floor of the garage between them, presumably electrical. A large black box was attached to a laptop which sat innocuously on a wooden workbench next to the left-hand cage.
"Watch this," he said, and without any fanfare he opened the nearest cage and climbed inside. "Would you be so kind as to push the big red button for me Brett?"
"Definitely not," I replied. "I can see it now. You get electrocuted and I have more explaining to do than I could possibly...explain."
Gavin chuckled heartily. "Just do it. I've done this before."
If he's done this before, how did he push the button that time, I mused, but went across to the laptop anyway. With a great deal of trepidation, and recalling any number of films where the main characters were exhorted to not push the red button...I pushed it.
There was a brief flash of light followed by enigmatic sizzles and clicking sounds, culminating in a small implosion of air when Gavin vanished and reappeared in the right cage with an audible pop.
I stood and stared open-mouthed, while Gavin smirked, opened up the other cage, calmly picked up his beer and resumed sipping it. "Come back inside," he said.
After a few more beers I came out with the objection that had been niggling away at me.
"Did I just watch you die and then create a copy of yourself?" I asked, peering intently at Gavin, trying to discern any differences.
Gavin contemplated me with his head tilted slightly. "You're thinking about this all wrong. It's no different to what happens when you go to sleep."
"It's not the same," I said.
"Prove it," he responded. "Our whole reality is a construct of memories, interpretation and — let's be fair — a shared hallucination — where what we perceive as real is just whatever the consensus of the people agree is real. Your memories might be copied and rewritten every night while you slept and you'd have no way of knowing. You'd wake up with the same memories except for the part where you are asleep. You're not the same person you were when you were six, not a single cell from then exists in you now. By extension you're not the same person you were yesterday." He sipped again from his stubby. His eyes glinted a little.
"And neither am I," he said with a grin.
It was a rational and logically consistent explanation. Our thoughts and memories do create our reality and I most definitely wasn't the same person I was when I was six. Every day really is the first day of the rest of your life. I should have been completely satisfied that teleportation was safe and would revolutionise humanity.
So why am I now terrified of falling asleep?

About the Author
Kevin J. Phyland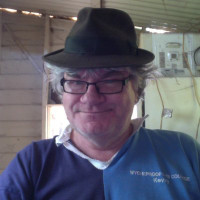 Old enough to just remember the first manned Moon landing, Kevin was so impressed he made science his life.
Retired now from teaching he amuses himself by reading, writing, following his love of weather and correcting people on the internet.
He's been writing since his teens and hopes he will one day get it right.
He can be found on twitter @KevinPhyland where he goes by the handle of CaptainZero and his work is around the place if you search using google or use the antisf.com.au archive.