By Chris Karageorge

Last night. Carol and Martin's house again. Eight of us all together in the living room with the conversation that was anything but. Again.
Me, I was there. Sitting on the couch, edge of my seat and still wearing my jacket, watching. Next to me was Paul. Paul was an awkward shuffle of a man in his late 60s. Wisps of white hair, the facade that is his face, slipping away.
"Paul is good with numbers, used to work for H&H, you know, they looked after Tom Britton before the socialists got him. Paul used to work in finance."
That was Agatha, Paul's wife. I suppose that's what you'd call her. She's at least 10 years younger than Paul and 10 days ahead of him in most things. The only thing she couldn't be ready for was when Paul crept up behind her like a toddler and made kissing sounds as he neared himself and his candy cane lips to her left ear.
"Ooof! Paul! No!"
Off the couch and several teacup stretches over is Emma, Carol's mother. Dressed in black for her daughter's birthday, sipping sweet white tea and planning Carol and Martin's Sunday for them, Emma was at the peak of her game.
"I never fed Carol eggs, the yolk is filled with bacteria" she said, placing the cup in its saucer, touching her brooch and resting her hands in her lap. Touching her brooch and resting her hands in her lap. Touching her brooch.
Tom and Mary sat on the couch opposite Paul and I. This time Mary is sitting all the way back on the couch and her feet are five phone books away from the ground, she sits differently every time.
"I always liked eggs," said Mary, clutching her wrist, clasping, unclasping, clasping her watchband.
From where I was sitting Tom looked like he was awake.
"Dad, wake up!" Martin exclaimed, while not being entirely surprised that his father had fallen asleep. It didn't surprise me either.
Tom rubbed the wall, took off his glasses and ran his fingertips along the paint lightly.
"What kind of paint is this Martin?" Tom asked, putting his glasses back on.
"Acrylic."
"I really like what you did with the fireplace."
"It is nice isn't it?"
"Is it real render?"
"No he just got it from the hardware store."
"Oh that's right, he said that last time."
It doesn't matter who said what, they'd had the exact same conversation the last time they were together.
Years passed in two minutes and the conversations were dragged from the weather to sports to reality television to popular music. Paul got involved every now and then by adding "Yeah, yep," to the tail end of every conversation. He stared at a spot on the wall where Tom had run his hand over, furrowed his brow and blinked long and slow, then short and fast — he was slipping.
Martin brought out the cake. The birthday cake. The lights were dimmed, candles were lit. We all disappeared in the shroud, the eye of the candle reflected in our eyes, the dessert spoons and Emma's brooch. An angel on the cake, standing taller than the candles.
"It's the angel of strength and courage."
Carol did the thing with the candles. We cheered and Emma held the knife. "I was just so fed up that Carol didn't have a decent cake knife that I decided to leave my own one here."
Carol went to cut the cake and Paul produced a camera. "Carol, photo."
The knife attempted to cut through the cake. Carol struggled, Martin closed in, the cake wasn't going to give up that easily. "It's just so dense. Man, this is..." Martin put the knife down and smoothed his hair back. The wood in someone's chair creaked.
"Why don't you heat the knife up?"
Martin and Carol continued to struggle for some time, see-sawing the knife and forcing it down to cut through the dense cake.
"Maybe I should heat the knife up."
"What a great idea."
Someone rolled their eyes.
I found Paul in the laundry, staring at the tilework and smiling. "I know this pattern and this room, this house too."
"Paul…" my voice broke the silent darkness of the laundry, the orange glow from behind Paul's face made his face look like pumpkin on Halloween. "...Déjà visité."
The orange glow turned blue and Paul left the laundry and entered the living room, while passing through the kitchen. "Just heat the knife up" he murmured.
As I waved goodnight to Paul I glanced over to see him getting into the driver's seat of his car alone.
My Vi-Screen lit up and Guy called from the Comms Centre.
"Ten minutes longer than usual tonight, strange," he said, raising an eyebrow.
"One hundred and eighty-seven iterations of the same simulation. It was in the laundry this time, I had to activate Paul in there."
"I did pick up activity on new carbon pathways just before the cake cutting." I could hear Guy tapping away at screens and tapping his pen. "We'll just run it again. The Paul-Model has to be ready for mass production by Christmas...by the way, did you do something to the sim-family coding, they've never had...blood before."
"New orders from Obergruppenführer came in before your shift, Operation Purge. This wasn't a sim. We'll send a clean up crew."
"Better send two," I began, looking over at the empty house, "there's cake on the walls."

About the Author
Chris Karageorge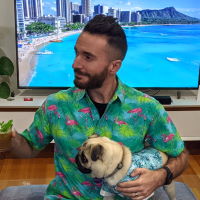 Chris Karageorge is a lover, brother, son, neighbour and a keen observer of all things in sight. 
He reads, writes and cooks in his spare time and dreams of coffee darker than a moonless night. 
He is from Melbourne, Victoria and can be found walking his pug Monty during the weekends.