By Keech Ballard
The Goddess Empress died from toxic shock fumes. The neurotoxin found in her blood was not delivered orally. The food, wine, and dessert tasters were free of infection and therefore executed.
A large colony of oversized mice living in the palace walls gained access to the Imperial bedchamber through a narrow crack. The duty architect was therefore executed.
Some of the mice tested positive. The colony was gassed, sucked dry, their mummies incinerated. No direct link between infected mice and the usual suspects could be established.
The Goddess is dead!
Long live the Empress!
I prepare to meet my doom.

About the Author
Keech Ballard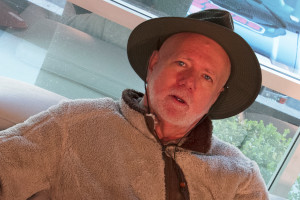 Keech maintains an ominous presence somewhere (out there) in the desert southwest of the human mind. Keech has concocted a strange brew of fiction, creative nonfiction, and poetry since the crisis began.
A few of these manqué misfits are available as podcasts. Recent examples of Keech's mood swings may be found at Ellipsis Zine, Outlander Zine, Antipodean SF, and Kalonopia Collective.