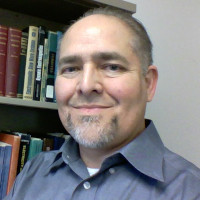 A Physicist in Engineer's clothing, Rudy worked 20 years in the Defense Aerospace Industry, from performing Lightning Protection analysis on the Space Shuttle to the design of Radar Absorbing Materials. He then joined Academia as a Professor of Electrical Engineering, where for another 20 years he attempted to infect unsuspecting students with a love for Maxwell's equations.
Since High School he has spent most of his free time either writing Science Fiction or trying to figure out how to make Science Fiction a reality. (His students' latest work has led to the realisation of efficient RF antennas that radiate using true magnetic (not electric) currents.)
His speculative fiction short stories have appeared in Residential Aliens, Ray Gun Revival, The Untold Podcast, and Antipodean SF. He blogs on the subjects of Science, Religion, and their intersection. The rest of his work is in the peer reviewed Physics and Engineering literature.
Rudy has also been involved in Jail Ministry for about 30 years. He and his wife Marcy live in Phoenix, Arizona.
Links: <https://rediazauthor.com/>