By Chris Karageorge

Grant Reynolds likes to describe himself as a "traditional bloke, middle-aged and a meat eater", which is to say he eats any and all kinds of red meat.
"Just don't get any of that plant-based lefty shit near me, bunch of soy sipping snowflakes!" he often proclaims, loudly enough for everyone to hear, and loudly enough to get the reactions he wanted from those so "easily offended."
One Friday, after his conference meeting with the other partners in the business, an enticing invitation arrived, addressed to Grant.
Humanus Esca - Haud Bovis
7pm
Mr. Grant Reynolds and distinguished friends.
We welcome you to try our award winning steaks and meats at our revolutionary steakhouse.
Compliments of your friends at Con. Science Systems.
"Bet your bottom dollar I'll be there, yes, yes, okay, I'll bring a couple of reds and we'll get a cab there and back. Hey if they're paying I'll leave the reds at home then! See you then mate!"
***
Grant, Ross, Gary and Tony sat around a table at the renowned steakhouse. Their Friday night shirts, a little snug, a little untucked and a little unbuttoned at the top.
"...And then this bloke comes in and says 'I'll have ten of them!'" exploded Grant as the others roared with laughter at the punchline.
A slight hush came across the table as the waitress brought menus to the group, as well as the wine menu.
"Gentlemen, as it is your first time here I will guide you through the menu and also go through tonight's special." She gently clasped her hands and made eye contact with everyone at the table.
"Our menu is organised in a complimentary manner where we have suggested pairings across our entrees and main steak meals. You'll also note suggested wine accompaniments for each piece of meat. Tonight's special is actually our house speciality, Humanus Esca sous vide served with a mustard sauce, thrice cooked potatoes, heirloom carrots and baby peas. I'll return shortly for any questions and your orders." She left with a smile and disappeared into the kitchen without a sound.
"I've got a suggested pairing, me and her, that'll be tonight's special!" Grant planted his hands on the table and kicked the table leg. They all snickered and someone began a retelling of their last escapade to Bali.
***
"Gents, that was…" Grant had to pause to catch his breath and add emphasis to how much he loved this meal. "...the best steak I've ever had. Hands down. I cannot even compare it to anything else." He mopped up the last of the mustard sauce with the table's third sourdough loaf and was pleased he ordered the Humanus Esca.
As the waitress glided over to the table Grant caught her attention when she collected his plate.
"You must tell the chef, the manager, everyone, that steak was unbelievable. I have never, and believe me I love my meat," he swallowed on the word meat to get the rest of the flavour into him, "I have never had anything that tasted so good."
"Oh we are pleased to hear that Grant. As you were invited here tonight the chef and manager would love to hear your feedback, and perhaps...you would be interested in a tour of the kitchen."
The table chortled with the thought of the grand tour and Ross, Gary or Tony, one of them, made a joke about it being Grant's "FIRST TIME in a kitchen".
***
The group stopped in their tracks when they were introduced to the manager and owner of the restaurant. Professor Lyndon extended his hand and smiled charismatically to each of them.
"So, are you a doctor or something as well as a restaurateur?" Grant quizzed the white coat.
"I most certainly am. I find it fascinating to bring my knowledge of the medical world and science into the kitchen, it gives me such hope for the future of food," beamed Professor Lyndon.
"And here I am talking about exciting things and forgetting to introduce our head chef, Enoch Huntley," continued Lyndon as he waved his hand over to a cool room door where the chef had just left.
Again, much like the restaurateur and professor, this head chef looked out of place in the exemplary steakhouse. Strangely glossy hair that was kept in place immaculately with a good lacquering of hairspray. A skin tone akin to the warm hue a computer monitor switches to for night time, and the smell, there was an odd smell about the chef, something sour and vinegar-like.
"Would you like to see how we prepare the meat?" Enoch asked the gentleman.
"Yeah…" Grant replied, with some hesitation in his voice.
***
As the group passed the cool room door they realised it was no cool room. It was a lab.
"There is no limit to our progressiveness here at Humanus Esca — Haud Bovis. All of our meat is grown on site — no animal had to die to give you the cuts of meat tonight." Lyndon was excited now. Showing the group all the cuts of meat they were growing and the meals they were creating with each cut.
"This is scary science. This isn't right mate," said Grant, "Besides, what's wrong with grabbing cattle, slaughtering it and cutting the steak off that way? You lot have gone too far, all about conservation and protection. I'll tell you what will solve it, stop selling our stock to internationals so there's enough here for us, if they want meat so bad, they can raise their own." Grant was digging his heels in, folding his arms and the meat sweats had kicked in. A slight glisten beaded on his forehead.
"I assure you, this meat is clean, safe and apparently you said it was the best thing you had ever tasted." Lyndon stared back through his thick glasses, hands behind his back. "Tell me...what will we do, when all the animals are gone? What meat will we eat then?"
"When all the animals are gone...that's never going to happen! When and if that happens the planet will collapse, ages away!"
"Perhaps…" interrupted Enoch. "You would like to see where your meat came from…from the meal you had."
"One of these petri dishes here mate, you blokes already showed me." snorted Grant.
"Oh no no no. You see, the Humanus Esca is something special. Please, come." Enoch waved the group over to the back of the lab where a large body of meat was mounted in a sterile box.
"This is the meat you didn't know you missed, meat we didn't know we had and meat we will always have. Every one of our restaurants serves this, all our labs supply the greatest steakhouses in this country. When the animals eventually leave us, we will be ok. You'll never have to worry about meat again. Ever."
Grant's eye twitched and his stomach gurgled as he looked at the meat growing in the glass box.
Humanus Esca - Haud Bovis
Human Food — No Bull
An entire human thigh and leg was growing and twitching in front of the group.
"It is completely sustainable, I assure you."

About the Author
Chris Karageorge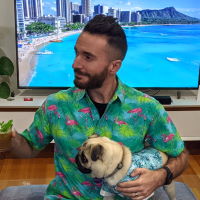 Chris Karageorge is a lover, brother, son, neighbour and a keen observer of all things in sight. 
He reads, writes and cooks in his spare time and dreams of coffee darker than a moonless night. 
He is from Melbourne, Victoria and can be found walking his pug Monty during the weekends.