By Kevin J. Phyland

It could be argued that what happened was the result of me being a cheapskate. It could also just have been an oversight. Either way, it was a disaster.
Packing a tesseract suitcase is not quite the same as packing a regular suitcase. For a start, the T-case's contents hang outside normal 3-space, via a wormhole throat, to an n-space rental warehouse. To put it in a nutshell — I can carry a LOT in a T-case.
On the outskirts of the town I slid my implanted wrist ID across the front of the case and expanded the interface. It grew to the size of a 3 metre square with a brain-stretching shimmer in its depths. It was then a simple matter to drive my car inside, get out and close the case. Since most of the contents exists in a different dimension the mass is elsewhere, so it's actually quite light. About what an empty briefcase might weigh.
I'd done a little research on this time and place and the T-case could easily be mistaken from a distance, say across a crowded room, if you weren't looking too closely, as a rather nice piece of airport luggage — sans visible latches. It just had small blinking lights on the front. I'd left a piece of cloth jammed half in and half out of the case so some would drape over the lights. I looked sloppy but not like a bounty hunter.
In this timeline it might have been a bit conspicuous to land in my transmat ship and wander about carrying the phase-shift weapons I would need to apprehend the criminal I was chasing. Zero had escaped from a warp-matrix using a smuggled exotic matter repulsor and had fled to this part of history.
I had been cleaning up after him across this continent and through several timelines, storing evidence in the T-case and trying not to be too visible to the locals.
It's usually something really small that causes the most trouble in life and this was no different. I'd gone to great pains to make the T-case unobtrusive but had neglected the fact that the local hotel rooms had simple magnetic locks which a child could open using a cloned credit card.
It was only when my wrist chip started blurting warnings into my heads-up optics that I realised that the case had been stolen. It's programmed to howl like crazy if it ever gets more than a hundred metres from me. In hindsight that could have been designed better.
My display assured me it wasn't Zero (that would have been bad), so it was probably an opportunistic local who thought they'd scored a cool bag of unknown but lucrative contents. That was much worse.
The chances of the miscreant being able to open the T-case were infinitesimal. More pressing was the fact that I'd been meaning to pay the rental on the n-space warehouse before I left and if I couldn't pay they'd turn off the access.
Ejecting the contents. All at once. In about the time it takes for an electron to change energy levels. The warnings would mean nothing to an inhabitant of this planet and period of history.
I weighed up the options. Continuing without the case was not possible. There was only a faint hope that Zero would hang around at his last location, but the thief undoubtedly knew the area better than me and time was running out. The locator chip had been switched off due to false alarms so it was no help.
I had no choice. I'd have to return to this time and place a little earlier next time to undo what I was about to do.
I signalled for an alternative pick-up and switched off the case.
Somewhere nearby the crush of contents exploded. I could hear and feel it. My ship, two stolen cars, a week's worth of evidence, including six bodies that Zero had racked up, suddenly occupied a whole lot more space than the case could hold.
I altered the data in my wrist computer to seven bodies despite the fact that there would be no trace left of the thief after the case disengorged. We'd have to debate whether bodies that I managed to save by turning up earlier counted as victims or not at some stage. But not now.
The police here were going to be scratching their heads for some time.
"Next time I'd choose a room with a sturdier lock", I thought as I flickered out of existence.

About the Author
Kevin J. Phyland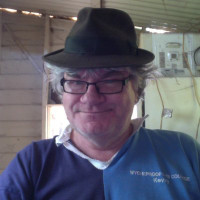 Old enough to just remember the first manned Moon landing, Kevin was so impressed he made science his life.
Retired now from teaching he amuses himself by reading, writing, following his love of weather and correcting people on the internet.
He's been writing since his teens and hopes he will one day get it right.
He can be found on twitter @KevinPhyland where he goes by the handle of CaptainZero and his work is around the place if you search using google or use the antisf.com.au archive.