By JM Cyrus
She had been smelt out of iron in her creators' deepest forge. They had gathered their purest steel, iron and bronze; held competitions to find their best workers with their most prized tools; and they had designed her with their most aspirational aims. They created her to be their champion.
They soldered their happiest memories and noblest attributes within her, and infused her with the life of the mountain. She protected them, without question.
When she had protected them for a hundred generations, she grew curious of the world beyond. There had been no threat in two score years and ten, only new friends and allies. Her people relished the wealth of progress and peace.
She asked if she may travel.
Of course, they said, you may. But please return, if not in our lifetimes, then before our great grandchildren are old.
She explored and saw many extraordinary things. She had not realised there was so much beyond the slopes of her mountain. She ran out of fingers to count the wonders.
One day she encountered the reflective salt flats. The baked, exposed surface concentrated the sun's rays into a piercing heat that made her feel soft and safe; returned to her forge of birth.
She luxuriated in the brightness, the expansive space, the blue above and white beneath her feet. The haze muddled the horizon. The dried salt on the ground was thick and cracked like dry skin. She wondered what it would feel like to have skin rather than metal plates.
She found a building, a cube of stone. It had one door of dried wood, and no windows. She could hear weeping shrieks from within.
"Let me help you!" she called.
The cries inside continued.
"Let me in," she called, "I will help."
The miserable, sobbing screams were relentless.
She pushed the door. It did not move, despite her smelted strength. She heard the hopeless sadness within. She looked at the resolute, unflinching sun, and chose.
She sat by the door, leant against the creaking grain, and crossed her legs. She cleared her mind in meditation, and held herself in her mind. She opened herself to the sun's heat.
It took weeks, but time dissolved under her mountain's patience. She welcomed the sun on her body, invited it into her, and embraced the heat within herself. Little by little, moment by moment, she melted.
Eventually she was liquid; a pool of metal on the stone step. She concentrated to keep herself together, and moved her liquid self beneath the door.
Awareness was flat; all over and more than eyes, fingers or ears. All senses combined, and all abilities latent.
The building was dark inside, but who needs light when there are no longer eyes. The door was bolted within with stone and metal. A door never intended to be opened.
Our knight pooled herself, swirling eddies of liquid metal, her surface tension like mercury. She explored the insides of the heated cube.
She found the source of the screams. A collection of trapped spirits; insane with grief, loneliness and torture. In their tormented screams she heard mangled expressions of trickery and entrapment.
They had been here so long their physical forms had withered into nothing in the dark.
Our hero was bereft. She knew her privilege. She had known comfort, encouragement, love and gratitude from her creators. She remembered her beloved mountain; the glory of the generations she watched over.
Would these spirits like them too?
She felt about her liquid self, finding the potential memory in each molecule. She remembered which body part each droplet came from.
If we could see in the dark, and if the screaming spirits could pause their lament; we would have seen the slow metal mitosis separation. What parts do I no longer need?
I do not need my helm's elaborate decoration, she thought, or the plate skirt about my middle. I could overlap the plates all over me less, and I could manage with shorter feet.
The second, smaller, syphoned pool was inanimate, quiet and waiting.
The spirits paused their wails for a moment, their cries changing cadence when they returned. They could smell hope.
With her remaining pool our knight formed fingers. It took a long time. The spirits watched. What is a dozen days when you have been imprisoned for hundreds of years.
With strong fingers the knight unlatched the chains.
The spirits sprung, ricocheting off walls, floor and ceiling. Within hours, their weeps of grief changed to whoops of joy, release, catharsis and gratitude.
They returned to the ground beside the knight, whimpering delight and a wish to go alongside her.
She indicated the spare pool, and they imbued it with their incorporeal selves. Once within, the knight led the bizarre train towards the door.
She knew the next part would be hard. If a pool of melted metal could take a deep breath to gather themselves, that is what she did. She concentrated on her memories of herself, a self lovingly created deep within the mountain by caring, skilled hands.
With all her strength she pulled both herself and the spirit inhabited pool through the gap beneath the door, and into the heat of the midday sun.
She waited for night. She focused on the minutely cooler breeze, on the condensation of dew, on the setting qualities of starlight to crystallise. She cajoled the spirits into a solid shape of their own choosing.
A year later she stood again. Sleeker, lighter, a little bumpy in places. The metal finish was not quite as fine as when she had been created, for she was not as skilled as her workers. But she was whole.
She picked up the shield the spirits had created, and she walked away, aiming her new feet for the mountain.

About the Author
JM Cyrus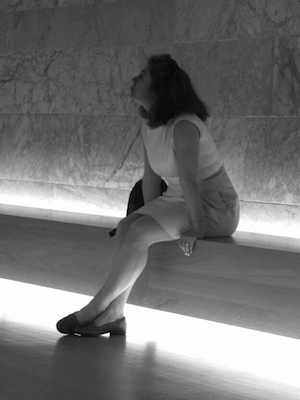 JM Cyrus is a speculative fiction writer living in London, England. She writes whenever there is a chance, and reads even when there isn't one.
She holds a master's degree in Reception Theory, and wrote her thesis on the reader's journey.
She usually writes short stories, but poetry occasionally strikes.
Her work has appeared or is forthcoming in anthologies from Improbable Press and Patchwork Raven, the literary magazine Flint, as well as online on Medusa's Kitchen, Sci-Fi Shorts, and Orion's Beau.
Say hello at jmcyrus.writer [at] gmail.com