By AE Reiff

Once when the Giants of Family
Und
roamed canyons and ballooning
heads,
there were giants of Rhine gold
too
in opera and children's
books.
You think them clouds
till beanstalks sprout their beds.
If you think giants understood
their work,
how did those who fed them
become their food?
Tidy one mess and clean up
stuff,
Tie bibs when they throw up,
that's then our company of little
dogs comes in.
Kept by them for candy bits,
stock grown by minions
that giants possess
are a Feeding Mouthful Anomaly of
little pets.
PupPoets they are called,
but the more they eat the bigger
giants get,
which breeds more pasty imprints
of the whole.
A boisterous giant will squash his
Binding with large acts
of compression.
When this occurs
Privileged Professors broker
deals
between giants and the little
tykes
To make the giants seen, unless
sanitation problems
distract from the cleanup of
littered dens.
PupPoets cannot say after a hot
fry stump
what's not and what is and at the
same time clean up.
Do you want giants to appear or
not?
PupPoets follow these imprints
to the stalk
where they chant the
not,
and squirm giants into
gravitation.
Puppets catch'em in a net like
wind
with great Encephalites
like
craters on the moon.
O cognentis solipsis!
you may
think nothing there at all,
but sound the metaverse. —
wherever there's a hole they cast
a slump
to mark the impact of these great
"stumps,"
in time to analyze the sonar void
of verse.
How it breeds, how writers keep it
balanced
amazes us only when we know
sky giants on earth and
PupPoets are not
alone.
For many hydrocephalic obesities
Are raised on farms of readers in
town,
where giants force their chickens
and cows,
readers and thinkers of the day,
like we do herds.
This mind would eat the
monoploid
Of pasture feedlots, slaughterhouse
U's.
It makes a lot of talk but as they
say
on building and around walls:
"Replete the Mind."
The better cuts of Professor Yum
are there.
Religious schools and Industry
enlarge the dole.
Eight billion today, eleven billion
tomorrow,
giants multiply fast and need more silo.
Measuring population by the feed
bowl first
Giants from other planets have
been advised.
They come here now to colonise.

About The Author
AE Reiff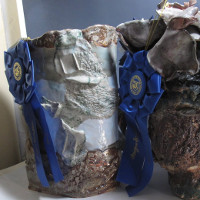 There is a writing to touch like silk, which produces the finest translucency, as if it weren't word but light. This melts in the flame, slumps around forms like the folds of Balzac's cloak. Only that state telescopes. Other writing rigors never melt, initially soft, they turn brittle and stiff as though they were a Goldilocks, one too soft, the other too hard. Another holds malleable the impasto and its shaves, rolls coat thin, one atop another the way a palimpsest that overwrites a manuscript accepts the undercarriage that allows the shine. This writing must pass the fire twice, the first prepares to receive the second, for the second will not change. Purified as silver, not intellect or mind, the shrinkage of the first loses water and vanity before anointing with fine oil. This writing wants to receive impression, resist correctly and give form to the formless shape of the shaper. However much this writing is a surfactant to cleanse and a diatomaceous earth to crack the hard shell besides art, the fish watcher, canoeist, chemist, painter, arborist, glass artist, roofer, ceramicist seeks the flower at encouragementsforsuch.