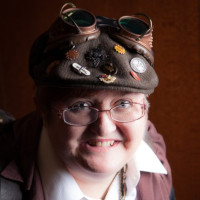 Author's Bio: Lynne Lumsden Green has twin bachelor degrees in both Science and the Arts, giving her the balance between rationality and creativity. She spent fifteen years as the Science Queen for HarperCollins Voyager Online and has written science articles for other online magazines. Currently, she captains the Writing Race for the Australian Writers Marketplace on Facebook and is an assistant editor for the Queensland Writers Centre magazine, Writing Queensland.
She has had flash fiction stories included in Flashspec, edited by Neil Cladingboel, and another in Flashspec Two. A short fantasy story was published in the EnVision anthology, sf-envision.com, another fantasy short story in The Phantom Queen Awakes by Morrigan Books, and in the 2016 Oscillate Wildly Press Monsters Among Us anthology, the short horror story 'Beyond the Walls of Sleep'. Two stories were included in 2017's Return anthology, one a straight fantasy and the other a steampunk narrative. Her latest short story is in Fairytale Riot, volume 4 of The Clarion Call.
You can find her blog at: <https://cogpunksteamscribe.wordpress.com/>.