By Tara Campbell

The sounds of battle echo through the streets at all hours: the clank of metal on metal, the scrape of steel on stone, the thudding of robots marching on until they find one another, assume the stance, engarde, then one or the other makes the first advance, calculating probabilities, categorising risks, having already mapped out stimulus and response so many times that every thrust or parry is one of a series of predictable outcomes. The only variables now are tripping on a crack on the sidewalk, or crashing into another pair of duelling robots. Humans have long since been killed or fled the city, never able to outcalculate their robotic foes.
The ones who first translated the ancient craft of swordfighting into code were not warriors themselves. Despite the lifetimes of video games that inspired them, they were no match for the robots, and any remaining joy of creation melted away with the contents of their bowels when they had to hoist a real sword against the enemies they had made. The creators, being crafted neither of pixels nor metals, didn't last long.
We hasten to clarify, this isn't one of those stories where the robots gain sentience and decide to take over the world, no matter how much better they might be as its stewards. These robots aren't even all androids—they don't all look human. They are machines with recursive code that tells them to fight, to defend their encoded selves no matter what forms they take, say a toaster or a blender or a refrigerator or television or car. Each unit as dimly aware of itself as any organism that knows it must defend itself against aggressors. And if there are no aggressors around, it must find one.
Unlike other animals, however, these encoded beings have only the knowledge of swordfighting. They will pass up other weapons, stomping or rolling right by guns and hammers and crossbows (it was always a strange city) and picking up anything that can serve as a sword. And after all of the cosplay swords were broken in battle, and the few true swords as well, they began using new implements such as swiffers and plant stakes, shovels and spades, and when all of those were finally broken as well, they began tearing the crossbeams out of buildings and ripping lead pipes out of the ground (it was also an old city).
At first, most citizens were merely a bit unsettled, believing that only those who kept swords lying around the house were in any real danger. When the people asked us, their leaders, if the robots should be stopped somehow, we assured them we were studying it (as, the irony does not fail to dismay by now, we'd studied the dangers of crossbows and lead pipes).
Those who could afford to leave at that point did, hiring their own swordfighting robots for protection and providing them so many swords they wouldn't have to enter the shiny new bunkers they had been newly programmed to protect.
Those who couldn't afford to move?
Some tried to plead with the robots to stop fighting, but that wasn't in their programming. Those people didn't last long.
Others tried to reprogram the robots to only go after the wild animals that had begun to enter the city to feast on carrion, but that simply wasn't in the robots' programming. Those people didn't last long either. Neither did the animals.
Still others stayed for the show, climbing high for the best seats, and they all thought it was pretty rad until the rooftops they stood on came tumbling down for lack of crossbeams.
Quite a number of citizens tried to justify the robots, explaining that this was simply how they were programmed, reasoning that there must be some kind of logic determining who would be killed and who wouldn't, and if they could only figure it out, then perhaps they could avoid being killed.
But they were killed too.
And after all of the humans and animals were killed, the only other moving things left were the robots themselves. And because they were programmed to fight, they fought, and still do so to this day.
Why has no one stopped them? Well, because they have been granted the right to swordfight. The only course of action, then, is to observe them from our shining bunkers. As long as the streets echo with the clash of battle, we will record every fallen robot; and as long as they continue to cull their own, we'll have time to plan for whatever comes next.
When only one robot is left standing (or rolling, or hanging), we assume it will continue its directive to swordfight any moving thing, and since it will be the only moving thing, perhaps it will begin to fight itself. We are keenly interested to observe which move will prevail: thrust or parry, kill or be killed.
All of the lives, human and machine, that have been and will continue to be lost are regrettable, but our hands are tied. There is much we don't know: will these robots operate beyond their current base? Will their programming contain the directive to go out to a new city once they raze the last? We have no way of knowing. Those who wrote the code are long dead. All we can say with certainty is that the robots were created with the inalienable right to swordfight. And as such, it is for us merely to observe and hope, by god, to survive.

About the Author
Tara Campbell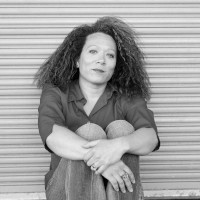 Tara Campbell (www.taracampbell.com) is a writer, teacher, Kimbilio Fellow, and fiction editor at Barrelhouse.
Prior publication credits include SmokeLong Quarterly, Masters Review, Jellyfish Review, Booth, Strange Horizons, and Escape Pod/Artemis Rising.
She's the author of a novel, "TreeVolution", and two collections, "Circe's Bicycle" and"Midnight at the Organporium".