By Rick Kennett

She is sitting in a sandpit, her little spade in her hand, glancing up now and then. Sometimes to see if Father is coming back from talking to the Gardens Manager in his office somewhere in all this lush vegetation, and sometimes to crane her head back to gaze up at Mars hanging red and gigantic above, pock-marked with craters and looking like a scary, angry face watching her.
But she is safe beneath the protecting bubble stretching right across Stickney Crater and not at all scared of Mars and its big red face.
Father says she'll go there one day when she's bigger.
If she wants to she can imagine it's not really Phobos spinning around Mars but Mars up there in the sky spinning in place to show itself off to the little moon: 'Look at my city lights sparkling on my night side, look at my red deserts blurred with green patches, look at my tall volcanoes and chaos of canyons.'
But she knows it's Phobos swinging fast around Mars. Thinking different from that is for babies and she's not a baby. She's six, and Father says there are big things in store for her when she grows up. One of the big things will be Mars.
Another big thing is the word — or rather words — that describe her and bear meaning for all she shall be. Her mind has to pause and catch its breath before it can grasp something as large as electro-biochemical genetic manipulation. Easier to think than to say.
Behind its largeness are things in her destiny that peek out at her sometimes in her thinking and dreams. Glittering things that fill her with a sense of wonder, dark things too a little bit scary, grown-up ideas mysterious and strange. Ideas like Space and Stars and Astrogation and Power and Responsibility, and an exciting game called War.
As she digs she has a sort of notion that digging holes might have something to do with the big things promised her. Foxholes? Wormholes? Two words she's heard concerning her future. Maybe, if she digs far enough and fast enough, she can get home before Father comes back for her. Home is under the surface of Phobos, in rooms and tunnels hollowed out in the olden days. Maybe home is under the sandpit.
'It'd be fun to dig and dig and dig and fall through the roof and give my brothers a fright,' she laughs. Her four brothers, though older than her, are almost the only children she mixes with. She is a special child, built to special specifications. She looks about, wondering if not the sandpit, then what part of the Garden might be right on top of her home. There are plants all around, green ones and red ones, blue ones and white. All around her except for the paths in-between. Some of them lead to the Manager's Office, so some of them must lead to Father. She knows, as all Phobos children know, not to touch the plants in the Gardens. The plants are the food and the air of everyone living on Phobos or passing through to other worlds. No, don't hurt the plants. Better she stays digging in this one patch and maybe fall through a different other roof and frighten someone else instead.
She laughs again and digs some more with her little spade. The hole grows deep enough to hide in, to bury herself in if need be.
'Foxhole wormhole foxhole wormhole foxhole wormhole.'
Shadows creep on the paths, move in the distance. Voices merge softly into the purr of the air recycling and are quiet.
She glances up, suddenly aware. Is that Father?
Some nearby plants tremble. They shake and are pried aside. A small, dumpy figure emerges and steps heavily onto the path. She sits watching, thinking it is another six year old, but can't decide if it's a boy or girl. It wears a badly fitting long coat and trousers. It has its head down and walks towards her in a halting way, and as it walks it leans slightly because — she can see this quite clearly — one leg is longer than the other. Stopping at the edge of the sandpit it lifts its head. The skin on the blotchy-red face is stretched and shiny. The eyes are lost in deep sockets, the mouth is toothy in a perpetual grin and the nostrils on the hooked nose open and close, as if sniffing for her.
'Yes,' says the stranger in a soft grating whisper.
'Hello,' she says, unaware she's changed the grip on her spade from overhand to underhand.
'Hello,' says the figure. The mouth barely moves, teeth slide on teeth. 'Do you know what you're doing?'
'Playing foxholes.'
It makes a sound deep in its pouchy throat that might be a chuckle or a groan. It tilts its head a little to one side. 'Why?'
She can't think of a reason, never having been asked this before. 'Cause.'
'Your mother and father sold you before you were born. Sold you into slavery.'
'My mother died when I was one.'
'Your real parents were a test tube and a Petri dish.' The goblin looks at the hole she is digging, then looks again at the child. 'You don't know why you dig foxholes?'
'Because it's what I like to do.'
'That's right. And that's because they make it what you like to do … as with other things in your future.'
'Who make it what I like to do?'
'They do. The geneticists do. The warlords who made you. So that you will fight their battles without question, so that you will do as you're told.'

'Are you a ...' She pauses to remember a word Father often uses to describe funny shaped people. 'Are you a goddamn-alien?'
The goblin doesn't answer. For some seconds it simply stares at her. Then, tilting its head the other way, it edges a stumble-step closer.
'I'm human! I'm as human as you! If not for the necessity of your … our experimental breed I would have been born normal — or better still, not born at all!'
It pushes its goblin face close into hers, its breath rattling like uneven pipes, stinking of things twelve nights dead. 'You lonesome little creature!' it hisses through its fixed grin. (Only in later nightmares does she hear this as, 'You loathsome little creature!')

She reels back, instinctively thrusting the edge of the spade up and out. She feels it hit something, then all is tumbling blue and green and white as she falls backwards and over, into the sandpit, into the plants.
The goblin gazes down as she lies, staring up. There's a cut in the left cheek where the spade has caught it, just below the dark cavern of the eye. The cut seeps a fine line of crimson and a single warm drop falls on her hand. It flashes into her mind that she was right to do that, to strike out, draw blood. It makes her feel good … and at the same time a little bit icky that she should feel good about it.

The goblin raises a hand to the wound, the fingers thick and short like a glove too big. Then the face withdraws out of sight, leaving her looking up at big red Mars, pocked ugly with craters.
For what seems a long time she lies like this, staring up, numb in expectation. Then here is Father, lifting her, holding her in his strong, gentle arms and saying, 'There, there, my little soldier, what's wrong?'
She doesn't tell him.
Not then, not ever.
In later times as a teenager and a serving officer of the Martian Star Corps, in the quiet watches aboard her starship, in the seconds of uncanny accuracy positioned at fire-control, during the responsibility beyond her years of command, in the long intervals of war, loving it, hating it, she realises in the memory of the misshapen figure that all experiments must have their early failures.

About The Author
Rick Kennett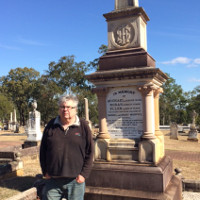 I'm a life-long resident of Melbourne, Australia, where I work in the transport industry. I like to explore graveyards, an odd hobby I call necrotourism, although I believe the correct word is taphophile.
I've been writing since 1979 and have had SF and ghost stories in many magazines, anthologies and podcasts. In 2008 my story "The Dark and What It Said" won a Ditmar, and in 2013 my podcast stories "Now Cydonia" and "The Road to Utopia Plain" won two Parsec Awards. I'm presently the podcast reporter for the M.R. James journal Ghosts & Scholars. I have two novels, a novella and two collections at Amazon. One of these collections, Thirty Minutes for New Hell, a series of connected short stories, is the original publication of "In a Phobos Garden."