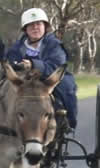 Pretty much a life-long fan of speculative fiction, Edwina Harvey is a writer, editor, silk painter and ceramic artist.
Her short stories and articles have appeared in a variety of publications including Aurealis, Antipodean SF, Grass Roots, Harbinger, Magpies, Strange Pleasures #3 and Worlds Next Door.
She has had three books, The Whale's Tale, The Back of the Back of Beyond, and An Eclectic Collection of Stuff and Things and a novelette, Never Forget, published through Peggy Bright Books. <www.peggybrightbooks.com>.
Edwina received her editing qualifications in 2012 and now works as a freelance editor, specialising in speculative fiction.