By Bethany Tatman

The first call came while Stephen was halfway through giving Deanna his coffee order, which displeased him greatly. He tried to mouth large skim cappuccino at her while putting on his headset and flipping switches as his computer screen lit up.
'Hello, you have reached the Hero's Journey Hotline my name is Stephen how may I direct your call?'
'Hi, um,' the voice on the other line was young, male, and shaky, 'I don't really know how to explain what's happened but today —'
Deanna tapped Stephen's shoulder. He looked backwards, and Deanna stage whispered: Do you want a sandwich? Stephen attempted to indicate that he'd prefer a pastry, but that just made Deanna look confused so he gave up. Stephen sighed, and once again resigned himself to pastrami.
'My apologies, just one moment …' He tapped at his computer screen and zoomed in on the caller's location: Ardelia. Stephen clicked on the information file and quickly skimmed through it. Once a peaceful country, the kingdom of Ardelia has been torn asunder after the deaths of its beloved king and queen. The country has been ravaged by war and chaos, but hope still exists — rumours of a young hero, the royal family's lost son, persist. People pray that the young prince survived and will return to save his people …
Well. That explained why the kid was so distressed. He certainly had a lot on his plate. Stephen tuned back into the conversation, to find that the boy was still talking a mile a minute.
' — KILLED HIM and then they were going to kill me too but somehow I shot LIGHTNING out of my hands and they died too, and then,' the boy hiccoughed, sounding like he was on the verge of tears, 'and then I ran and hid in the forest and now I don't know what to do!'
Stephen frowned and closed the file. 'I'm sorry, who died?'
'Ev-everyone!'
'Including the,' Stephen paused to double-check, 'wise old wizard who mysteriously appeared in your village after the death of your parents?'
The boy started crying even louder.
'Oh. Come now. There's no need for … that.' Stephen hated it when they cried. He tried to think of something comforting to say. 'Don't be sad. They weren't even your real parents.'
***
Stephen was halfway through his disappointing pastrami sandwich when the second call came.
'Mmmphafds.' His mouth was still full of bread.
'Heeello? Is anybody there?' The voice on the other end of the line was also male, but sounded a little older than the first caller.
'Hello,' Stephen hastily wiped some crumbs away from his mouth, 'you have reached the Hero's Journey Hotline my name is Stephen how may I direct your call?'
'Hey there, I'm not really sure what you guys can do but I was meant to defeat the Dark Lord today, but when I arrived at his castle to challenge him he just gave up and said I could have it?'
'He what?'
'He said, and I quote, 'I give up, I can't be bothered anymore, this is all yours now' and then he threw down his sceptre and left.'
For a second Stephen was completely stumped. He'd seen a lot over his years at the Hero's Journey Helpline, but this was truly the first time he'd heard of a Dark Lord walking out on the job. Were Dark Lords even allowed to walk out on the job? Could they force him to come back on a contractual technicality? No, that would mean getting legal involved and Maureen, Stephen's immediate supervisor, would hate that. Maybe some background information would help. He read through the necessary information: Ilyesian Empire … ruled by a dark necromancer … commoners still hope that the chosen one will rise up and save them … So it was same old same old. Nothing helpful.
'That's … very unusual.'
'I know, right? I mean obviously I wasn't looking forward to having to battle to the death, to take a life, but this is the man who killed my entire village, my family. I've been training for years for this very moment …'
Stephen tuned out as the young man continued monologuing. Something he'd learned very quickly was that once you'd heard one young hero's monologue, you'd heard them all. While he waited for the man to finish he searched through some computer files, and then found the number for the relevant department.
'Okay,' he said, once the monologue had finished, 'fortunately, we'll be able to sort something out for you. Since you've lost your Dark Lord another one will be provided for you free of charge. I'm going to speak to our refunds and replacements department about this so I'll need to put you on hold, just one moment please.'
***
The third call arrived just before five. Stephen glanced up at the office clock. If he finished this in under ten minutes he'd be able to clock off early.
'Hello, you have reached the Hero's Journey Hotline my name is —'
'So I've gone to the Mountains of Despair, but now that I'm here I can't find the hidden shrine.'
Hold on. Something was different. The voice belonged to a young woman, a girl. Without thinking, Stephen tried to click open the CALLER ID INFORMATION file, but his computer screen buzzed with static and then cut to black.
'I'm sorry.' Stephen attempted to wave Maureen over. She saw him and pointedly walked away. 'You're what?'
The girl huffed. 'I told you, I've taken the sacred amulet to the Mountains of Despair, but now that I'm here I can't find the sacred shrine!'
Suddenly it all clicked. Stephen understood what had happened. 'I'm very sorry,' he said in his most professional voice, 'but it appears you have been given the wrong number. I will transfer you to our Distressed Damsels Hotline. Please hold.'

About the Author
Bethany Tatman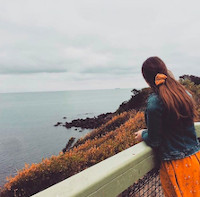 Bethany Tatman is an aspiring writer who currently resides in one of the more hipster suburbs of Melbourne, Australia.
She has previously been published in Lot's Wife.
In her spare time, she enjoys reading a variety of genres of books — but fantasy will always be her favourite.
She can be found at <@bethany_writes> on Twitter.