By Tim Borella
"But how do you know the Earth's round?" says Molly.
Craig's regretting swiping right. "Oblate spheroid, actually. You know that physics degree I mentioned?"
"Noted," she says, sliding her glass aside and leaning across their table for two. "But you seem like an independent thinker. What proof have you seen with your own eyes?"
"Where to start? Curved horizons from airliners; different starscapes in different countries; round shadows on the moon in eclipses… enough for you?"
"Okay. But eyes can lie, can't they?"
"All right, I'll bite," he says. "What's your alternative theory?"
"It's not a theory. You have to see. But you need an open mind."
"Always."
She holds out a hand.
"Here," she says. "I promise I'm above board."
Craig considers. A flat earther? Really? He'll humour her, thirty seconds max. He takes her hand.
And is swept into the night sky, the city a dwindling speck as his stomach drops. Higher and higher they climb, faster than any rocket. Lit roadways and towns become a net of fairy lights. The coastline, the whole continent is laid out like illustrations in a giant atlas.
They should be dying — hypoxia, depressurisation, cold — but there's no pain. He looks up, open-mouthed. Far away, pre-dawn light shimmers across the Pacific, but something's uncannily wrong. The horizon is straight.
Without warning, they're back. Craig gasps, sags in his seat, turns to orientate himself. The restaurant, the people. Nothing's changed. He looks from his half-empty glass to Molly, panicked.
"What did you do?"
"I didn't spike your drink, if that's what you're thinking," she says. "That was as real as it gets."
He jumps up, stumbles away in denial.
***
Next morning, Craig calls Molly. He has to know. They meet mid-afternoon on the embankment, among tourists and picnicking families.
"Just explain what happened last night," he says. "Please … don't bullshit me."
"I promise I won't. What you saw was no trick. But now, you have a choice. Walk away forever, or get one more look behind the veil. Your call."
Craig frowns — it sounds so crazy he should just go. Instead, he takes her outstretched hand a second time.
Suddenly they're soaring again, ever higher above continents and oceans. Earth isn't the spinning blue-white ball from NASA photographs. It's a gigantic tabletop. There are edges. Streams of cloud and foaming water spill over into nothingness. He gawks, awestruck and terrified.
They move at incredible speed, far beyond the limits of conventional maps and globes. There's so much out there: unfamiliar land masses and oceans, gigantic dark saw-tooth mountains, multicoloured deserts, forests of epic scale. Swooping lower again, details emerge — fabulous golden cities, lakes of ice and incandescent lava, great beasts with wings and fins and fangs inhabiting these unknown places.
Here be dragons.
***
"So," whispers Craig. "There are gods?" Impossibly, they're perched on a mountainside, overlooking a giant ripple in the air marking the edge of normality. His resilience surprises him, or maybe he's still in denial.
Molly nods. "That's one name for them. Ancient, modern, obscure, mainstream. All the myriad manifestations. They all stem from one source. We're all energy, right? They're just higher level."
"And this is all some weird bet between deities?"
"Sort of," she says. "Think of it this way. The world we know is basically an ant farm."
"Or a game board," he says grimly, thinking of those gargantuan corners and edges.
"If you like. People long ago knew it was flat. There were monsters, and if you went too close to the edge, you'd fall off. Mostly the gods left us alone to muddle along. But a few thousand years ago, they messed things up to see what we'd do. Mysterious ways and all that. Some bet we'd figure it out; others disagreed. They played with space-time, made boundaries fold back on themselves, altered the apparent motion of stars and planets. So, here we are."
"But what about astronauts? Satellites? Deep space probes?"
"Sure. We're smart little ants, always trying to escape. That's where I come in. I'm a … research assistant, keeping tabs on developments in the field. Whenever someone gets too close to a new boundary, we make perceptual tweaks. Keep the joke running, so to speak."
"But how …?" he begins to ask, but he already knows the answer. Mercurial, mischievous gods, with infinite time on their hands, could do anything.
It's all too much. He turns to Molly. Her gaze is deep, ageless.
"Who are you?" he says.
"Exactly what you see. But long ago, someone sought me out, too. I was given a glimpse, like you, and I chose to walk through."
"How long ago?"
"Many lifetimes," she says, like it's nothing. Then she chuckles, striking a pose. "But look, no wrinkles!"
Craig's silent for a while, pondering.
"So … how do I fit in?"
Molly smiles. "Succession planning. If you want, you can take my job."
"You'd walk away from this? From your … gifts?"
"Not now, not soon even, but there'll come a day when I tire of it. In the meantime, I'll show you the ropes."
"And if I refuse?"
"No problem. You go back to your life."
He thinks of his shabby apartment, microwave meals, lesson plans. Parents he never sees.
"What if I do, and I blow the whistle?"
"Good luck with that. Don't forget your tinfoil hat."
A disturbing thought strikes. "Am I the first person you've … sought out?"
A shadow crosses Molly's face. "No," she says. "There were two before you, equally suitable."
"Were?"
"Both dead."
Craig feels panic rise, but Molly puts a hand on his arm.
"Old age," she says. "For their own reasons, they decided not to come, in the end. As you can, if you want."
He shivers; anticipation or dread, he's not sure. To come this far and turn back? No. "I'm ready," he says.
She points to a brilliant glow in the distance, a colour Craig has never seen.
"Then let's go."

About the Author
Tim Borella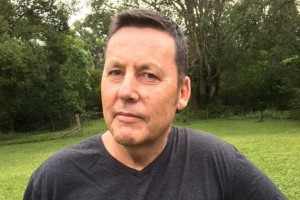 Tim Borella is an Australian author, mainly of short speculative fiction published in anthologies, online and in podcasts.
He's also a songwriter, and has been fortunate enough to have spent most of his working life doing something else he loves, flying.
Tim lives with his wife Georgie in beautiful Far North Queensland. For more information, visit his Tim Borella – Author Facebook page.