By Col Hellmuth

There are a lot of downsides to being in a pub-and-club blues band. Egos; band politics; the never ending hunger for recognition (and food, when gigs are sparse). No superannuation to retire on when your fingers become arthritic, or your lungs start to fail. I reckon whoever coined the term starving artist likely toured the pub circuit too — in one way or another.
The upsides? Well, there's groupies — and that's about it really. Some free rum and maybe a feed in your rider. If you're lucky. Of course, it's usually the vocalist or lead guitarist gets most of them — groupies that is; I always manage to down my share of booze during a gig (it's important to keep the throat lubricated when you play a wind instrument).
Being a musician is not all sex, drugs and rock and roll, you know. Actually, who am I kidding? It's all about that...
***
Celia. This story is really about her. I met Celia at a gig, as you might have guessed. She was, I suppose, my first real groupie. And the last. It was also my last real gig—an end to a career that never really got properly started.
We were playing a pretty small venue, but it was busy enough and had a good vibe going on. We were performing with our usual scruffy line-up; a bunch of middle-aged blues musicians dressed like the starving artists that we were (meaning singlets, shorts and thongs), playing mostly blues and rock standards (often featuring bouts of our own brand of extended improvisation) to a typical Sunday-session beer-garden audience dressed much as we were. This gig every one of us was in the zone; we rocked the punters straight on to the makeshift dancefloor and kept them there all night. There was plenty of traffic to and from the bar. Management was happy. Our drinks were on the house and we were having a good time, so we played a couple of extra sets.
The venue was a resort bar near Cape Tribulation. Celia was staying there, holidaying in the Wet-Tropics with a couple of girlfriends. They were all sporting an impressive sunburn after spending the morning snorkelling out on Mackay reef. Between sets they hung around in leper's corner at the far end of the outdoor decking—with the band; a scavenging bandicoot with a cholesterol problem I nicknamed Bernald, and a potted fan-palm moonlighting as an ashtray. We got to talking and later found ourselves back at her room—just Celia and me, that is. Celia was a player, we ended up in her bed carrying on like a couple of teenagers; snorting Coke out of each other's navels.
"This would be more fun with cocaine," commented Celia, between bouts of giggles.
"Sorry, we starving musicians can't afford the real stuff," I apologised, sparking up a rumpled joint and passing it to her. We were both pretty tanked already. Celia one-upped me by producing a pair of nail scissors, and a tiny paper square. Turns out one of her girlfriends was a chemist and had a little sideline going on in the party scene back home.
"Wanna share?" she challenged.
My memory gets a little hazy after that. I remember getting out my harps and attempting a drunken serenade. Celia wanted to have a go at playing. I don't usually let other people play my harmonicas—who wants to suck on another person's snot and spit? I decided to humour Celia and let her have a go anyway—after all, we'd traded enough of each other's saliva already for it to be of little consequence. I don't know if it was just because I was drunk and tapped, but Celia's novice playing sounded like that of an old pro.
"WTF Celia?" I said, "You didn't tell me you were a musician."
"I'm not... I did another deal with the Devil," she joked, with a sly grin on her face.
"Another?" I said, playing along, "I thought you could only sell your soul once."
"I'm a great negotiator, Paul. Very persuasive. I work in PR."
"What was the first deal?" I asked, suddenly curious.
Celia just smiled coyly, then proceeded to work her persuasiveness on me. I'll spare you the details: I'm sure you can use your imagination.
***
The next time the band got together to rehearse it all went pear-shaped. My playing was awful. I could still pick the right key and play the right notes in the right order — but the magic was gone. I just couldn't get back in the zone and my performance was as lifeless as I was listless. The rehearsal after that was the same—and the next. I didn't get kicked out of the band: I made some lame excuse and left of my own accord. Nobody tried to talk me into staying — I could see the relief on their faces.
While my relationship with the band members atrophied, my relationship with Celia unexpectedly grew serious; she gave up her high income job and moved from Canberra to North-Queensland to be closer and escape the cold. I eventually put a ring on her finger. The remaining members of my old blues band played at our wedding.
I did the responsible, boring thing and wrangled a real job working back in my trade. Underground. Not the wonderfully seedy underground I was used to. FIFO work at a mine site over in WA. Three weeks on, one off; not the best for maintaining interpersonal relationships and the random D&A piss testing was a drag—conflicting with my natural inclination to party hard whilst on leave. However, Celia was accustomed to living immodestly four weeks out of every month, so the money made it a worthwhile trade-off. Or so I thought at the time. Ironically, Celia replaced me as the harp player in the band. She played better than I ever could and they started going places.
Things between the two of us went along okay for a while. Then — after a few months and a few swings away — I couldn't help but notice:
Every time I flew back home to FNQ — Celia had mastered another new instrument.

About the Author
Col Hellmuth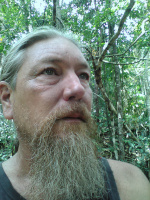 Col Hellmuth lives a quiet, uncomplicated life, off-grid in the Daintree rainforest of Far North Queensland.
He has scratched out a living in a variety of different jobs (and locations) over the years; these days he scratches out words in various sequences, and dreams of a day when he might be able to convert some of these ramblings into food.
When he is not writing or enslaved at work he is usually found bumming around his local beach dodging crocs in his kayak or jamming on the blues-harp.
He doesn't have any fancy letters after his name, or a pet cat, but does read a lot.