By Terry Persun
Billions of bytes of data pass
through the ships cables
the electronics hardware
for decades or centuries.
We're all encased in pods
of treated and frozen stasis
waiting for the opening door
to allow us to live again.
Without a thought we agreed
and were sent away forever
wishing to be the first
to find something new.
Yet everything could end early
a mistake in programming
parameters changing
one small glitch.

About the Author
Terry Persun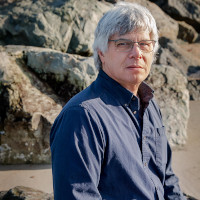 Terry Persun's poems and stories have appeared in many magazines including Wisconsin Review, Kansas Quarterly, Riverrun, Rattle, Hiram Poetry Review, Bluestem, NEBO, Cirque, Eclipse, Bacopa, and many others.
His poems have appeared in six, chapbooks and five collections.
He was recently included in the 2019 Rhysling Anthology for sicnce fiction and fantasy poetry. He is also a novelist and has recently won first place in the Book Excellence Awards for science fiction.
Terry speaks at writers' conferences and universities across the country. <www.TerryPersun.com>.