By Edwina Harvey
"We don't party anymore," came the plaintive plea of the friend I've known for decades.
I studied her face on my computer screen, slyly checking for wrinkles.
My computer was manufactured when "streamlined" meant "as thick as a brick." It's had more upgrades than I've had chip dinners and works faster than most of the new models. People who know more about computers than I do (that wouldn't be hard!) tell me it's impossible to upgrade a computer that old. I just shrug, say, "If you know the right people…" and leave it at that.
Why isn't it as easy to upgrade aging human bodies?
"We don't do a lot of things anymore," I reminded her. I noticed her peering back at me from her side of the screen, counting my grey hairs.
She had a birthday with an 0 in it coming up. I'd received six invitations to her birthday party; all the social media platforms, direct email, old-fashioned handmade card because she likes making them, and now the direct video call.
"You have to come!" she insisted.
"Okay. I'll see if Bean and his dragon can fly me to your place."
"Tell him he's invited too, but the community centre is heritage listed and made of wood, if you know what I mean."
"I'll make sure he parks the dragon far enough away."
***
I hadn't caught up with Bean in person for ages either. We always said we were going to…just never got around to it.
The dragon was saddled and ready to fly; looking fit, strong, showing signs of middle-age spread via extensions to his saddle girth.
Bean still had long hair, just not as much. His shiny skull peeked through his matted grey locks like Mt Kilimanjaro on a clear day.
"On you get," Bean invited.
Ummm, yeah. Stick left foot in stirrup, heft yourself up…Well, I got my left foot in the stirrup okay and made a couple of furtive little hops with my right foot while hanging on to the saddle handle to try to heave myself up. This had been easy once, but my knees — for some reason twenty years older than the rest of my body — couldn't do it.
Bean made a noise.
"Don't laugh."
"I coughed," he insisted.
"Yeah, I bet," I replied, unconvinced. "Can you give me a hand here?"
"Where exactly, so that I don't get arrested?"
Sometimes I'm glad I don't have a rear vision mirror! Getting into the saddle was like summiting Everest. Bean, still strong despite his age, got his shoulder under my rear end and pushed. I was flung up and over, but something wasn't right: my view was of the ground on the other side of the dragon. I was lying across the saddle like a bag of potatoes, still futilely pushing with my useless leg.
"I can't get my leg over!" I complained, listening to Bean wheezing.
"Never used to be a problem!"
"I'm not flying to Katoomba in this position! I'm a passenger, not cargo!" The angry growl from my younger years was back in my voice.
"Just hold on to the straps," Bean wheezed.
"I'll fall off!"
"The ground will break my fall."
I continued to thrash like an upturned turtle.
"Permission to touch you in inappropriate places?" he said resignedly.
These days "inappropriate places" were anywhere closer than a metre from my actual body.
"Granted," I grumbled.
He pushed my right leg over the saddle, went around the dragon and pulled my right leg into the stirrup. I refrained from screaming "Oh gawd, my hips!" as I used the bar on the saddle to twist and push myself upright, finally sitting astride. Still slumped inelegantly, but assuming my usual dragon-riding posture.
Then I realised I'd left the satchel with my party offerings on the ground. I stretched my hand towards it, but the Force wasn't strong in me.
"Could you pass me up my bag, please?"
Being polite to Bean? Now I knew I was getting old!.
He grabbed my satchel, grabbed the dragon's reins and executed a rock-climbing manoeuvre that got him into the front seat of the saddle.
The dragon got to his feet with a groan.
"You're the youngest one here!" I reminded him, having been at the dragon's birth back when Bean and I had shared a flat in the city.
The dragon unfolded his wings, flapped them twice, gauging the slight breeze, then launched into the sky.
Seeing the arid Australian landscape spread out below as the dragon flew along was one thing that never got old!
"What the heck's that?" I yelled at Bean, pointing to what looked like black mould spreading across the landscape.
"Outskirts of Sydney."
"But we've only been flying an hour!"
"Yeah, it's kinda grown since we moved to The Back of the Back of Beyond."
Civilisation was stalking us! I'd stopped craving shopping malls, cappuccinos and car parks years ago, swapping them for stars, silence and alien neighbours FIFO-ing in their UFO. Hadn't seen them much lately either.
I was soon gazing down at solar-panelled roof tops between beats of dragon wings. Finally, we circled a patch of green. "This is us," Bean took the dragon in to land.
Getting off the dragon was more ungainly than getting on. I'll spare you the details, but my gait was decidedly bow-legged as we walked towards the community hall.
The Birthday Girl was standing at the door. The face and figure didn't match the woman who'd invited me. She looked fantastic — younger, wrinkle-free, no grey hair.
You've had work done, I thought.
"Come on in, we're about to cut the cake."
"Just got to use the loo first. It was a long ride."
There's a reason I don't have mirrors in my house. It was staring back at me as I washed my hands. Sunspots, frown lines; when did my hair turn grey? The offered cake would make me feel better.
The hall was full of strangers until they spoke to me and I realised I knew them. They'd changed, just not the way I'd been expecting: healthy, vibrant…younger. They were supposed to be older!
Mouth agape, I watched Birthday Girl do seven high-kicks before she cut her cake.
At least Bean still looked old and haggard.
"Is there something in the Back of Beyond that's made us age faster?" I asked him.
"No, but I saw something when we landed that might explain this."
We grabbed cake then he led me out the door.
The bumper sticker reading, NOT A WEATHER BALLOON! was a give-away. My neighbours had precision-parked their UFO under some gumtrees. The hatch was open, ramp extended. Bean and I went in to say 'Hello'.
The leader blinked their almond eyes at me.
"You're in the beauty business now?" I translated.
Another blink.
"Oh. Regeneration is your side hustle!"
Well that explained a lot!
I admit it, we had work done. Bean regained his youthful vitality and a full head of hair. My knees were younger than the rest of me, and I hadn't looked or felt this good in years.
Young again, we bounded down the ramp to rejoin the party.
"I was going to get a photo booth, but this was so much better," Birthday Girl said and winked.
If you know the right people — and obviously I do — it's not just computers that can keep being upgraded.
*For Susan Batho

About the Author
Edwina Harvey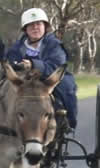 Edwina Harvey is a writer and editor, specialising in speculative fiction.
Her urban fantasy flash fiction, 'Party' appeared in AntiSF Issue 1 and went on to take its place in her urban-fantasy novel, "The Back of the Back of Beyond" published by Peggy Bright Books.