By Joshua Bealson
"Your language is ridiculous!" I huffed in frustration at my tutor as I slammed the HatchlingfundamentalsofSpucoppencpppeo textbook tablet onto the desk in front of me. I couldn't even get through a children's grammar book. I'd never make it in xenolinguistics. I was destined for a desk job editing propaganda AI typos on the inner moons of Saturn for sure.
"No more so than yours, O'Nara," my tutor, PSPS, responded in the metallic and screechy-toned English produced by its human speech analog. We were First Contact plus two years between their species and ours. Thankfully, it had been generally peaceful, and I was among the first cohort of humans invited to learn their 'universal language.' That said, we were still in the getting-to-know-you cross-cultural communication development stage, which to put it mildly, was frustrating as hell.
"Yes, both our languages use phonetic alphabets, but how can you possibly learn, let alone read a language that has no punctuation, spaces between words, or paragraphs to break up the text between one idea and another? I thought I'd seen the worst unreadable mashups in my historical linguistics research paper on early 21st Century Internet hashtags. But when reading SPPP I have no idea where one thought ends and another begins. I feel like I'm reading in circles."
PSPS's outer gills thrummed with vibrant purple and neon green, which I knew meant they were feeling frustrated as well. "Circles you say, yet you abbreviate with abandon. SPPP? How is your conversation partner to know you are referring to our universal language of Spucoppencpppeo?"
"Spucoppencpppeo doesn't exactly roll off the tongue," I complained.
"Exactly, your problem. With so many tongues among your species, how can one think coherently? The language you choose to use now is just a haphazard amalgamation of other human tongues. How frequently you have adopted words from other languages and rarely retained the original meaning or pronunciation. English must be the cause of constant war."
PSPS had me on the English speakers causing too many wars, but not solely for communication reasons. And they were also right about the abbreviation thing, but to most English speakers it was better than the actual pronunciation of their name, PooppseePaapenssse. I should know, as my first name, John, being monosyllabic, was apparently a curse word in SPPP. Not to mention having spent three years learning Japanese, a language where my last name, O'Nara, sounded similar to the word in that language for 'fart'. SPPP lifecycles didn't seem to include teenage years, so the cultural context for bathroom humor was hard to translate. I decided to try to defuse the situation through tried and true diplomacy by telling them they were right and then completely disagreeing with their statement.
"Ah, well, yes your assumption is correct, that has happened in our history. However, human languages have evolved through time, movement of people, the occasional war, and of course introduction of new technology. That said, there is continuity and logic enough that we can trace back many languages to their common linguistic ancestor more than 6000 years ago."
"I calculate that continuity is overstating your case. Think of the number of words that are homonyms and the strange importance of modifiers and word components. Just one example is the teraflops of computation power we wasted in confusion after learning the word diphthong, and trying to understand how just one little "h" could so drastically change the meaning away from the action of holding chewing tobacco in minimal storage capacity underwear to a meaning identifying when two vowels are combined in a single syllable?"
"What? How would an alien species know about thongs and dip? Where did you get your research on humanity?"
"You have been beaming your language into space for over three hundred years. The late 20th and early 21st Century were especially enlightening and concerning. The first message fully decoded and simple enough to translate was called Joy-zee Shore. Some among us called for building an extra-large Dyson Sphere around your solar system to protect the galaxy from Earthling transmissions, but cooler heads prevailed when we discovered your oceans could be such a great vacation spot."
"Thanks for not hemming us in. But those words are absolutely not related. 'H' isn't a modifier in English. Didn't you download any of our dictionaries or encyclopedias?"
"Dictionaries are propaganda tools, changed on a whim when a new word becomes popular. Especially thesauruses, we quickly judged not to trust books that humans named after extinct lizards! We did our own exhaustive research. For example, we found the example of Shit and Sit along with its past tense Shat and Sat illustrative. Clearly the 'H' notifies the reader of the action occurring when humans assume a relaxed position. Would a human not want to be in a relaxed position when storing dip in a thong?"
All my years of studying linguistics and foreign languages and any logic I might counter with was clearly not going to win this argument. If I couldn't beat them, I was going to have to join them. "You are throwing a lot of spaghetti against the wall, but I don't think any of it will stick."
"We are a peaceful species. We have thrown nothing." PSPS said as their outer gills positively glowed purple, a hue of frustration and confusion I hadn't yet seen that bright.
"Exactly. So how about we start over. Hello, my name is John O'Nara."

About the Author
Joshua Bealson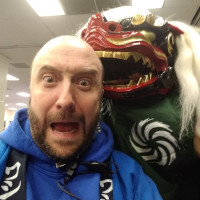 Joshua Bealson is a Washington, DC-based bilingual and bi-cultural author, gardener, and traveler.
He seeks to help people discover a world outside their own through fiction, cross-cultural narratives, history, and stories about our place in the world.
He was the Hugo Awards Ceremony Director at Worldcon 75 in Helsinki & Worldcon 77 in Dublin.
He Tweets <@joshuabealson>.