By Botond Teklesz

"They say that if someone from the old continent needs a legal or illegal surgery, he or she must travel to Leningrad — the heart of Soviet physician technology. Or to the Hungarian capital, if it is closer."
"They are entirely right," Grunwald stated. "At the elegant Budapest party clinics — some of which started before the end of the century with the quick and cheap beauty surgeries. Leningrad has waiting lists — and at the basement clinics of the Pest side that were never on records, they can do almost anything that is permitted by the neuro-electronics and modern gene technology; as long as it's not in contradiction with the thoughts of the party.
"And, most importantly, they never ask any questions..."
***
"Discretion above all," they answered smilingly to Grunwald`s last question when they let him go from the clinic more than a week later — with some change and an address in his pocket.
Nobody had visited him, nobody came to fetch him up. It seemed he was left alone.
Grunwald scratched his nose and made a few steps in the company of the rubbish that protruded the sidewalk. From the grey sky there began to fall grey snowdrops, which dappled his skin.
The address and the notice with it was rather concise:
If you want money, clothes and a place to work, you will come to the Metaweb`s headquarters. If not...
Grunwald nodded to himself. Without money, a roof and a job people got lost quickly in the polis' dirt, and the police didn't cope with street junkies for long. Before you knew it you were on your way somewhere east, to the work camps.

About the Author
Botond Teklesz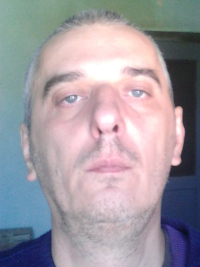 Sometimes I can see what others don't.
Sometimes I listen to the silence and Iknow there is way too much of it down here in the countryside.
All the trees grass wooden gates and sleepwalkers are letting me down.
Very rarely I go out to thefront yard in the night and look at the stars. And I can feel in my guts it is allgoing to sink down the drain.
I look at the photo of my nephew whom I have not seen for 5 years.
I look into the mirror and see my white hair at 45.
Then I stare at the cross on the wall and I want to puke.
Somebody has already decided for me in a nice kind of way.
Too many pieces of the puzzle missing.