By Col Hellmuth

I was visiting our new and recently acquainted neighbour, Ferdinand — who now lived across the street in the old red brick fascia house with the ficus tree towering over the front yard — when he told me something rather odd. It was a hot and humid afternoon. We were downing a couple of quiet beers in his backyard shed and tinkering with the brakes on his Series II Land Rover (the same age as him, give or take a few months I'd learnt, and his pride and joy) when he took me into his confidence and announced he'd built a time machine.
Or rather the Solihull factory employees of British Land Rover had started the job and he'd simply completed it forty-odd years later.
'You mean a time capsule,' I corrected, being fully able to appreciate the marvels of engineering incorporated into the design of the old classic, most of which are thankfully no longer replicated in modern vehicles. I watched as Ferdinand casually tossed a recently half-emptied bottle of DOT-4 hydraulic fluid from one hand to the other with his usual lack of foresight for potential disaster. The bottle came to rest in the palm of his left hand, miraculously with the lid still in place, allowing the powdery, mustard coloured paintwork on the fender he was leaning against to live another day. He paused a few seconds for dramatic effect.
'Come for a drive and I'll show you,' he offered.
'Not until those brakes are sorted thanks, Frank,' I declined. I knew already that the functionality of the brake pedal fluctuated randomly, ranging from at best a vaguely useful tool for for arresting momentum through to its usual state of ornamental curiosity only.
Ferdinand wasn't a name that fell off the tongue easily, so I had taken to addressing my neighbour as Frank. Aside from his eccentricity, Frank seemed to be a fairly down to earth bloke and didn't show any offence at the nickname. My visits to Frank's house had become semi-regular, as we had a mutual love of tinkering with old machinery in general, old Land Rovers in particular. A tentative friendship had evolved. Why my neighbour took such a shine to Land Rovers remained a mystery to me. I was still ignorant as to Frank's country of origin, though being named Ferdinand I'd have expected his choice of automotive obsession to be a little more exotic and less English in origin.
I took my leave and swaggered contentedly home across the road. I'd downed a couple more beers than I'd intended: Frank could have that effect on a person, his alternative views made for some odd but interesting conversation at times — when I could follow it. Walking down my driveway I could smell something roasting and remembered I was hungry. I fully expected to be chastised when I got home for spending so long across the road. My wife had taken a dislike to Frank, claiming he had a shifty look to him, but I suspected it was more likely because he always greeted her as Mrs Woof. It really irritated her. You're probably wondering why he called her Mrs Woof — I'll get to that later.
I cursed profusely and without a hint of eloquence as I tripped over one of our kid's skateboards — carelessly discarded in the middle of the unlit concrete driveway — and busted a toe. On the periphery of my pain-clouded consciousness I could just discern what I thought to be Frank's raucous laugh behind me (or it may have just been the racket coming from the Land Rover's forty-year-old drive-train.) The volume gradually tapered off with distance, as the 'time machine' lumbered off down the road on yet another test drive — with all the grace and poise of a hairy goat.
***
I was back in the shed a couple of days later. We had given up on the brakes for now and were replacing tie rod ends and attempting to straighten a bent steering arm in order to try and make the 'Rover's handling a little less boat-like.
'How's your toe?' enquired Frank.
'What?' I was standing in front of the six-ton shop press, setting it up ready for the steering rod realignment. He glanced down at my rubber-thong-clad feet then looked up again with a barely suppressed smirk. I was used to this sort of thing. I pumped the lever of the hydraulic ram until it just contacted the bent rod.
'Do you remember me telling you I'd invented a time machine last time you were here?' he asked, stroking the stubble on his chin absently.
'Yes, I don't have dementia yet, mate,' I replied; sometimes Frank could be a condescending prick. He must have picked up on the annoyance in my voice, as an awkward silence followed.

'Anybody can time travel,' I ventured, to break the quietude, 'as long as it's into the future, one second at a time.'
Frank contemplated this as he tilted his glass of stout. 'To go backwards, first you have to go forwards.' He put his glass down and absently thumbed through the pages of an old 'Land Rover Monthly' magazine open on the workbench in front of him. It was clearly well read as the oily fingerprints all over the tattered pages attested, 'And as you pointed out everyone already does that.'
'Does what, Frank?' I was beginning to lose track of the conversation.
'Travels into the future.'
I waited patiently to see if he had a legitimate point to follow this statement of the bleeding obvious. While I waited, I thought distractedly about the coming weekend; I thought about what I was going to have for breakfast the following morning; I wondered if there was any bacon left in the fridge to go with my fried eggs and instant coffee.
'But there's no need to restrict yourself to one-second steps,' he finally continued. I nodded. It was one of those times when you nod but you're mentally shaking your head. I tried to remember how long ago the wife or I had last bought milk.

'Look around you,' Frank demanded, 'everything is cyclic.'
'Why does everything have to be cyclic?' I challenged, as I had yet to hear a convincing argument to support anything he'd said about the subject. I knew as soon as I opened my mouth I would probably regret the question. I'd taken the bait. I clamped my jaw shut — too late: the hook was set, gaff readied.
'It has to be by nature,' Frank lectured.
Time passed by in silence for some while (or allegedly cycled.) Frank had made himself comfortable on a swivelling mechanic's stool, its height-adjustable central leg branched out into four at the base, each with its own caster wheel. All four wheels were now moving in an almost indiscernible figure of eight motion over the polished concrete floor as Frank absent-mindedly swivelled the seat slowly from side to side, putting an argument together in his head.
'Think of the hydraulic fluid being pumped through a brake system,' Frank said, paused, and continued with, 'No.' Obviously, he'd come up with a better analogy: 'Think of your blood circulating endlessly throughout every last blood vessel in your body, to every organ and every extremity. Pumped by the heart. When it stops cycling?' Another dramatic pause, 'Death.'
'Well that's not really all that cyclic is it? Once you're dead that's it. Game over,' I said a little sarcastically and with a hint of smugness.
'No, you couldn't be more wrong, Woof,' Ferdinand stated, matter-of-factly.
I took a long swig from my Headmaster glass — pilfered from the local pub — and pretended to study the thread chart taped to the wall in front of me, feigning an interest in the thread pitch of obscure BSF and BSA fixings used on 'Rovers of decades past.
Frank had also given me, Charlie Barker, a nickname. 'Woof'. Clever eh?
'Death is just a phase. A point on a circle, something that can be described neither as beginning nor end but merely a continuation. Without death there can be no life, just as without life there can be no death. Anything that goes on indefinitely or repetitively must be part of a cycle, it has to return over and again to its beginnings and effectively loop back on itself in order to exist,' Frank was on a roll. 'Death is a good example. The body is returned to the food chain, regardless of whether it's consumed by bacteria, fauna, or becomes carbon based fertiliser and ultimately consumed by flora. And so life begins again, albeit in a different form. Multiple forms actually. Numerous multiple forms.'
'So where does time figure in all this?' I asked, not being able to make the connection between the food-chain and time-travel.
'Time is what gives order. It is the glue that stitches everything together. Life, death and everything that happens in between.'
This friendly banter carried on for some time as we worked. I supplied many more witty retorts to pepper the conversation, but was still none the wiser at the end of it.
'Speaking of time,' I announced, looking downward and pretending I was reading the face of a really small imaginary watch on the first digit of my left foot — I squinted in order to see it better. 'If I don't get home for tea, I'll be in the shit with the missus again.'
The steering arm was as straight as we were ever going to get it and the Land Rover had been re-assembled. That is, if you had the imagination to call its current and seemingly perpetual state of incompleteness 'assembled.' Once again I declined the offer of a drive.
'You shouldn't be driving it now, you've had a skin-full,' I advised, but Frank was not to be deterred.
' — hello — wife and kids for me,' he shouted, competing with the noise of the cranking engine. I shook my head as he backed out of the driveway and wondered if maybe I'd misheard him. He knows damn well the wife and I can't have children and the tension it's caused between us. I found myself gazing at my toes again and was suddenly overcome by a sensation I can't properly describe, kind of like reverse déjà vu. It passed just as suddenly; through to whatever place it is that forgotten feelings go to either die or fester.
***
A couple of weeks had passed since last I'd been in Frank's garage. Life had been far too busy. Not busy in a good way: busy in a chaotic and stressful way. I was in need of a few beers and a distraction from the tension at home. At the first opportunity I set off across the road with a six-pack in hand. I found Frank sprawled on his garage floor, underneath the Land Rover.
'How's it coming along?' I asked of his project in greeting. A muffled thump, followed by a highly audible and equally offensive curse, erupted from beneath the car in the vicinity of the front diff-centre. After extricating himself from under the vehicle — a process involving much grunting and snorting — he stood up. Did I mention Frank is just shy of six foot six? He had a gash on the left side of his brow, just under the hairline, which was bleeding; his knuckles also showed traces of blood, although dried. The look in his eyes made me uneasy.
'Sorry,' I offered, but got no response. The silence drifted on long enough to become uncomfortable — for me anyway.

'Been wallowing into the past lately?' I asked: my attempt at humour. Frank just looked at me and still wouldn't answer. I had, once, on a previous occasion put forward my own hypothesis: that his theories on time-travel were pure and simple bullshit, which of course went down like a lead Zeppelin and probably had largely accounted for the blessed absence of the subject from conversation since. I changed tactics and passed him one of my beers. He twisted off the top using the inside of his elbow, then took a swig.
'Been giving her a grease and oil change,' he replied.
***
Over the road the Land Rover came and went with surprising regularity. It was rarely gone for more than a few minutes at a time, so presumably it was only being test-driven. Probably Frank was still trying to get the brakes to function reliably. Or trying to divine the intermittent fault that had been haunting the fuel system lately, resulting in a loss of power and therefore forward motion — usually at the most inconvenient of times. The old girl only had two major problems: stopping and going.
I hadn't been over to catch up with Frank for a while, I had too many domestic issues going on in my life and too many problems on my mind to be bothered tinkering with cars or socialising. For some time now I had suspected my wife was not the loyal, committed partner I thought I'd married all those years before. Something wasn't right: she didn't seem to be the same person I remembered, although I couldn't explain what was specifically different about her, or her attitude toward me, other than an increasing sense of distance. She had the far away look in her eyes of someone missing something, or someone, from their life. Even more worryingly it wasn't just her either: I was often inexplicably struck by a sense of surprise at my surroundings, which passed too quickly for me to even fathom what had caused it. I thought maybe it was all in my mind, that perhaps I was going crazy. I thought back to one of the daft conversations I'd had with Frank. I had asked him if he believed (hypothetically, of course) that travelling to and interacting with the past would cause the present to be altered:
'I'm sure you've heard the old science fiction cliche. The one about causing the death of someone from your ancestral lineage — cancelling out your own existence and causing a paradox. That kind of thing,' was how I'd put it to him.
'It's complicated,' was all he had said.
I heard my wife's car pull up in the driveway, followed by the ratcheting sound of the handbrake being applied and the creak, creak, click of the car door opening and closing. I needed to fix that: put some oil on it or something. Or so she kept nagging me.
'Hi Frank,' I heard her call out and a muffled conversation ensued outside. The front door opened and she whirled into the house amid a flurry of rustling shopping bags and jangling keys, which were unceremoniously dumped on the floor and the kitchen bench respectively.
'I'm just going for a quick lap around the block with Frank. Back in a sec.' The front door clicked shut behind her. More muffled voices. The Land Rover spluttered into life and roared off like some prehistoric monster.
Something wasn't right. My betrothed didn't like Land Rovers, or so she had told me on numerous occasions, and she resented the time I spent over the road with our neighbour, because...
A quick lap around the block with Frank.
The realisation hit me then: Frank was the other man. I would confront them both, together, when they got back.
***
I hear the Land Rover return. Eager, I run out to the driveway to greet it. Frank climbs out first and gives me a pat on the head. I wag my tail at this attention. Frank is my best friend. The human bitch in the passenger seat struggles to open the door, so my master goes around and pulls it open for her. She jumps down and barks something angry and unintelligible at him, before hurrying over to the house across the street. Minutes later, I can still hear her calling out inside. I can't understand what she's saying of course, but I can hear the distress in her bark. I lift my snout out of my master's lap and look up at his face; he strokes my fur absently while we sit in the front yard under the shade of the big tree. The corners of his snout are slightly upturned in that odd way humans use to show their contentment, lacking a tail to display their emotions.
I have two masters now: the bitch from across the street has moved in with Frank and me. It seems her best friend deserted her. It must be terrible to be abandoned like that. The Land Rover now sits under the big tree in the front yard, so that her car can get in and out of the driveway more easily. The big noisy machine never moves now. When the figs are in season parrots perch up in the tree above, gorging themselves and shitting all over it. I have to constantly piss on its tyres to keep the other neighbourhood dogs away.
I must admit I do sometimes get a little jealous of Frank's new female companion: after all, he is my best friend.

About The Author
Col Hellmuth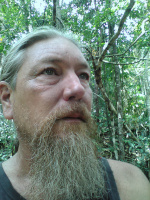 Col Hellmuth lives off grid in the Daintree rainforest.
His day jobs over the years have included electrician, kayak expedition tour guide, service station attendant, traffic controller and chicken catcher.
When he is not enslaved at work he is usually found bumming around his local beach dodging crocs in his kayak or jamming on the blues harp with his fellow band mates, the Cow Bay "Excruders."
He has previously had his stories published in issues 239 and 245 of AntipodeanSF.