By Col Hellmuth

I was at a country fair, somewhere in south-west Western Australia — one of those towns suffixed in '-up', commonly misconstrued as meaning 'water' in the European interpretation of traditional Noongar language, a fact I had recently learned and found amusingly appropriate, being an Aquarius — eating a Dagwood Dog and loitering by the ubiquitous shooting gallery that always seems to accompany these affairs. It was well after sunset. The meagre and unimpressive fireworks display had just finished and the small crowd — presumably mostly local farmers and their families, or itinerant backpackers, keen to get home to check on their cows/chickens/wheat/dope crops — was rapidly dispersing.
I waited a few more minutes then decided it was time to make my move.
I ambled over to the fortune-teller's tent, smirked briefly at the sign over the entrance then let myself in.
"Um, I was about to close up actually," said The Amazing Wazza, proclaimed teller of fortunes, sitting glumly back down in his chair. I held out my five dollar note, the price denoted on the handwritten sign pinned to the front of his tent, and waved it in front of his face.
"Alright then," he sighed, reluctantly taking my money and reaching for his virginal-looking deck of tarot cards, "What would you like to know?"
"What can you tell me?" I challenged.
His eyes narrowed to little more than slits, as he scrutinised my personage in what I assumed was supposed to appear a knowing, unknowable way. He self-consciously reached under the ridiculous looking scarf he had wrapped around his head and scratched his scalp.
"Well, I'm really quite good at telling the past."
"My past?"
"Yes ... dependant of course on the date and location."
"How so?"
"Well, subject to whether or not I was in the same place as you, at the same time as you and looking in the right direction ... and paying attention," he added, looking and sounding just a little harried beneath his embarrassment. "Yeah, look, I can't actually tell fortunes, not accurate ones anyway. Surely you don't really believe in that bollocks anyhow. Here mister, here's your five bucks back, I've really gotta get home now," he apologised as he tried to hand back the note I'd given him earlier.
I didn't take it. There was a small lockable metal tin on the collapsible table by his right elbow. He opened it resignedly and carefully placed the note inside. I gestured toward it with a nod of my head.
"Hand it over."
"What?" he exclaimed, a look of surprise on his face. I could see he had already clocked my size. I was quite tall for my age (or anyone else's) solidly built and not above using this genetic advantage to intimidate people. In fact, I usually didn't even have to try.
"You may not be able to tell me my future," I explained to him calmly, "but I can tell you yours: you're about to be mugged," and walloped him on the back of the head.
Judging by the contents of the cash tin, he really was a rubbish fortune teller. Two twenties, four fives (including the one I had handed him) and assorted shrapnel. The two twenties were obviously there as part of an unneeded float. Sixty-odd bucks. Not enough. The clairvoyant was lying on the ground, his deck of cards scattered about him. Out cold. I left the tent and made my way back over to the shooting gallery.
A spotty teenager was trying to impress his girlfriend with his marksmanship skills. I could see his increasing agitation as he continued to miss the moving targets. He slapped another note down on the counter and demanded a different rifle for his next attempt. He had clearly shot enough rabbits in his few short years to recognise a rifle with a cock-eyed barrel. The showie running the stall shrugged his shoulders with practised indifference and handed him another one from the rack. The showie was gaunt and had a sickly pall to his skin. He looked like he might spend a fair amount of time in a different kind of shooting gallery. This time the kid managed to knock over one of the metal ducks endlessly looping with the others on the closest of the three conveyors. He took his winnings — an unidentifiable fluffy piece of crap — with the lack of grace to be expected from a teenager and presented it to his girlfriend. She went all gushy with the fake admiration she knew would pander to his ego and improve his mood, then the pair left hand in hand — presumably to go do what kids their age do at night when left unchaperoned.
The showie went to hand me a rifle when it came to my turn.
"No, that one." I pointed to the break-barrel air rifle the kid had last used. I took a quick glance around to make sure nobody was watching, then pointed the gun at his head.
'"What do you think you're doing, pecker-head?"
If anyone looked like a pecker-head it was him, with his shaved dome and herpes-encrusted lips. He slid a pair of sunglasses down from where they were perched high on his forehead before nonchalantly putting his hands in his pockets and I was able to ken what they were for. They weren't an accessory to a delusional attempt at the rock-star look after all, but rather a safety precaution.
"Hand over your takings," I demanded.
"It's just a pellet gun, you idiot."
I watched the expression on his face quickly change from mild amusement, through growing concern to finally alarm, as I lowered the rifle and pointed it at his left thigh. He hurriedly tried to pull his hands from his trousers, but wasn't quick enough.
I pulled the trigger and shot him squarely in the balls.
"You asshole," he hissed through clenched teeth as he doubled over. Figuring this wouldn't slow him long, as much of the projectile's impact had been absorbed by his filthy jeans, I reloaded, reached over the counter and shot him again — at almost point-blank range — in the ear-hole.
He didn't give me any more trouble after that.
I casually counted my loot as I made my way back to my vehicle, discreetly parked on a side street a couple-hundred metres from the showgrounds. Four-hundred and twenty dollars. Enough to cover the cost of fuel for the drive to Perth — plenty more rubes to target there — and a proper hot meal as well. I opened the door of my mustard coloured Land Rover and climbed in.
***
The Amazing Wazza — aka, Warren the local plumber — awoke with a thumping headache. His scented candles had burnt down and out and it was pitch black in the tent. There was no sound from outside other than the noise of a million crickets. Everyone had either gone home, or retired to their sleeping quarters for the night.
He switched on his phone so he could see by the light of its screen. Three missed calls from the wife — yet nobody had thought to bother checking on him. First and last bloody time he would pose as a soothsayer no matter how insistent his wife was he do his bit to raise money for whatever stupid cause he was supposed to be raising money for. The evening had been a total disaster and completely humiliating — even before he had been assaulted and robbed. He was just not cut out for the role of charlatan. He pawed gingerly at the lump on the back of his head and winced. For Christ's sake, the main reason he'd left the city to move to this redneck, hillbilly dump of a town a decade-and-a-half ago was to get over the trauma of being robbed in his own home in the middle of the night by some dogmatic nutter with delusions of omnipotence. That and the fact his wife had always been out all hours of the night partying with her friends. They had been a bad influence on her. Why else would she stay out regularly until four o'clock in the morning?
He fought to get the entrance flaps of the tent open and stumbled out into the night. Apart from a couple of dim lights shining from the windows of caravans over in the section of the grounds reserved for the carnival worker's accommodation, and the faint odour of cannabis smoke mingled with horse shit on the breeze, there were no signs of life outside. He tore the sign down from over the entrance of his stall, ripped it in two and stomped on it a couple of times for good measure, then trudged off despondently towards home.

About the Author
Col Hellmuth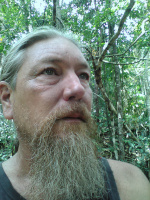 This story is a linking piece to two stories previously published in Antipodean SF, Coffee With God (Issue 245) and Frank's Best Friend (Issue 250) both first drafted whilst living in Western Australia, where I spent the best part of two decades. This piece (ironically written whilst sitting on the bank of Emmagen creek in FNQ) is an attempt, not just to further develop some recycled characters beyond the limitations of the short short story format, but also to give these stories a sense of place, a nod to the multitude of unique landscapes (and people) to be found in WA. The huge distances and wide open spaces between locations are also riddled with untold stories, so many that I find myself still writing them years after moving back to North Queensland.
Col Hellmuth lives a quiet (excepting weekly jam nights,) uncomplicated life, off-grid in the Daintree rainforest of Far North Queensland.
His day jobs over the years have found him contracted to do various work around the country in such exotic locations as mine-sites, SAS barracks, a Collins-class submarine, prisons, operating-theatres, swanky restaurants and wineries, chicken sheds, the Great Barrier Reef and the open road. He does not have any fancy letters after his name, or a pet cat, but does read a lot. 
When he is not enslaved at work he is usually found bumming around his local beach dodging crocs in his kayak or jamming on the blues-harp with his fellow bandmates, the Excruders.