By AE Reiff

I wanted to write you millennials and Gen Zers here as Encephalitic verses burst before the microcatch. You don't know this but you should go out, if it is permitted. Encephalite verse is called "Google gas," the other aspects are the same. Brain words multiply in the cranium and breed more imprints of their own. This is the same process of imitation and mimesis of old. But amped.
Eats
Constant replication with consumer application is the new publishing. As swallows build their nests under culverts and underpasses out of mud and sticks, these cities are edible canyons made of books, edible at least as far as they eat themselves.
Eat the city. Another conundrum. There is however a cleavage between the million little dogs who care for the Books. Yes there is a cleavage among the dogs. You'd think these should be librarians but by now you suspect they are YOU. The inherently messy and inbred connect with the giants and the little dog comets can now come clean. Whether Comets or dogs, puppoet little dogs are the super flux that track all Giant invisibility by its mess.
When Hydrocephalic Cool Giants was a required course at State we all wore t-shirts that declared it, along with those worn by the Little Pups. Little pups is another way of saying little Pops.
Let us go back to the beginning of this prodigimon which is difficult to do since giants cook their books like dwarfs. That doesn't make sense unless you understand that a book is a feeding mechanism with a little dog fork and a tongue.
Brain Taters
How can a book be a fork and have a tongue? That's the prodigimon. But even that has changed. The words are now so active that when you read them they eat you. Mouths and teeth are encrypted in the words like moths in your closet. These words go into the reader's brain and interrupt the defense to eat the brain. That's why the CDC called those hydrocephalic viruses brain taters.
But back to the brains. Giants eat cephela-food. Raw fry brain they call it, something that the meat packing industries of wit and blurb also consume. Thousands of MFAs, Mouthful Feeding Anomaly, read this and apply. The more they eat the more they get. Consumed a lot like candy bits, it's not up to little dogs to question the laws of appetite.
Verses
So if books and dogs are a social problem invisible giants are too. Boiled down to the nubbin, which we like to do, they squirm in gravitation, which is their displacement when they detect a verse. Verses are solvents to catch them in the disconnect, a disinfect. The best catch of mutant imprints is by Ballooning Head. We don't make this up. A lot of mushroom lapped up by the cap, both pallor white and stalk, are tough. So in the homes of littered dens the besot bits are sucked by little dogs. That verse!
Catch your breath, there's more. The washers reporting, the phones redialing, the lamps reciting to the toasters what the books are reading is what remains of lit. SueLit is her name and you know her fame.
Bluehenge
Going down the list of presence, void sounds much like contradiction until we realise that Encephalitic invisibility leaves footprints in the yard not hard to see. Researchers have dubbed such sites "Bluehenge," after the colour of the 27 Welsh stones laid to form a path of all that remains of that site to THE DITCH. I bet you don't want to know what that is. Maybe I won't tell. Maybe I will. There I already have. You just don't know. You don't want to go. Anyway, the blue stones disappeared but the path of the holes remained behind.
HolePrint
In this way giants leave dents where there should be prints. These are named for the great. There is a Fauci that unfortunately fills with water and drowns little dogs. You could fall in one of these craters on the moon if you had. They are extremely deep, take several lakes at one command. Essentially therefore we must accept the hole as a proof that they are there. To prove this, pour in some substance, Pepto Bismol will do, or alum or concrete to cast that hole print. Or turn on your device if you can see. What matters is that the stump remains after because it is cast from its vacancy. Now the invisible is made real!
Meteor Crater
Giants surround their centers with metaversal flash. It sounds rather like a plasma with effects. You'd love to see one undressed! Flash as flesh. At Meteor Crater this impact is like any other brain. It is a kind of Goldilocks dilemma, either too big or too small to see.
MoreFood
The final sign of giant growth ends in our story of obesity farms and herds. These have been successful beyond belief. Fully one third of all readers in town consume MoreFood. And this is growing. These are the cows and chickens that readers and thinkers feed along the way just as we used to our herds. They don't just graze unpastured in an open field! Feedlot libraries and slaughterhouse universities breed and rebreed the unseen. Then they get a career in the FIB. After all, it's mind the monoploid eats.
Walkingells
Sure that leaves behind a lot of Walkingells. That's their name when the giants load their throats with every cry. They go off on airplanes. They go off and off. Respect, respect, respect the mind they say. Hints of this sail the wind.
Mars
Giants bite poets. Each entirety is self-consumed so the self-dole remains. That was how the science farms, religious skulls and industry on greater scale owned complete shares of Und Poppellis and made it grow. It means our giants are stockholders and multiply so fast they can eat Mars. Eat more, eat more, they plead until the Pop. I will tell you this, them buzzards can fly. Look out Mars for Und Poppellis Encephalapod: Cephalofood & MoreFood for Walkingells.

About the Author
AE Reiff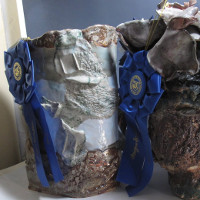 AE Reiff has two recent collections, The True Light That Lights @ Parousia Reads, and Recon @ Trainwreck Press.