By Neil A. Hogan

Space twisted, shuddered, then ripped apart as Flash Ships Ltd.'s experimental craft tore back into reality. The triangular ship shot forward, momentum from its previous suborbital position above Earth throwing it further into the Kuiper Belt.
Inside, Captain Bruce Malper saved the target drone's recording of their arrival, unhooked his belt and checked the oxygen levels. "AI. Record. 11:47am AEST. Saturday 12th April 2036. The first human test of the interplanetary flash drive is a success." He straightened carefully in the confined space, brushing off cables that had gathered near him, and checked stats. "Pluto's orbit confirmed. 7.5 billion kilometres in 7 seconds."
"Incoming!" yelled a muffled voice from his helmet.
Immediately he was slammed back into his seat as the craft shot EM pulses from his corner. A bright burst of plasma blasted past the front metal glass, almost blinding him. "Commander Wei. What the hell was that?"
His chunky fingers struggling with the hybridised old and new technology, Malper pressed a spring-loaded button on the outside of his helmet to activate the quantum-entangled mind-view signal. External cameras broadcast an image into his mind in x- and gamma-rays, but the object it showed was almost too impossible to believe. "I don't believe it."
He felt Wei link and add more data. A new image flowered open in his visual cortex with an analysis of the energy blast. Wei's alpha waves were like a cool breeze across his brain, their interaction in this mental space calming him quickly.
"Particle stream?" began Wei's thoughts. "The kind that a…"
"…that a compressed mass like a black hole emits," finished Malper. "Yes."
"Ten Earths in a cricket ball." Wei turned the mass around in their heads. "The magnetic field is strengthening. It's going to fire again. Two thousand kilometres away means three seconds to impact."
Malper gripped his chair as the ship's EM pulses changed their course again, the plasma blast going wider. "You know, I was worried we'd materialise inside Pluto. This is a lot worse. Exiting."
His tiny control station filled his vision again as the image of the compressed mass faded away. "Any suggestions?"
"Return to Earth."
Malper turned in his seat and peered around the central cylindrical flash engine, hoping to catch her expression. He could just make out Wei's back at the end of the tiny corridor that branched off to the left. "Wei. Seriously? It's taken three years to get this far."
"If the next particle stream hits, none of this will matter." Her voice had a slight edge. "Instant vaporisation."
They couldn't end the mission this quickly. Then he remembered, she wasn't an astrophysicist. "Look. We must have arrived above it. If it's like a black hole, well, they only stream at the poles. Set an EM course at 90 degrees and see if that works. Just make sure we don't get caught in its gravity well."
"Yes, sir."
Malper sighed, then jumped as a large metal tail snaked around from the right corridor and gripped the handhold next to him. "Shinky! I'm already jumpy. Could you have knocked first?"
"So, you are alive!" Two of her exoarms gripped the bulkhead and slowly pulled the rest of her human body into the confined space. "I've been trying to contact you guys for hours."
"Hours?"
"Joking. A few minutes, though. My corner of the ship is closer to the black hole, so time is slower. The hybrid system couldn't connect."
Malper rubbed his face. "That's all we need. Will it affect the flash drive?"
"I don't think so. Let's just get out of the area."
"Flash engine?" asked Wei.
"EM drive," said Malper. "Set course for Eris, or Arrokoth. Anywhere."
They felt the EM pulses increase and held tighter.
Shinky tapped Malper's control panel. "Found this. That thing out there is not a natural mass. Human-made. Well, alien-made?"
"What?" Wei bounced out of her chair and launched herself like a diver down the tight corridor. Malper frowned at this, remembering his bulk, and how the only exit he had was up. "Aren't you supposed to be driving?"
"I engaged the autopilot."
Wei reached past Shinky and zoomed the image further. "So, the plasma bursts are deliberate. It detected something large and high speed, then fired."
Shinky pointed with an exoarm at the edge of the image. "There's even a bloody force field around it." She tapped the screen with a claw, and it showed another graph. "And a signal being broadcast. It might be networked to something, or somethings."
"I don't like the look of this," said Malper. "What if there are more of these out there?"
"I know, right?" said Shinky. "They could be here to stop us from leaving. Imagine millions of these things hiding in the outer Solar System. If the deep pockets hear about this, that's it for interstellar travel, and my career. I'd be just another disabled body again."
"Well, we're not going to let that happen," said Malper. Then he saw that Shinky had started looking alarmed at her heads-up display. "What?"
"Black hole thingy? I think it's started chasing us."
"No. No. No," said Malper, seeing the projected trajectory on his panel. He groaned. "Goddamnit! Commander Wei. You're right. Turn off the EM pulses, and the autopilot. Shinky, prep the flash engine. AI. Abort all testing programs."
"Yes, sir." Wei quickly dived back to her station.
"On it." Shinky's exoattachments scuttled her back down her corridor.
Malper shot out a drone to record their departure for the shareholders, then activated the flash drive. As it powered up, he deleted every record of the mass. The last thing he wanted was the company to think the Solar System was under lockdown.
Flash engine microwaves poured through the ship, increasing its frequency to 300,000 cycles per second. Outside, reality shattered, and the triangular shadow disappeared, just as a bolt of magnetic plasma blasted through now empty space.

About the Author
Neil A. Hogan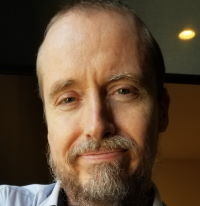 Neil A. Hogan has been writing space fiction on and off since the '80s.
His next novel, The Robots of Atlantis, is due out in May 2021.
Find out more at <https://www.StellarFlash.com>.