By KJ Hannah Greenberg

Fido Penelope Svetlana Hudson was your "typical" Dandie Dinmont Terrier. She was ten inches high, weighed twenty-one pounds, and had a medium long double coat. As well, she rarely drooled but had a surprisingly loud bark.
Her adopters, The Hudson Family, had brought her home since she was, allegedly, a hypoallergenic breed. Their only child, David, suffered from eczema and had been on antihistamines from the time he was weaned.
David loved to plunge his hand into Fido's silky topknot. As for her dark bluish/black colouring and shoe-button eyes, he could not have cared less.
Fido patiently played dress-up with him and thumped her scimitar tail nonstop when he built with blocks. To boot, she insisted on sleeping at the foot of his bed. Whenever her little boy returned from preschool, she could be found waiting for him at the front door.
Additionally, Linoi Hudson, David's mom, brought Fido along each time she walked David to kindergarten. Whereas Linoi's work schedule prevented her from also picking him up — a neighbour whose child was in David's class did that kindness — Linoi insisted that her timetable accommodate their shared, early morning marches. Even if Linoi frequently didn't get home until many hours after David was asleep, she had the satisfaction of knowing that, daily, she and her child shared birdsong, garbage truck rattles, and cats' meows.
Stephen Hudson, David's father, always stood alongside of Fido to greet David when David was due home. A writer graced with book contracts up to his eyebrows, that man chose not to leave home for "carpool duties," but enthusiastically prepared David's lunches. Together, he and his son built mayonnaise and green pea sandwiches, jellybean and ketchup omelettes, chicken with chocolate salads, and other toothsome items.
Once the lunch dishes were put away, ordinarily, David coloured. He then took a nap.
On the heels of his nap, he'd snack with his father on "weird" viands such as grape halves, lettuce rolls, or carrot sticks. Occasionally, the two nibbled on animal cracker. Stephen liked the lions. David liked the penguins.
Thereafter, the tot would use up his allotment of television time while his father pounded on a keyboard. Free play, in the company of Fido, was next as was David's evening meal. Bedtime was last.
Bedtime meant a bath, half of an hour or more of reading with Daddy and then sleep. In addition to Fido, David filled his bed with roughly two dozen stuffed animals, each of which had to be placed in its correct position along David's guardrail.
Weeks rolled into months. Months rolled into seasons. Seasons rolled into a year. In no time at all, David was preparing for first grade.
Linoi took a day off to buy him shoes, clothes, school supplies, and the "best" backpack that the family's money could buy. That neon rucksack was covered with embroidered depictions of underwater creatures. David was so excited by his new pack that, for a few weeks, he had trouble getting to sleep. Before he would even try to shut his eyes, each of his stuffed animals had to be placed inside of it and then removed so that they could ride in his treasured possession as well as stand guard at their respective stations on his bed.
Even so, it was not that bag, nor Fido's enthusiastic send off, or even the special chocolate chip/chilli pepper cookies that Daddy had made for David's first day of first grade that most preoccupied the youngster while he and Mom walked to school. Rather, he was consumed by the antics of a neighborhood, feral tabby.
The animal in question, Howard, was not much of a predator. Bits of fur were missing from his back, one of his ears was permanently lacerated and he was somewhat lame in his front right paw.
On balance, he owned half of a city block. What's more, that half of a block contained two community dumpsters. Howard had successfully vanquished every challenger in his sector.
Consequently, all of the spillage from human garbage at those locations was his and his alone. As long as he hid when the trucks came, he remained king.
It was only because Howard was usually more active at night than day that David had never met the tom. Although, for a full year, David had passed Howard's trash receptacles going to and from school, he had never noticed the critter. On that first day of first grade, however, the tuna and popcorn sandwich that Stephen had packed for David had roused Howard.
While Stephen had already begun to yearn for different father-son culinary adventures, Howard was unable to overlook their most recent one. Tail up, whiskers out, the champion stalked the mother and child. He meant to get to the source of the wonderful smell.
Upon noticing Howard, Fido sounded off. She had her two-leggeds to protect.
Fur puffed out and eyes wide opened, Howard retreated. He likely outweighed the canine but had no desire to engage her. He'd pursue the humans from a distance.
The rest of David and his mom's walk to school was uneventful, save for the tears that dripped down their faces. The lad was upset that he couldn't pet the stray kitty. Linoi was moved by the fact that her little man was embarking on another of life's chapters.
Linoi tried to distract them from their losses. She let David collect three fallen leaves, permitted Fido to "read the news" at every lamppost that they passed, and completely ignored the dozens of summonses that were issued by her smart phone. For four blocks, she meant to make sure there would be only natural indulgences.
The woman even stopped their procession, twice, to point out wrens, robins, or some other sort of songbirds. She really wasn't sure of those passerines' identity.
Despite all of their restarts, the mother and child reached school. With a hug and a sniffle, Linoi sent David inside.
On her journey home, though, she returned her concentration to the business world. An important product launch plus a future meeting with higher ups needed her attention. Accordingly, she held Fido's leash in one hand and scrolled with her other hand.
Howard watched the pair from his perch on top of one of his waste containers. He hissed at Fido.
In answer, Fido perked up her ears, growled, and then barked repeatedly. Linoi, who was IMing, hushed her pet before tugging on her leash.
Fido stayed put. The terrier couldn't understand why her human didn't want to be safeguarded from the nasty moggy.
Linoi pulled again.
Sometimes, those yanks hurt. That morning was one of those times. Thus, as soon as she had growled another time, Fido obediently walked beside Linoi. She stopped afresh, all the same, when she espied the capsule.
That pod was silver. It shimmered in the morning light. It likewise beeped and emitted other sounds. It vibrated, though, at a frequency inaudible to human ears.
Fido sniffed it.
Linoi acquiesced. Momentarily, she stopped prising and walking. She figured her pup was "reading" other dogs' stories anew. She, herself, could use Fido's break to complete another long text.
A compartment opened on the capsule. Bug-sized organisms spilled out.
Fido tasted one of those creepy-crawlies but it gave her an unpleasant sting. She spit out the being and then barked at the capsule.
Linoi, who had, at last, finished her electronic chat, once more wrenched Fido's leash. Allowing her dog to read other doggies' scents was one thing but having her chase squirrels was not part of Linoi's plan.
Howard watched them leave. He had observed Fido's attempt to eat the tiny living things. He was curious over and above being hungry.
After licking one paw and then another, he leapt from his outsized garbage can to the sidewalk. The capsule was still there.
As a feline, he was superior to canines and humans. Hence, unlike them, he had no compunction about swallowing the capsule whole. He figured that the insects within would be just as tasty in their casing as they would be if eaten individually.
No one saw him levitate into the heavens.
The subsequent morning, a calico juvenile had taken up Howard's dumpster spot. While escorting David and his mom, Fido noticed the change in command but, because she was intent on not again having her collar jerked, she neither barked nor snarled at the newcomer.
David saw only a bounty of leaves. As for Linoi, she had eyes just for her watch — her phone was pealing unrelentingly. The second day of first grade was not as monumental to her as the first.
Going forward, no further shimmery capsules were found strewn on the sidewalk that leads to the elementary school. Furthermore, no additional cats were airlifted to Draco II.

About the Author
KJ Hannah Greenberg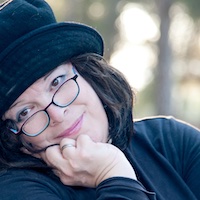 KJ Hannah Greenberg has been playing with words for an awfully long time. Initially a rhetoric professor and a National Endowment for the Humanities Scholar, she shed her academic laurels to romp around with a prickle of imaginary hedgehogs.
Thereafter, she's been nominated once for The Best of the Net in poetry, three times for the Pushcart Prize in Literature for poetry, once for the Pushcart Prize in Literature for fiction, once for the Million Writers Award for fiction, and once for the PEN/Diamonstein-Spielvogel Award for the Art of the Essay. To boot, Hannah's had more than three dozen books published and has served as an editor for several literary journals.
Find out more at her website: <http://kjhannahgreenberg.net/>.