By Greg Foyster
Hi, great story, I love the way you've played with genre and developed the relationship between the main characters. I was a bit confused when the Wizard and the Space Commando appeared in the same scene to do battle (forward in time, yes? Or was it backwards?) but once sI got past that initial surprise of a medieval fantasy mixed with hi-tech space opera it was really quite fun — especially the kissing scene, what a twist! Anyway, a few small things I picked up, see comments on the doc attached. All just suggestions, my opinion, take it or leave it, hahaha ☺
Comment: Love the title! Really conveys the premise of the story. Might want to get it under four lines? Does the "KABOOM!!!" give too much away?
Comment: You could bring this alive through the senses. What was Horacio the Wise Wizard feeling while being lowered slowly into the bubbling cauldron of genetically enhanced crocodiles? Sights, smells, sounds? (Some gnashing, perhaps?) Make me really feel like I'm in the hot slime with him!
Comment: Your unique combinations of letters to describe his screaming are wonderful! It's true that Eek! and Argh! don't really capture the full range of human terror. Perhaps just a single line, though? This paragraph is so evocative I'm starting to feel the Wizard's pain a little too much. ☺
Comment: Good to make it really clear he has escaped but maybe don't need "vertically" after "jumped up"?
Deleted: moved legs
Deleted: horizontally
Deleted: very fast
Inserted: ran
Comment: I love your precise use of tenses, and understand the Wizard has now gone back in time and is pondering his pre-destined future, which exists as a self-sustaining time loop, so I guess it's technically right to say "later he will have had breakfast before…", but I did trip up over it.
Comment: Start a new chapter? Since we've shifted time-space dimensions?
Comment: Wow, romance too! This story has it all. I loved the Wizard whipping off his long white beard to reveal a princess's face… One thought though — was it glued on? If so, could there be some red marks left on her "porcelain cheeks". (Don't want to ruin the moment for them though! So cute!)
Comment: I respect that you've switched the Wizard's pronoun from "her" to the gender-neutral "their" after the undressing, but perhaps describing their reaction to the Space Commando as "swooning" kind of undoes the intended effect?
Comment: I don't know much about poetry, but using a limerick does set a very specific tone to the Commando's declaration of unrequited love.
Comment: Isn't gonad plural? (Gonads)
Deleted: grunted
Deleted: penetrated
Deleted: thrusted
Comment: Actually I'll stop deleting and leave this to your judgment. Is the Star Wars franchise a Disney property?
Comment: This is essential backstory about the Wizard's decision to have a second helping of toadjam for breakfast earlier. Is this the right place for it, though, just before the…um…climax? (Also, didn't he eat breakfast in the future first? See above comment re tenses.)
Comment: I love Love LOVE the ending. Wow. The explosion, revealing the Wizard was actually an android with a nuclear reactor heart (didn't see that coming!) and how it all ties into the romance thread, with the "KABOOM!!!" inserted right before their "interstellar consummation"… just wow. I wonder, though, could there be a little foreshadowing of the Wizard's android origins earlier on? Perhaps a stray wire during his/her/their/its disrobing? Up to you of course! Also, are you sure the Space Commando cries out in pleasure after the explosion? Perhaps the warhead detonating directly underneath his chest would interrupt him? Just a suggestion though! Great story, super original, and I am probably being too picky ☺
Deleted: THE END
Comment: Great signposting of when the story finishes, but I think the reader can infer this from the lack of text afterwards (plus all the characters are dead now, and the universe has imploded).
(671 words)

About the Author
Greg Foyster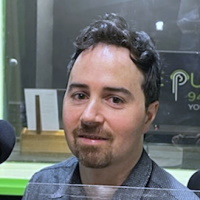 Greg Foyster is a writer, illustrator and author of the memoir Changing Gears, currently living on Wadawurrung country at Geelong.
His stories and cartoons have appeared in The Age, The Saturday Paper, ABC, Meanjin, Eureka Street and others.
His fiction has appeared in Overland, The Big Issue, Aurealis and AntipodeanSF.
Website: <www.gregfoyster.com>