By Tim Borella

NOW
The gates of Hell weren't covered in flames and the skewered bodies of the damned, as Mack had imagined, but were in their way just as profoundly shocking, a sheer forbidding bulk humming with energy, sucking away all possible hope. For three decades he'd wondered if this day would really come, but come it had. A rectangle of blinding light appeared in the dark surface and Mack was dragged in to meet his fate.
THEN
The mist rose in patches above the slow-moving river, the promise of a cold night to come. With the evening frog chorus in full song, Mack didn't hear the vehicle until it was close. Not expecting anyone, he reeled in his line and went to investigate.
Under its coat of dust, the Mercedes four-wheel-drive looked brand new. The driver's door popped open and a woman stepped out slowly, as if unsure whether the ground was safe to stand on. Her clothes looked new too, apparently aiming for what you might think would be worn on a fifty thousand acre cattle station if you'd only ever seen cow on a plate before, medium rare.
There was a purposeful look to her, though, and she stepped forward, hand out.
"Mr McEvoy? I'm Carla Cadogan. Could I possibly have a few minutes of your time?"
Time wasn't really an issue for Mack, and twenty minutes later around the campfire, Carla had made her pitch.
***
Unlike almost everyone, Mack had never heard of Antoinette Mandamas, which, it turned out, was precisely why Carla had come halfway round the world to find him. Skeptical, he'd agreed to at least hear what she had to say. A thousand dollars was a lot of money, let alone the hundred thousand that appeared, no questions asked, in his account — as confirmed by Barry at the Potoroo Flats post office, and that, according to Carla, was just the beginning.
Expecting to wake up any moment, Mack now sat in a plush waiting room in New York City, slightly uncomfortable but relaxing after a couple of drinks from the enormous fridge he'd been invited to treat as his own. Money wasn't something he normally thought much about, but the amounts Carla had mentioned would buy the whole station outright, set his sister, her family and his old Mum and Dad up in comfort for the rest of their lives, and … well, that'd hardly make a dent, but he'd think of something. A new fishing rod, for a start.
There was, of course, the matter of what they wanted in return.
***
The room Carla took him to was huge and delicately lit. The entire far wall was a window overlooking the unending expanse of city lights, with three people in a semicircle of chairs facing it. As Mack and Carla approached, a breathtakingly beautiful woman with flowing blonde hair and a glittery dress rose to greet them.
"Mack," she said breathily, "may I call you that? I'm Antoinette. I'm sure you're wondering what this is about. This is Charles, my lawyer, and Katrina, an expert on the matter we'll be discussing."
Her voice sounded friendly, but when Mack looked into her grey eyes, he saw no trace of warmth.
"G'day," he said, more firmly than he'd intended. He'd been content to go along for the ride so far, but now he wanted real answers.
Charles didn't waste any time.
"Mr McEvoy, in my briefcase is a contract which, on your signature, will mean your family will never want for anything again … ever. Before we go into detail, though, do you have any questions?"
Mack scratched his chin.
"Just the obvious for a start. Why me?"
"Let me answer that," said Katrina. "I'm a … brain scientist, you might say, studying what some people call the soul. Primitive tribes, when shown cameras for the first time, have often been fearful, thinking photographs somehow steal part of a person's essence."
"Yeah, I've read that somewhere," said Mack.
"Well, turns out … it's true. There's a tiny but measurable reduction in what we call the anima quotient, or AQ, every time a person is photographed. Video has a similar but cumulative effect, around 24 AQ points per second, and even more concerning is that internet distribution multiplies the reduction. As you can imagine, a global superstar like Antoinette is … well, running dangerously low."
Mack nodded and Katrina continued.
"You, though, have almost never been photographed, as far as we can ascertain. We'll confirm with a measurement, but I fully expect your AQ to be pristine."
It was true — Mack's parents had never even owned a camera to his knowledge, and as a painfully shy kid, he'd always dodged the yearly school photo. Then, out on the station, it just never came up.
"And you want to …?"
Charles cut in, proffering a fat gold pen.
"Buy your soul, Mr McEvoy."
NOW
Mack's heart thumped so loud he could hardly hear what the creature across the desk was saying. At first he'd thought it was the Devil himself — a fair assumption based on its red skin, horns and pointy tail — but apparently this was infernal Customs and Immigration.
"No, no," it said, looking from Mack's face to a folder on the desk, "this contract is invalid. I don't know what you thought you were doing, mate, but unless it's signed in blood at a crossroads at midnight with either the Devil or his authorised representative, forget about it. You can appeal the decision within thirty days, but I'm afraid I can't let you in."
With that, Mack was plucked from his chair and thrust back out through the shining door, just as a tall figure came the other way, propelled by some unseen force, long hair trailing. This time, Antoinette Mandamas's eyes were bright with emotion — sheer terror.
Mack woke in his camp stretcher, unsure if the sound fading in his ears was the cry of a curlew or a woman's scream.

About the Author
Tim Borella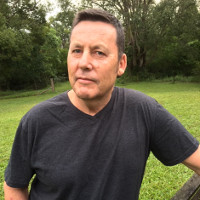 Tim Borella has never lost his childhood passion for SF and writing in general and has been lucky enough to have worked most of his life as a pilot — in other words, he's never properly grown up.
He lives in country Far North Queensland, has won awards for songwriting, and has had various other writing achievements, the most recent being an honourable mention in the 2018 international Literary Taxidermy Short Story Competition.
He also has bachelor degrees in science and teaching, and has completed a couple of as-yet unpublished SF novels. He'd dearly love to spend more time writing, but will have to continue juggling for another couple of years until the kids have fully left the nest.