By Deborah Sheldon

Oh God, they had buried him alive.
Within the first moment of coming awake, Emil knew he was in the ground. The blackness, the silence, the fecund, ripe and familiar smell of turned earth could mean nothing else. A jolt of panic thrashed him. His limbs struck the wooden sides of the coffin and his forehead banged against the lid. For a time, Emil did nothing but scream, filling his lungs and emptying them, again and again, until he stripped his throat raw and tasted blood.
Panting, he lay back, thinking.
Trying to think.
He had been ill. Desperately ill. He could remember that much. The pain and fever still raged in him. Perspiration soaked his tunic and trousers. What had happened in his final hours of consciousness? He must have been abed, surely, yet his memory failed him, flitting in nonsensical remnants as if from a dream: sitting at the table with his wife, Agnes; a strident kind of chaos like a thunderstorm; dogs scampering and scattering from the village…
So, he had been ill. What then?
The women must have tried, and failed, to cure him with their leeks and healing herbs.
He had fallen into a deep sleep, the kind that didn't show his breath against a mirror.
The villagers had performed the rituals and buried him.
The rituals.
Emil scrabbled his callused hands about the floor of the coffin, groping for his axe, his scythe. They weren't there. The villagers had buried him without belongings. His illness, whatever it was, must have mimicked leprosy; the villagers would have wasted no time. But how would be escape without axe or scythe?
By God, he would use his hands.
They were work-toughened, weren't they? Gnarled and knotted like the bark and boughs of red-tingle trees from years of working the earth, steering oxen. The coffin lid sat close. No room to swing fists. He placed his palms against the lid and pushed, pushed, while the veins popped in his face. Pushed while his molars cracked.
The iron nails squeaked and gave.
Emil took a breath of fetid air and pushed again, his joints creaking, popping, breaking.
The lid snapped in two. A shower of dirt collapsed onto him.
Could he dig through six or more feet before suffocation?
Twisting around, coughing and choking, Emil got his hands and knees onto the floor. He pressed his upper back against oak and earth. The weight of the world lay upon his old shoulders, yes, but his shoulders were broad and used to hard labour. Pushing, pushing, Emil got his toes under him, doubling himself into an awkward squat. Putting his hands atop his head, squeezing his palms together as if in prayer, he began to stand up, inch by inch. Muscles burning and shuddering, he parted the soil, his clasped hands forming the pointed share of a plough. His lungs needed air.
Craved air.
His every breath sucked in dirt.

No, he would not make it. Could not make it.
A breeze wafted over his fingertips. Emil strained to reach his full height. Desperate, cleaving up and up, his arms burst free. Lungs exploding, he struggled, kicked, shoved until air broke over his face at last. He sucked in breath after breath. Sweet, so sweet, even sweeter than the first crop of baby peas. And he wept.
Nearby, a woman shrieked.

And who could blame her? He had appeared like a corpse, a draugr, rising from the grave. Emil wiped dirt from his stinging eyes.
It was evening, the autumn sky painted orange and yellow. The fenced grounds of the church lay some yards distant. God, they had buried him in unhallowed ground. Why? He had been a good Christian, hadn't he? An even-tempered husband, a disciplinarian to his children, a doter on his grandchildren. A steadfast provider and protector. One evening, when someone — something? — had broken in, he had defended his wife against teeth and clawing hands, had defended her with his very life…
He hesitated, frightened.
Could he actually be dead?
A ghost?
No. He still breathed. Ghosts don't breathe.
Emil hauled his body from the earth and stood up, unsteady. He squinted about. The woman's shrieks had brought a crowd. Many villagers surrounded him. He looked for Agnes but couldn't see her. His sons, nephews and cousins, friends, acquaintances, customers who bought his produce at market were all staring at him, holding aloft their knives, chisels, clubs, hammers. Indignant, he tried to explain — You bastards buried me alive — but his ruined throat could only groan.
A few people gasped, recoiled, but the crowd stayed fast.
Their dozens of white and plump faces reminded him of freshly plucked geese ready for the roasting. His empty stomach growled. He clutched at his abdomen, glanced down. The sweat on his tunic was not sweat after all, but blood. His own blood. His bare arms were covered in wounds, the skin bruised and tattered.
Memories of his last hours came back.
A madman had broken into the house during a storm. Emil fought and killed the man yet sustained dozens of bites. Delirious, he staggered outside. Dogs howled and fled from him, cowering. Villagers soon converged to stab and bludgeon him. For a moment, he couldn't remember why. And now, they were converging on him again.
Emil's mouth watered.

Those faces.
All those pale, soft, warm, fatty, meaty faces.
Emil licked his chops and bared his teeth. Ah, he knew what he must be: a draugr, a living corpse. And he liked it. Liked this long-forgotten sensation of vigour and youthful energy surging through his weary old body. Who would have believed that rising from the dead could feel so marvellous, so intoxicating?
The villagers came at him with their feeble weapons.
Hungry — hungrier than he had ever felt in all his long life — Emil decided he would slaughter and consume each and every last one of them until he was sated. Until he was done.

About The Author
Deborah Sheldon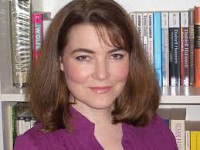 Deborah Sheldon writes about herself:
I'm a professional writer from Melbourne, Australia. My latest releases, through several publishing houses, include the dark literary collection 300 Degree Days and Other Stories, the bio-horror novella Thylacines, the dark fantasy and horror collection Perfect Little Stitches and Other Stories (winner of the Australian Shadows Award "Best Collected Work 2017"), and the creature horror novel Devil Dragon. Upcoming titles include the noir-horror novel Contrition later in 2018, and a retrospective dark fiction collection in 2019. My short fiction has appeared in many well-respected magazines such as Quadrant, Island, Aurealis, SQ Mag, and Midnight Echo. My work has been shortlisted for numerous Aurealis Awards and Australian Shadows Awards, long-listed for a Bram Stoker Award, and included in "best of" anthologies. Other credits include TV scripts, feature articles, non-fiction books, stage plays, and award-winning medical writing.