By Chris Karageorge

In the light of the sunrise a little idea spawned, as I lay on my bed early one morning. One hour later as the warm sun came up — POP, out of my coffee came a bigger, better, greater idea. I started looking for a pen and began writing in my den.
I jumped up to my feet in a moment: I looked up, but it was all dark overhead; before me was the clock, and while the hour hand was still in sight, it was hurrying down towards closing time. There was not a moment to be lost — away I went like the wind, and was just in time to hear it say, as the hour turned a corner, "It is now five o'clock."
'How late it's getting, oh! The Manager, the Manager! Oh! Won't he be savage if I've kept him waiting!' I thought.
I was close to the building when I turned the corner, I found myself in a long, narrow street, which was lit up by a row of street lamps, each laden with a noose.
In the lowest basement of the tallest building in town where the Drain Crawlers lurk and the bins smell hot and sour and no people can be heard...is the Department of Published Futures.
And deep within the basement, some people say, if you search deep enough you can still see, today, where the Author once stood just as long as they could before they were taken away.
Who was the Author? Why were they here? And why were they taken somewhere from the far end of town where the Drain Crawlers lurk? The old Manager still works here.
Ask him, he knows.
You might not see the Manager. Don't knock at his door. He stays in his office at the end of the floor. He stays in his office, where he makes his own agendas out of tip-tapped type. And on certain blue evenings in July, he peeks out of the shutters and sometimes he speaks and tells how the Author was taken away.
'I've read this story before…perhaps. I'm sure. Something seems familiar, I can't quite tell.' I thought.
Within his agenda he lists his norms and protocols — and once I agree, he opens the window and takes my manilla folder, which has my big, best, greatest idea.
He flips through the pages carefully. The Manager's eyes are hard to see, since they have to see through a forest of brows, and a brush of big bad hair.
"Now you'll tell me," he says, with his breath sounding like coffee, "What kind of a story you've got here…"
"Well," I began "It all started way back...such a long, long way back…"
"Is this a story about overcoming adversity? Rising up through the ranks to right wrongs only to find out it is impossible or very difficult? Or maybe your characters do make changes…or are they rising up to defy their past, to prove something? Let me guess, your characters go on a trip or mission, and over this trip they overcome evil or some difficulty and of course they return changed or…unchanged."
"Well…not quite. On the way here I was thinking if this was all worth it, I was nearly knocked flat by a Drain Crawler's snuvv." I replied.
"Ah, perhaps then your story is about discovery. Finding oneself, or the truth about something close to the character within them or their world. THAT could be what is driving them, what keeps propelling them to find out the meaning of it all. God, we do love that type of story." The manager adds a dot point to his meeting minutes.
"I'm not sure about that…but hopefully at the end of our meeting I can work that part out."
"Something comedic perhaps? A confusing or humorous series of events that are all clarified successfully or happily towards the end? Hmm? Not one of those romance comedies I hope." I catch a glint of light in his eyes, and I think he frowns as he types 'romance comedies' into the minutes.
"Maybe you've gone the other way, something tragic and sad — YES, a gritty portrayal of the future where a lesson is lurking for us all in the present. Or is it yet ANOTHER retelling of the past through a particular lens that AGAIN is trying to teach us something or shed light on a subject? A favourite of mine is the undoing of the protagonist due to a critical error in their actions or their being."
"Not quite a retelling, I hadn't really thought about the lesson, that is a good idea."
"Well…there is, of course, the follow-through to the previous example, where an event guides or forces the protagonist to change their ways and often become a better individual."
"You know…maybe I should have revised this before I brought it to you, I'll try to do that next time."
"It's not that? Hmm, are you retelling an existing story, but focusing on particular elements to highlight a current issue, a bit of social commentary, eh?"
"Well there's so much to comment on, but I wouldn't know where to start. That's not what I was intending though."
"No? Not any of those. Then…then all that is left is…OH! Are we dealing with an anti-narrative, something from the auteur archives, a slice of life that does not tell a conventional story but shares events with the reader?! Then of course the reader is invited to compare and contrast with their own life…how deep."
The Manager said nothing. He just gave me a glance, through the forest of brows and the brush of big bad hair, a very deep, sad, thoughtful glance. He saved the minutes from our meeting, and as he got up and stood by his big chair, I'll never forget what he said next.
"The grim look on the Author's face when he took himself out of here, and took leave of our office through a door in the wall, without leaving a trace. And all that the Author left here in this mess was a small pile of papers, with one word...AGAIN. Whatever that meant, well, I just couldn't guess." The Manager packed up his things and walked through a door, shutting it behind him. I was alone once more.
That was long ago. Each day since I've sat here and worried and written away. Through the years, while the buildings, libraries and museums have fallen apart, I've worried about it with all of my heart. But now I think, as the new Manager, now that I'm here, the word of the last Author seems perfectly clear. AGAIN these stories will be told until we begin to rot, nothing much is new, just a different packet, a different pair of shoes, a new pair of socks.
'Not unless someone like you cares a whole lot, nothing is going to get better. It's not. Catch those ideas! I call out to you all, in the desolate towns and burnt book urns. Let the pen fall, it's a start. It's the last hope of all! You're in charge of your ideas. And ideas are what everyone needs. Sprout a new story, treat it with care. Give it some time and feed it fresh air. Let it become its own and protect it from comments that attack. Then the Author and all of their friends may come back.' I finish typing and send it on through. Through the tunnels and pipes, beneath the drains and across the oceans, on to the screens of hope-fulls and hope-nots.
"Who cares for this?" said one, "You're nothing but a box of paper and old ideas!"
At this the whole pack rose up through the thread, and came flying down upon me. I gave out a scream, half of glee and half of anger, and eventually beat them down, and found myself at the top of the thread, with one remaining Lurker, their face a big smile in the centre of the screen, who was gently writing ideas that had fluttered down from the words upon their screen.
"Such a curious tale," they wrote. "I do remember some of these tales, all these strange accounts that you have just been talking about, is it all true though? Is it worth a shot?"
"Trust me," I replied. "People are very gullible. They'll believe anything they see in print."

About the Author
Chris Karageorge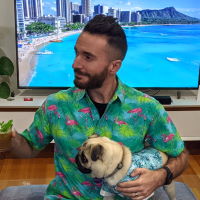 Chris Karageorge is a lover, brother, son, neighbour and a keen observer of all things in sight. 
He reads, writes and cooks in his spare time and dreams of coffee darker than a moonless night. 
He is from Melbourne, Victoria and can be found walking his pug Monty during the weekends.