By Joanna Barrett
Flames lick Gaerwen's bare feet, the hem of her cloak, the hairs on her legs. The stink of her own burning flesh reaches her nostrils, even while she's still squirming against the ropes tying her to the stake. The flames leap and twist, curling their orange tongues around her legs. The searing heat reaches the tender skin of her belly, her arms.
Someone is screaming. It's her — her own long-drawn-out cries of agony.
'Witch! Witch! Burn in hell!' Little boys shout and jeer, pointing their fingers. Little girls hang back.
Now the hungry flames are scorching her face, sizzling her hair.
A terrible yowling fills her ears and her head and all of the inside of her body.
***
The searing, burning pain is fading away, and Gaerwen's mind clears. She finds she's in another place, high above, looking down at a fire burning in a village marketplace and a knot of boys shouting, 'Witch! Witch!' Three girls hang back, quiet.
Mild puzzlement teases her mind, but she sighs lazily, basking in the comfort of the air all around, for the air is her friend, cushioning her, feeding her, caring for her.
***
A new knowing comes to her on the air, through her ears, into her dormancy. 'Parliament has pardoned all witches.'
Leave me alone. I want to be left alone. I am comfy up here.
A power she cannot resist takes her down to a stake fixed on top of a pile of unburnt sticks and logs in a village marketplace. The fragrance of the newly-cut wood drifts into her nostrils. Her fingers fumble with the ropes tying her body and legs to the stake. She steps down the logs, wincing as her foot finds a splinter on the way. She stoops and pulls it out, flinching at the sharp pain.
'Hey, you! Where've you come from? Ha, ha! You look like a witch.' Boys, again. Of course it's boys. The girls hold back. They know the truth.
'Yes. I am a witch.' The softness of her voice soothes the youngsters. 'I am here because witches have been pardoned.'
'What's that mean?'
'It means you've nothing to be afeared of. And neither have I.'
Her breath catches then, for in her mind she sees the village pond, the surface disturbed, arms splashing, faces screaming, heads sinking. A kind of terror tugs at her heart. She places her hands on the boys' heads. Their hair is hot in the sun, fragrant, healthy. Before she can speak, one says to the other, 'Race you to school!' They run off, bags banging on their bums.
***
Gaerwen gazes all around, frowns. It's her village, yet it's not. The church is still there at one corner of the marketplace, but where is the alehouse? The forge? The brick bread oven for communal use?
Her forehead puckers anew. There's no well, either. Standing in its place is a statue of a man. How will folk fetch their water, if there's no well?
Shops line one side of the marketplace. There are displays of cloth, fruit, bread, meat and pots. People walk briskly along the road, but they wear strange clothes. Some wear very few clothes. Should she avert her eyes? Bare legs, bare arms, even a woman in breeches!
Sudden alarm zips through her as a red box on wheels zooms past, going so fast it's a blur. She darts away but another box on wheels appears, moving in the other direction. It's yellow, and gives out stinking smoke.
Gaerwen realises the smell of the village is no longer the sweet fragrance of rosemary and lavender, herbs that grew in every cottage garden in the summer. Instead a heavy, oily, metallic stench drifts on the air. She screws up her nose in dismay.
She strolls past the church, and gasps. Her heart melts. Her own cottage, it's still there behind the church. She groans then, for the roof is no longer made of thatch. Instead there's an ugly, shiny metal covering over her old dwelling.
Her eyes find the stream. There's a wide bridge over the water, replacing the trunk of the oak tree that she'd crossed many times to milk her goats in the fields. Now, no goats or sheep graze on lush green grass beyond the stream. Her shoulders slump. Instead there are buildings with roads cutting through. Cottages. And they, too, are roofed with metal that ripples and glints in the sun.
A figure steps up to her, fingers her rough plaid cloak and her long tendrils of hair. 'Being a witch is no longer forbidden, my dear woman.' The face is smooth but she knows by his smell that he is a man. 'You've stepped through the doorway. I will buy you a cottage. You will grow herbs, keep a black cat.'
'So say ye?' She gazes at him, lets a smile play on her lips. 'Really? I loathe cats. I've never kept cats. Always goats. Goats symbolise confidence and independence. Did you know that?' Her mouth keeps uttering words, but in her mind she sees herself scrubbing pots at a sink, and the man is beating her with his closed fist, even while her belly is full with child. 'I know the life you want for me.'
'I will give you a good life.' The man touches her cheek. His eyes are dark with lust. 'You have no-one else. You cannot refuse me.'
'So say ye?' Gaerwen steps back, grunts with scorn. She raises her hand. Fire flashes from her fingers as she whispers her great, great grandmother's spell.
She bites her lip. Will it work?
Yes!
The man clutches his chest. His face twists with agony and he slumps to the ground.
Gaerwen's harsh, witching cackles ring out across the marketplace.

About the Author
Joanna Barrett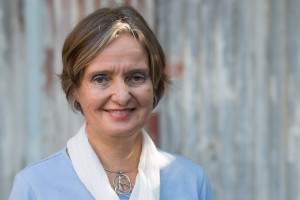 Joanna is a writer who lives in the bush near the Glasshouse Mountains in Queensland. She writes both fiction and non-fiction. Her work has appeared in a wide variety of publications including Griffith Review, That's Life magazine and The School Magazine. Joanna's memoir about life on an isolated farm in Tasmania in the 1970s was published this year by Ginninderra Press. It's called They said we were isolated: my life at Top Farm on Tasmania's west coast.
Joanna used to be a journalist but much prefers dreaming up stories. Her Aussie gothic novel What Eddy does for Louis is currently being marketed. Her work-in-progress is another historical novel with a working title And the wind blows. It's set in South Australia in the 1890s and is about a young Irish woman who arrives in Adelaide with a baby in her arms — and says the baby is not hers.