By Jason Bentsman

The atmosphere is always a dim grey, as if almost nighttime and about to rain, presumably due to pollution. Much of civilisation, it seems, has been decimated. Few people. Some buildings and structures stand in ruins, others simply moulder from age.
I'm standing by the glass doorway of the bottom floor of a tall commercial building that once served as a cafe. I see myself at a dusty table, talking with an attractive young woman. I seem a little younger, in better shape. This was some time ago — a year, a year-and-a-half maybe.
The woman and I, amid some wider intrigue, were becoming romantically involved. We stopped into this abandoned cafe, found there was still some alcohol left, poured ourselves drinks, and were having one of those long, impassioned conversations, about everything and nothing, so arresting to two people falling for each other more for connection and emotion than content.
Later, I'd discovered time travel technology. As now I stood by the entrance with an attractive blond woman, also involved in the intrigue, who knew about my recent past, secretly watching myself and the other woman, careful not to reveal ourselves.
A romantic connection was forming between myself and this blond woman. Apparently, for some reason or other, things hadn't worked out with the other.
The blond woman and I hadn't kissed yet. She asks, both forwardly and timidly, Shall we kiss?… It would be ironic, here, in front of 'them.'
As if this would somehow dishonour my former relationship. Maybe the other had died, or some circumstances against our wills, involving the intrigue, had prevented us from being together.
Isn't it lovely to see two people who truly like each other connecting like this, in the early stages of romance, the blond woman observes.
Can't remember if we'd kissed. Seems we had, just briefly, out of a kind of courtesy towards the other.
An old, tall apartment building has been converted into a spaceship, to rescue some of the remaining denizens of the doomed planet. I'm sitting inside, in a row of chairs, arranged much like an airplane's rows, strapped in tightly, a few acquaintances beside.
Everyone's anxious. They don't know if the launch will be successful.
The building detaches from the ground and launches into the dark grey, muddled sky, exits Earth's orbit momentarily, and in no time is travelling through a kind of wormhole — not sure, seems to be an interdimensional and temporal wormhole. . .

About the Author
Jason Bentsman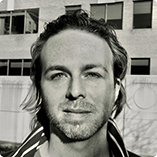 Jason Bentsman's writings tend to defamiliarise the familiar, including urgent problems facing society, with a metaphysical undercurrent.
He authored the poetic environmental book The Orgastic Future ("A 21st century HOWL," A.S., New Yorker & Vanity Fair). Writings in The American Bystander, The Blue Nib, FLANEUR, Montreal Writes, Paris Lit Up, Dreich, The Weekly Humorist, and other publications worldwide.
He's also an occasional humorist, and takes fine art photos. His favorite color is: prism. More info: www.linktr.ee/Jason_Bentsman