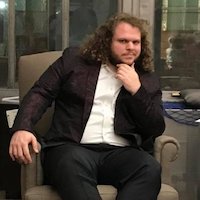 Louis Evans is a sci-fi writer living in Brooklyn with his partner and two cats named after fictional European detectives, Hercule Poirot and Lord Peter Wimsey.
His fiction has appeared in Analog SF&F, Interzone, GigaNotoSaurus and more.
He would never get involved in a pyramid scheme, which is why you can have complete confidence that THIS business opportunity is the! real! deal! Let's do lunch . . .
His website is evanslouis.com and he tweets @louisevanswrite