By Kaoru Sakasaki - Translated by Toshiya Kamei

Yeah, it's been a while since somebody last showed interest in this line of work.
How far should I go back? When my old man was a young boy, folks argued over the old and new Japanese Industrial Standards. In a nutshell, it's about tabletop measurements. With the new standards, the width and the depth of tabletops were a couple of inches longer. Of course, you could place your notebook and textbook more easily on a larger desk. But you couldn't change the classroom size. Do you know when they came up with the old standards? In the Meiji era. Did you know that? Yeah, Meiji. The late nineteenth century, to be more precise.
Larger desks would fill up the classroom, leaving no space for anything else. So some old schools went out of their way to look for smaller, old standard desks to replace run-down desks. But that didn't last long. Soon the new standards became dominant—until the even newer EJIS standards took effect when Japan entered into an alliance with the Axis Powers.
Japanese classrooms have been always different from ones in other countries. Especially, years ago, every school in Japan had the same desks and chairs lined up in the same way. Ha, if today's researchers saw it, their jaws would drop! Still, shoddy goods were everywhere. That's how industrial standardisation came into the picture. There's no use denying history.
Do you know what was wrong with a desk back then? Its biggest defect? Strength, you say? Close, but not quite. The answer is weight. The most important thing was its mobility. At lunch time, kids moved their desks to form groups. In a class that required face-to-face discussion, they needed to turn their desks. At any rate, a desk had to be light enough so that a kid could move it alone. So the craftsmen racked their brains to devise a way to reduce weight.
Back then, too, resins were commonly used, mainly for the tabletop and the drawer. But resins can be easily dented. The tabletop fell apart easily, so the craftsmen received a lot of complaints.
So Riron-sha's gelmonica resins were innovative. They looked like plastic and weighed little. Even so, they were as sturdy as laminated lumbers. The catch was the price. As you surely know, schools are always short of money. Ironically, the patent was sold to another country where they mass-produced them and sold them to Japan cheaply. They practically stole our technology, but they put it to good use.
When I was a kid, classrooms were pretty much the same as today. Freedom. Just freedom. Now freedom is coupled with responsibility. I pity today's kids.
My parents bought me a desk before I started elementary school. I was crazy about insects, so I chose green. I soon learned I was the only one who chose this colour. Other kids chose more conventional colours like brown and cream. Some who wanted to stand out wanted white. That was the extension of their freedom! What was your colour? Ha! Suits fine. Boring.
Come to think of it, I chose this career path because of what happened when I was a boy.
It's been criticised a lot, but the #OwnDesk movement was great. I got really into personalising my own desk, so I made a hidden drawer and kept bugs inside as my pets. I laid a layer of mud, placed some stones, fed them dried leaves, and sometimes moistened the mud. One of my buddies made a rock garden. You must've seen a photo of a karesansui in your history textbook. He didn't let anyone touch his garden. He'd scream: "You'll damage my wasabi!" I wonder what he's doing now.
The problem with the #OwnDesk movement wasn't financial or political. In the end, desks failed to evolve. For many decades, schools had promoted the use of personal desks, but desks remained pretty much the same. Just as scholars say, this may mean that education was defeated. We often advocate freedom, but we don't want to be truly liberated. Cultural homogeneity. It's one issue this country has faced for hundreds of years.
In that sense, the trend that followed the #OwnDesk movement brought a dark period for school desks. "Going back to your roots" sounds great, but it's essentially conservative reaction. "Physical freedom and spiritual freedom were too liberated." That's what a cabinet minister said. As you can see, politicians hate freedom. They don't want anyone to be free, not even themselves. Someone delivered an apologetic speech at the Diet. Everybody must have felt relieved.
Even so, the EJIS-certified desk from that era is a masterpiece. Have you seen it? The curved plate and legs that support it are made of a single piece of wood. Every time I see it, it reminds me of a female body. I don't mean tits and asses, though. A woman's ankle comes to my mind. Some say it's a nape, but that's too sexual. That desk turns me on without a fail. It was a good thing I didn't have that desk when I was a kid.
They say Tony Yoshimura was born overseas, but he understands wabi-sabi better than any Japanese native. I know their plywood and lumber manufacturing technologies are highly advanced compared to ours, but he's got quite a talent for incorporating those technologies into desks. It would never occur to me in a million years to come up with something like that. What's so great about Yoshimura is that he's made desk manufacturing possible through generic processing. Many folks get this wrong, but EJIS-certified desks have nothing to do with craftsmanship. They concern industrial products. Yoshimura only cares about mass production. He's never made something for particular consumers in mind. In a way, he's made desks for a certain country or a certain people.
Maybe I was a bit off about Yoshimura. I didn't mean to make him out to be a nationalist. Either way, he's not an artist but an engineer. That's what I think.
I met Yoshimura once. Only once.
He gave a lecture at my alma mater. On the fifth of July. After Independence Day. I don't remember much of his lecture. I was disappointed because it was generic. On the way home, I bumped into Yoshimura. He was talking to someone, quite possibly a school staffer. Then Yoshimura and I locked gazes. He was much older. I passed him, as we bowed slightly.
  All this time, Yoshimura remained seated on a desk. He was there probably after I was gone.
I don't remember what kind the desk was, but it wasn't an EJIS-certified model. That's for sure. Yoshimura didn't sit flatly on the desk. Instead, he perched on the edge of it, his feet dangling in the air. His toes barely grazed the floor. He leaned over as he talked, met my gaze, bowed slightly, and felt me pass. In the meantime, he remained seated on the desk. Yoshimura, that genius designer who invented ingenious desks.
When I was on the battlefield, I remembered Yoshimura. Even if I wore advanced protective gear, I was scared shitless on many occasions. At times, my buddies' heads flew from the other side of a river like billiard balls. Other times, stealth planes dropped silent bombs. In times like these, I always imagined Yoshimura seated on the desk. Then I'd feel calm. Who knows why? I'd feel a warm sensation arise below my navel. Once I feel calm, I can do anything. I can be anything. Thanks to Yoshimura, I was awarded many medals.
Yeah, since I returned home from the war, I've been working hard. Since then I've thought of Yoshimura many times. I gather that EJIS-certified desks are no longer in demand. Nowadays you're responsible for your own freedom. That's only expected. Even so, every school I've blown up had EJIS-certified desks. Some schools had rooms full of them while others had only one left in the warehouses. I never choose my targets. My mission has been to bring freedom to my people. Personal revenge isn't my thing. I receive signs from heaven and act on them. Anyhow, who gives a damn, right?
So, mister, let me ask you something. Am I getting my freedom back? I'm bored to death here because I've got no desks.

About the Author
Kaoru Sakasaki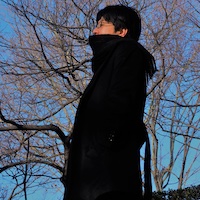 Kaoru Sakasaki lives with his family in Yokohama, south of Tokyo.
He writes late at night after putting his children to bed.
In 2020, he won the Judges' Special Prize in the first Kaguya SF Contest organized by Virtual Gorilla Plus.
About the Translator
Toshiya Kamei
Toshiya Kamei holds an MFA in Literary Translation from the University of Arkansas.
His translations have appeared in venues such as Clarkesworld, The Magazine of Fantasy & Science Fiction, and World Literature Today.