By Martin Lochman

Dear Humans,
We wish to inform you that your rent for the upcoming period of 100 Universal Temporal Cycles is due. Since your expenditure of the natural resources for the past period exceeded the allocated limit, you are hereby requested to pay additional 35% of the rent amount to compensate for the extra consumption.
Please note that as from now you are to execute all payments via remote transfer, using the brand new Interdimensional Transaction SystemTM. The system was designed to increase the efficiency and speed of the transactions on not only galactic, but also intergalactic level, and to minimise the gravitational footprint caused by the heavy traffic when utilising the conventional payments via direct harvesting.
You can view the detailed, step-by-step instructions on how to set up and manage your account in the attachment of this mental message.
Furthermore, we would like to remind you that your rental agreement will expire in 200 Cycles. Do you wish to renew it? If yes, kindly be informed that in light of the growing costs on the property market brought about by the decrease in availability of raw materials we will need to revise the current rate. The terms and conditions, however, will remain unchanged.
We look forward to hearing from you soon!
Yours sincerely,
Intergalactic Rental Authority
#
Dear Humans,
Just a gentle reminder about our previous message. If you are experiencing difficulties with setting up the Interdimensional Transaction SystemTM account, please let us know, and we will arrange for an individual assistance.
Yours sincerely,
Intergalactic Rental Authority
#
Dear Humans,
Please note that we haven't received your payment or heard back from you as of yet. We wish to emphasise that the failure to pay the rent within 5 Cycles of the due date automatically constitutes grounds for rescission of the rental agreement, as per paragraph 12. This means that you now have 3 Cycles left to carry out the transfer.
Additionally, we would like to kindly ask you to keep better maintenance of the property. We have detected an increase in the concentration of a certain gaseous compound in the atmosphere leading to a discernible rise of the mean temperature.
Yours sincerely,
Intergalactic Rental Authority
#
Dear Humans,
We have detected that you have been disposing of the waste in an improper manner (by depositing it in several bodies of water), and enacting permanent changes to the property's surface (by utilising nuclear reactions). We wish to remind you that both activities are in clear violation of the rental agreement (see paragraphs 5 & 8), and you are hereby requested to cease them immediately. The failure to comply will result in the immediate termination of the agreement.
As a compensation for the damages caused by the above described infractions, an additional 15% of the rent amount has been added to your pending payment. We attached the amended bill featuring the final amount for your convenience.
Moreover, we have received several complaints from the tenants in your system that you repeatedly sent out mechanical artifacts that intruded upon their properties and didn't acknowledge their requests to refrain from doing so. Although such an activity is not explicitly prohibited by the rental agreement, we would like to point out that your neighbors may decide to escalate the complaint to the law enforcement.
Lastly, please note that you only have 2 more Cycles to execute the payment.
Yours sincerely,
Intergalactic Rental Authority
#
Dear Humans,
This is your final notice. If the requested payment is not received within the next Cycle, we will have no other choice but to terminate the rental agreement.
Yours sincerely,
Intergalactic Rental Authority
#
Dear Humans,
Please note that since we haven't received your payment, in spite of several reminders as well as the final notice sent prior to this message, we are terminating the rental agreement, effective immediately, as per the clause specified in paragraph 12. You have 3 Cycles to prepare for relocation. Failure to acquiesce to the procedure or any attempts to resist it, resulting in a delay, will incur additional charges which will be added at an exponential rate.
Furthermore, the security deposit paid by you at the beginning of your tenancy is hereby forfeited in favour of the Intergalactic Rental Authority for premature termination as per paragraph 4.
Let us just state for the record that we are deeply concerned and disappointed by your sudden lack of communication and responsibility. Up until now, you were exemplary tenants, and we firmly believed that your stay would be of great benefit to the growth and prosperity of your species. Even after the last visit to collect the previous rent, when you also requested assistance with the construction of decorative polyhedral structures, our employees could only commend your upkeep of the property.
We wonder: what has prompted such a drastic change?
Yours sincerely,
Intergalactic Rental Authority

About the Author
Martin Lochman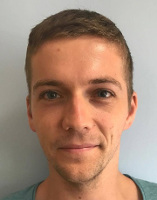 I am an emerging author from the Czech Republic, currently living and working as a University librarian in Malta.
I first started writing and publishing in Czech but as time went by and my affinity for English language grew, I switched to English.
Some of my flash fiction and short stories appeared (or are forthcoming) in Theme of Absence, Asymmetry Fiction, Aphelion, Aurora Wolf, AntipodeanSF, 101Words, The Weird and Whatnot, and 365tomorrows.
You can find me at: <https://martinlochmanauthor.wordpress.com/> or twitter: < @MartinLochman>.