By Luke J. Kendall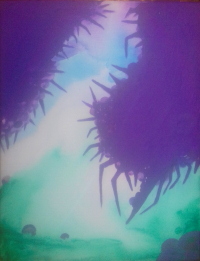 Zephyn would be a year old tomorrow.
Tiptoeing through the echoing empty places, he left no trace in the dust, built in slow aeons on strange onyx floors. He stirred no wind in the vacuum, as he stretched and turned and twisted between the claws that grasped, the teeth that ripped.
For twelve months he had grown and studied and practised, his senses softly unfurling like a cicada's wings emerging from their ugly shell, delicate strands stretching out through Time and Space until they encompassed the light-sphere binding all Creation.
Tomorrow, his mother Passali would die, her two year span of life reaching its end. Halfway through his own life now, Zephyn vowed to let no thread drop, to faithfully carry every last strand of the Real into the dawn of the new year. He would lose not a single precious thread that Passali had held safe and true in her stretch of the Great Journey.
He hoped his own child would watch him, perhaps even with the same innocent wonder in which he had seen his mother take up the burden from her father at the moment of birth-in-death. He remembered gazing in wide-eyed wonder at the wondrous, complex, ever-changing thing she had taken into her star-flung hands: mystery piled on mystery, its endless unrepeating variation making his heart soar even as he struggled to comprehend its beauty.
Passali was old now, beginning to fracture and break apart. Zephyn held his breath in horror, feeling the shudder that was no shudder pass through the All — the mute brute awareness of something amiss — until his mother's feather-touch once more cradled All That Was in her invisible, shielding shroud. A chill passed through young Zephyn as he saw the old, cold claws flex and stretch, questing for the meal for which it so hungered, its heavy black chill snaking its own fractal path through Space and Time. Its very weight slowed his mother and dogged Zephyn's steps, already making his muscles burn.
And I haven't even taken up the Burden yet! Anguish rose, choking him. How can I carry this fragile treasure a whole year, when my wings slow even now, before I take it up?
But he could. A part of him knew it. A tiny part, a mere seed of knowing, that had passed from his mother's father, to his mother, to him — that he would in turn pass to his own child at any moment now, as hours shrank to minutes, and minutes to seconds.
Massive shadow claws stretched out as he finally reached his mother and eased the Burden from her, his limbs stretching out alongside hers through All That Was, and he felt Passali gasp in blessed relief, dying, as he took up the terrible precious gift — and at the same instant, his child, Wisp, was born.
Zephyn, now a year old, felt joy surge through him, and put his head down, and strode on through the vast dark.
One year. Just one year, I need to last. I can do this. I must.
And in innocent wonder, his daughter Wisp looked on.

About the Author
Luke J Kendall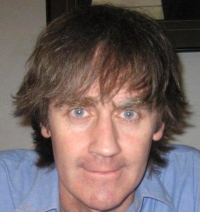 Luke J. Kendall failed to drown on five separate occasions on Sydney's northern beaches. For 30 years he worked in the IT R&D field, very happily married to an adventurous mediaeval scholar 22 years his senior, until her death in December 2014.
He likes really long form fiction — like Jim Butcher's Dresden Files, or C. E. Murphy's urban shaman series.  His own, The Leeth Dossier, is set in our world in a 'mixtopian' near future a few decades after magic's return.  Character-driven by its female lead — who is innocent, loyal, and deadly — it blends hard science with fantasy, psychological horror, humour, and action. 
He has self-published Wild Thing (2015), Harsh Lessons (2016), Shadow Hunt (2017), and Violent Causes (2019), and is working on Lost Girl (2020?). His author web site is <AtoeInTheOceanOfBooks.com>
Dangerous January was written from a writing prompt in Neil Gaiman's Master Class.