By Chuck McKenzie

Lucy presses her face up against the window, looking out at the planes as they trundle back and forth across the tarmac beyond. The plane Daddy says they'll be flying in sits still, just a few metres away.
'When can we get on, Daddy?' she asks impatiently.
Daddy, sitting in the row of seats just behind Lucy, says: 'When they've finished cleaning up after the last lot of passengers, Sweetie. Won't be long now.'
Lucy nods, satisfied. Daddy's always right.
Lucy turns and glances around the Departures Lounge. The old lady who smiled at her earlier is looking at her phone with a worried expression on her face. So are some of the other people, who Lucy thinks are probably going to be on the plane with them.
Lucy moves away from the window and sits next to Daddy. 'Daddy?'
'Mm?' Daddy is reading his book, not really paying attention.
'Why is everyone looking scared?'
Daddy looks up from his book and glances around, then gives Lucy a smile. 'There's some fighting going on in another country, and I think some people are just a little spooked. But it's nothing for you to worry about, okay Sweetie?'
Lucy smiles back. Daddy's always right.
Daddy goes back to his book.
A man sitting nearby jumps up, and walks quickly out of the lounge. Other people begin to do the same. The old lady starts to cry quietly. Lucy clutches Daddy's arm. The chairs vibrate suddenly, like when a truck goes past their home.
'What's that shaking, Daddy?'
Daddy doesn't even look up from his book this time. 'Just planes landing, Sweetie.'
Daddy's always right.
Lucy gets up and walks back to the window. People are beginning to run across the tarmac in all directions. A sudden blinding glare on the horizon makes her gasp and shield her eyes with both hands.
'Daddeee!' she says loudly, frightened now. 'What's that light? What's that light, Daddy?'
Daddy sighs (Lucy can tell he still hasn't looked up from his book) and says in his familiar I'm-being-silly voice: 'Well, I think it must be the end of the world, Sweetie.'
Then everyone starts to scream. It's the last thing Lucy hears.
Daddy's always right.

About the Author
Chuck McKenzie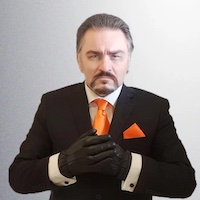 Chuck McKenzie was born in 1970, and still spends much of his time there.
He also runs the YouTube channel 'A Touch of the Terrors', where — as 'Uncle Charles' — he performs readings of his favourite horror tales in a manner that makes most ham actors look like Gielgud.