By Terry Persun
Everything is frozen but my heart
my brain only slowed
my blood on call
and my functions waiting.
My heart burns bright in winter
which could never stop
me from loving the life
that will return eventually.
Alone has new meaning when frozen
into a block on a ship
sailing through space
until some unknown time.
Childhood remains through it all
the torment and beauty
on hold for how long
before freed once again.
In rotation are thoughts and feelings
unable to express for now
waiting for the time when they can
driving me crazy in constant repose.
Will any of us be the same when warmed
and placed on another planet
that may not understand us
and which we don't understand.
I pray for an end to this stable state
when movement is essential
and memory can be increased
with actual experiences.

About the Author
Terry Persun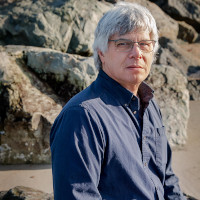 Terry Persun's poems and stories have appeared in many magazines including Wisconsin Review, Kansas Quarterly, Riverrun, Rattle, Hiram Poetry Review, Bluestem, NEBO, Cirque, Eclipse, Bacopa, and many others.
His poems have appeared in six, chapbooks and five collections.
He was recently included in the 2019 Rhysling Anthology for sicnce fiction and fantasy poetry. He is also a novelist and has recently won first place in the Book Excellence Awards for science fiction.
Terry speaks at writers' conferences and universities across the country. <www.TerryPersun.com>.