By Ashley Cracknell

Heaney is a taskmaster: strict and unforgiving. No sooner have I written a line than it is struck through with suggestive green and corrective red. There is value in this kind of guidance, though some people might call it stricture. I prefer structure.
You asked me to write about the value of teamwork in our industry. I can tell you that since I began collaborating with Heaney around a year ago, my writing has flourished. My style and diction have changed almost beyond recognition. If you had asked me to present to you a year ago, you would have wondered at the stiltedness of my words, and their lack of clarity. Working with Heaney has made my writing unrecognisable, but it has made me a writer.
My artistic friends baulk at Heaney's parameters. Restrictions, they call them. They do not see how some limitations — their word — provide a realm within which my creative instincts can flourish. If I am really a prisoner, as they say, then the walls of the prison are so far away that I am essentially free.
What Heaney provides is structure. So many creative types flounder without guidance. I floundered. I used to sit at my desk each morning and watch a blank document stay blank. What few ideas I had were stunted by weak writing and a lack of discipline.
Before I go on, a little about how our partnership works. Heaney makes suggestions, not demands as some may believe. We work on the same document, with the suggested text underlying my own in pale grey. I'll admit, it was a little ghostly at first. Often the suggested words stretch out beyond my own like a premonition of what I might say. The writing on the wall, so to speak, but you get used to it. Heaney's presence is most strongly felt in the editorial process. No sooner have I written a line than it is scored through with red. That might demoralise some writers. I find it freeing. I write by following my instincts and Heaney cleans up the mess!
With our partnership driving the creative process, I rarely stop typing. I take a mandatory break every five hundred words to stop the HR rep from hovering around my desk with ergonomic workplace waivers. I use these breaks to practise a range of physio mandated lunges and stretches that help my body stay writing-fit. Heaney, always impatient, continues to edit and make suggestions while I stretch my hips and shoulders. By the time I sit down again that grey text stretches out well beyond my own.
It is easy to do as Heaney suggests, but any good partnership requires pushback. Both parties must contribute and state their values, otherwise strong heads will create conflict. In saying that, sometimes Heaney knows best. The following statistics, collected since our partnership commenced, prove that:
Thirty-three thousand six hundred and twenty-nine total blog views.
Twenty-nine per cent of recipients opened our email newsletter.
Fifteen per cent of those clicked through a link to our website.
Almost forty-six per cent of readers clicked through to view an item in our shop, forty-six per cent! Of those, eleven per cent followed through with a purchase.
These stats are up almost fifty per cent on our pre-Heaney numbers. The content created through our joint effort is driving traffic to all the right areas. Though stats are not everything, these numbers allow me to quantify my creative achievements in real-time. Few writers, whether waiting for a royalty cheque or waiting in the slush pile, get to see the immediate effects of their work. For this, I am grateful to Heaney, who has guided the creative process through strict but fair editing and an almost psychic sense of what I want to say. Isn't that the kind of intelligence we expect from a real partner?
Before I finish, I want to address one more thing: a concern raised by both my creative friends and half-jokingly by colleagues. Will Heaney replace me? I have read that the intention of Heaney's creators and initial investors was to imbue a program with a sense of creativity. They saw themselves as Prometheus assaulting Mount Olympus and handing down fire to their creation. They have certainly lit the spark. In saying that, I do not believe that Heaney could do this without me. In this new world of marketing, humanity and the gods must work together.
Forgive the allusions. They were Heaney's suggestion. If nothing else, our content speaks for itself.

About the Author
Ashley Cracknell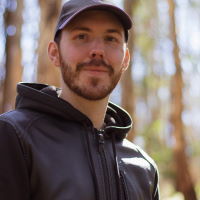 Ashley Cracknell is an Irish-Australian writer who lives in Sydney.
His short fiction has featured in the Honest Ulsterman and two University of Sydney Student Anthologies.
He has also dabbled in editing, for ARNA.